Trends
Biggest Risk of Cryptocurrency Is Money Laundering, Terror Financing: Sitharaman, But Government Will Still Tax It. Does That Mean Government Is Taxing Terror & Money Laundering?
Biggest Risk of Cryptocurrency Is Money Laundering, Terror Financing: Finance Minister 2022
Money Laundering is a financial transaction that aims to conceal the identity of the person, source and destination of the illicitly- acquired money. It is completely known to be the illegal process of making the large amount of cash generated by criminal activities like drug trafficking or terrorist funding.
The Union Minister of Finance, Nirmala Sitharaman, has presented her view that money laundering could be the most considerable risk of cryptocurrencies as it is easily used to finance terrorism in the middle of the pioneering fintech revolution of India. It was a seminar going on at the spring meeting of the International Monetary Fund (IMF) where the Finance Minister has said, "I think the biggest risk for all countries across the board will be the issue of money laundering and also the aspect of currency that is being used for financing terror."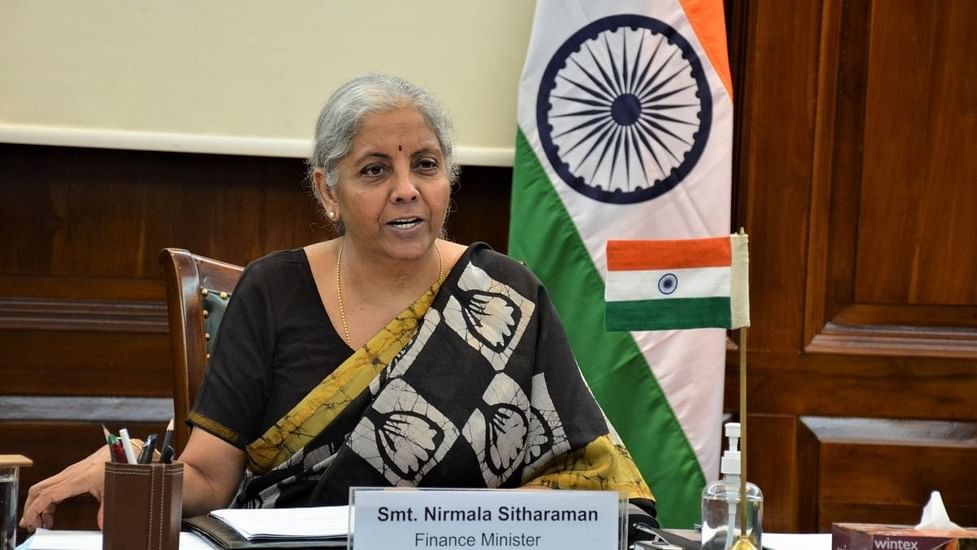 She thinks regulation using technology measures is the only answer. Processing Regulation using technology will have to be so adapted that it has to be not behind the time, but be sure that it is always on the top of it. And that's not possible. Suppose any country thinks that it can handle it. It has to be over the board," the Minister added.
Sitharaman has highlighted India's performance in the digital world and how the government of India has been putting their efforts to build the best kind of digital infrastructure framework over the last decade, stressing the point of increase of the digital adoption rate in the country during the COVID-19 pandemic.
On Monday morning, the Union Minister reached Washington on an official visit to attend the Spring Meetings hosted at the World Bank, the G20 Finance Minister meeting, and the Central Bank Governor Meeting (FMCBG).
On the first day of her reach, the Finance Minister indulged in good participation in a high-level panel discussion on the issue of "Money at a Crossroad", which was hosted by Kristalina Georgieva, who is the managing director of IMF. "If I talk of 2019 data, the digital adoption rate in India is about 85 per cent. But throughout that same year, it was only somewhere near 64 per cent. So the pandemic time helped us test and prove that it is simple to use, common people can use it, and adoption was proven," Sitharaman asserted.
To recall, budget 2022-23 proposed a 30 per cent tax on income from transactions in crypto-assets. Also, it imposed a 1 per cent TDS (tax deducted at source) on transactions in such asset classes above a certain threshold.
Nirmala Sitharaman said at the India Today conclave held in March that India is not closing their gateways for Fintech and other solutions. Sitharaman had said that a Cabinet note is being prepared on the matter, which will provide all details on the formulation of cryptocurrency regulations in India. "Of course, the Supreme Court has commented on cryptocurrency, and while the RBI may take a call on the official cryptocurrency, from our end, we are very clear that we are not shutting off all options," she had said.
She also said that the RBI, Reserve Bank of India, is constantly working towards launching India's digital currency, as was declared in the Budget 2022. 
Cryptocurrencies like Bitcoin and many others remain unregulated in India, although a surge in interest in such instruments has prompted the government to set up a strategy to regulate them. Nevertheless, the government has announced their decision to tax any income from the transfer of virtual digital assets, such as cryptocurrencies, at 30%.
Bitcoin and other cryptocurrencies have become a significant tool in cybercriminals' arsenal. Many fraudsters are increasingly using these coins to launder money across the world. Criminals use various methods to take advantage of the anonymity cryptocurrencies provide to cover up the origin of illicit funds.
Bitcoin is an attractive option for money laundering primarily because laundering money using cryptocurrencies is more accessible than other methods. In movies, criminals often transport illicit money across borders using duffel bags or suitcases to evade authorities; however, that's not realistic in real life.
Instead, it's easier for criminals to launder Bitcoin via online exchanges and convert it to cash. After all, online transactions are border-free and eliminate the need to engage in the risky business of moving physical money from one place to place.
Plus, cryptocurrencies provide a degree of anonymity because the public addresses used in these transactions aren't registered in an individual user's name.
Although all transactions completed using Bitcoin are recorded publicly on the blockchain, only the person who conducted the transaction can access the account and wallet, making it challenging to link Bitcoin transactions to a single person or entity. However, it's not impossible.
While they may not be considered a competitor to the currency in the aspect of laundering volume, the ever-increasing use of cryptocurrency and others have their unregulated or less-regulated nature in many jurisdictions, meaning that the financial world has a lot to think about.
The same was echoed in the 2019 meeting of the G20 Finance Ministers and Central Bank Governors in Japan. "While crypto-assets do not pose any threat to global financial stability at this point, we remain alert to risks, including those related to all consumer and investor protection, anti-money laundering and checking the financing of terrorism," stated a note from the meeting held.
Crypto advisors have often claimed that laundering money with cryptocurrencies is highly complicated and risky, making it an ineffective strategy than to the conventional techniques involved. They have also argued that transactions in digital currencies are more transparent and accountable than in fiat currencies.
Another argument is that money laundering using cryptocurrencies is comparatively very small in terms of volume, and mainstream media focuses more on criminal activities related to digital currencies rather than innovation and technology. Albeit on a small scale, there is no doubt that all the cryptocurrencies are being used to facilitate the process of money laundering.
 Finance minister Nirmala Sitharaman has flagged the risks of cryptocurrencies being misused by unscrupulous elements for money laundering and terror financing and has called for harnessing technology to regulate them effectively.
In their meeting, both Sitharaman and Georgieva raised concerns about the impact of the ongoing Russia-Ukraine conflict on the global economy and the risks from a spurt in energy prices triggered by the war.
Notably, Sitharaman called for the IMF's support and urgent financial assistance to Sri Lanka, encountering its worst economic crisis since 1948 following the depletion of its foreign exchange reserves. The IMF chief has given assurance to the Finance Minister that the multi-lateral body would continue to engage with Sri Lanka actively and launched India's efforts to help out the island nation and its people in its hours of crisis.
Georgieva has referred to an "effective policy mix followed by India that was well-targeted" and highlighted the country's resilience that remains the world's fastest-growing major economy despite challenges posed by the pandemic, the finance ministry said in a statement. India's authentic gross domestic product reversed a record 6.6% slide in the pandemic year of FY21 to record an estimated growth rate of 8.9% in FY22.