Trends
NHAI made India proud | 75 km highway in 5 days
75 km highway in 5 days
The National Highways Authority of India (NHAI) has made India proud by framing an amazing world record by building a 75 km highway in 5 days. It is officially certified and verified by the Guinness World Records. Guinness World Records has certified the Indian road authority as having created a world record.
The final confession arrived from Minister for Road Transport & Highways Nitin Gadkari and he also posted a certificate over a tweet which is the proof of this achievement from the Guinness World Records by addressing the same.
75 km highway in 5 days-
We are glad to disclose that the NHAI planted its name in the Guinness World Records by building 75 Km continuous Bituminous Concrete in a Single Lane in 105 hours and 33 minutes on the section of NH-53 between Amravati to Akola and this amazing record is declared by Nitin Gadkari by his tweet.
More than 720 workers worked relentlessly to complete the entire 75 km highway in 5 days of record time, the government said. It is a very proud moment for the whole Nation and we must feel good to congratulate our amazing team NHAI as we know by the popular saying –
"Don't be just proud of being Indian, rather do something that makes India proud of you."
The prolonged piece of asphalt/bituminous concrete laid over and over was achieved by Raj Path Infracon Pvt. Ltd. and Jagdish Kadam (both are from India) between the above Districts on NH53, from 3 to 7 June 2022 and this report is verified or approved by the certificate of the Guinness World Records.
The Union Minister also added that "This 75 Km single lane continuous Bituminous Concrete Road is equally identical to 37.5 Km of 2-Lane Paved shoulder road and the team of 800 @NHAI_Official employees."
In his tweet, he said, "#ConnectingIndia with Prosperity! Celebrating the rich legacy of our nation with #AzadiKaAmrutMahotsav, under the leadership of Prime Minister Shri @narendramodi Ji @NHAI_Official completed a Guinness World Record (@GWR)."
Some Previous Records-
Earlier, the Guinness World Record for the longest continuously built bituminous was set in Doha, Qatar in February 2019 for constructing 25.275 km in ten days.
The creation of the Amravati-Akola highway was initiated at 6 am on June 3 with the motive of ending by June 7 to attain a world record. To fulfill the motive in the least amount of time, up to 800 personnel and 700 workers collectively participate, in addition to highway engineers, safety engineers, and surveyors.
We have the record of Rajput Infracon earlier also in framing a world record as at that time the contractor formed a world record by building a road in 24 hours  between Sangli and Satara.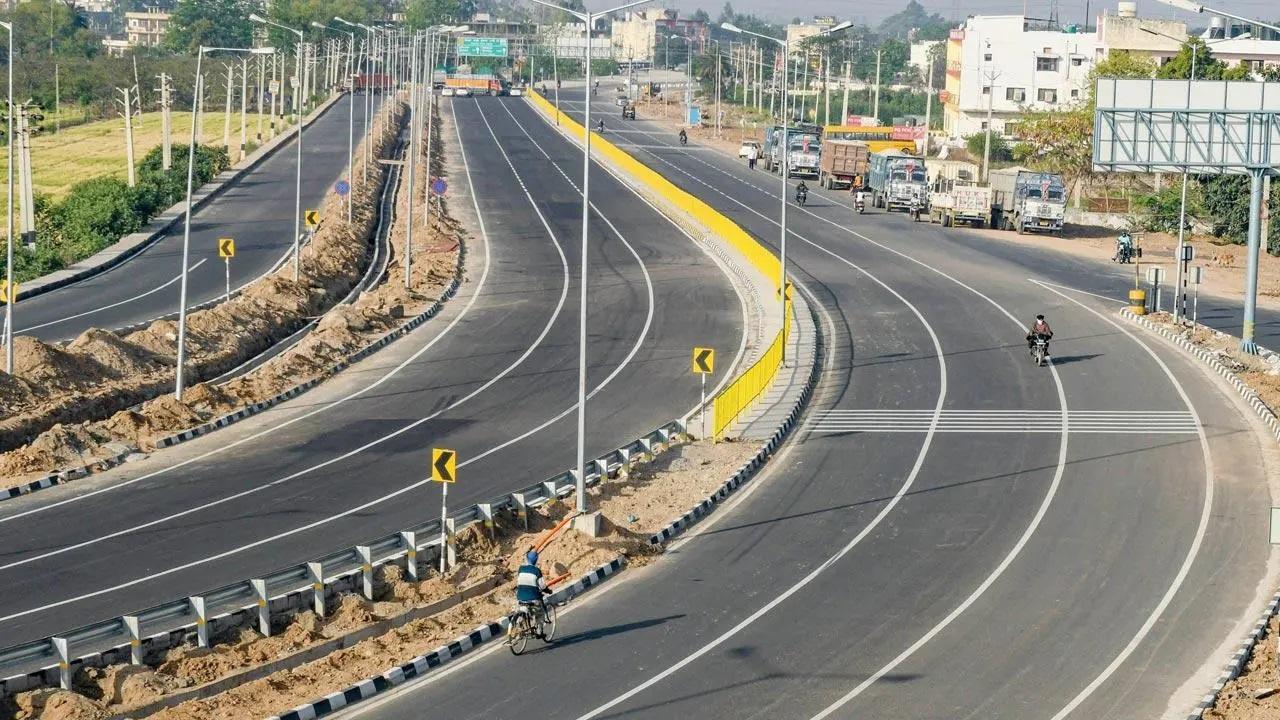 NHAI said on June 3 that it had rendered an extra three highways which sum up to 247 kilometers to its Infrastructure Investment Trust (InvIT) as elements of the government's monetization policy. The NHAI also said that its InvIT had issued ₹0.79 paise per unit as a gratuity towards its unitholders for the financial year which ends by  March 31, 2022, in a statement.
In the beginning, the InvIT consisted of 5 operational toll roads covering 390 km long and spread out over Gujarat, Karnataka, Rajasthan, and Telangana. New 30-year concessions were granted by the National Highways Authority of India (NHAI) for these routes.
The segment amid Amravati and Akola is an element of NH 53, which connects important cities like Kolkata, Raipur, Nagpur, and Surat. Union minister Gadkari further stated that once complete, this stretch will play a remarkable role in easing the flow of traffic on this route.
To know more- the National Authority of India