Trends
UP receives investment bids totaling Rs 7.12 lakh crore from 16 nations.
According to a government announcement on Thursday, Uttar Pradesh has received investment bids totaling Rs 7, 12,288 from 16 different nations. This announcement follows a global visit by a delegation of UP ministers and officials to ask business people, organizations, and institutions from all over the world to invest in the state. During their visit, the team held roadshows in 21 locations across 16 different nations in preparation for the projected Global Investors Summit in Lucknow on February 10–12, 2023.  
The ministerial delegations discussed their tour experiences and the specifics of the investment proposals they had received with Chief Minister Yogi Adityanath on Thursday, after they had returned from their trips. 
With the cabinet members and top government officials, the chief minister reviewed the preparations for holding the Global Investors Summit and provided the required directions.   According to CM Yogi, this is the first time since independence that a delegation from Uttar Pradesh has traveled internationally intending to invite investors from all over the world. Yogi said that their action plan to entice international investors to make investments in Uttar Pradesh before the Global Investors Summit has received a resoundingly positive reaction.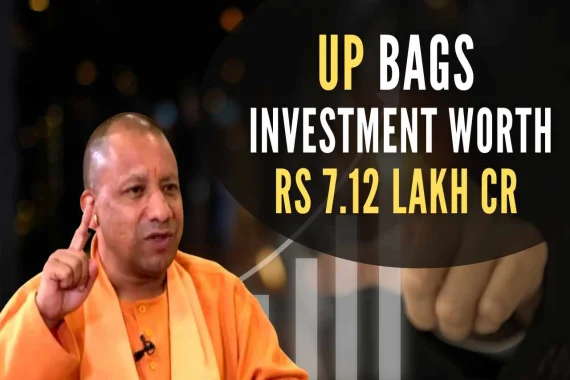 In an official release, CM Yogi stated, "It is a source of great joy that roadshows in 16 nations have cleared the way for the investment of more than Rs 7.12 lakh crores so far. "Only from the United Kingdom and the United States of America have investment bids totaling Rs 4 lakh crore been received.
It would be a historic occasion when the next Global Investors Summit takes place in Uttar Pradesh in 2023.he said, adding that the significant investment will provide employment opportunities that will directly help the state's young.  The speaker predicted that the Global Investor Summit in 2023 will play a significant role in achieving the state's ambitious objective of having a USD 1 trillion GDP.
Yogi claimed that a few years ago, Uttar Pradesh could not have envisaged such a worldwide investment invitation. Our investment goal for the Global Investors Summit 2023 is Rs 10 lakh crore. This Investors' Summit, under the direction of the Prime Minister, would advance 'Brand UP' internationally, he said.
With foreign businesses, organizations, and industrial groupings with whom MOUs have been signed, "We would be in frequent touch. A specialized team comprised of nodal officials for each of the nations will be constituted for improved follow-up. According to the requirements and expectations of the investors, our team will offer every resource, he continued.
CM Yogi instructed staff to finish the required steps by speaking with the business organizations with whom a memorandum of understanding is being negotiated, adding that after January 15 "follow-up trips can once again be conducted to select nations as per the necessity.   All potential investors would be invited to the projected GIS in February, and they will be given every arrangement imaginable, he continued. "Youths from Uttar Pradesh are found all over the world, and they are ready to use their ability and potential to benefit the state. They need possibilities, and immigrants from Uttar Pradesh have started organizations in many other nations. We want to have conversations with these groups," Yogi stated.
He said that several industrial firms had shown a desire to invest in towns like Gorakhpur, Kashi, Prayagraj, Aligarh, Lucknow, Kanpur, etc. during G2G and B2G meetings held overseas in addition to the western Uttar Pradesh regions of Noida, Greater Noida, etc. According to the demands of the investors, he stated, "We will be providing priority to these sectors and making resources accessible.
According to him, investors have expressed interest in the following industries: hospitality, food processing, drugs and pharma, medical devices, chemical, tourism, logistics-warehousing, green hydrogen, EV battery manufacturing, MSME, dairy, education, defense and aerospace, semiconductor, drone manufacturing, agriculture, textile, and steel manufacturing. 
"Numerous business organizations have offered to invest in industries including horticulture, wastewater treatment, data centers, river basin management, etc. Companies with a passion for the project include Dassault, Saffron, Air Liquide, Thomson, Sanmina Corporation, Computing, Silas, HMI Group, Samsung, Ikea, Ericsson, Motherson, NTT Global, and Mitsui. These investment ideas will serve as the cornerstone for the promising future of our children, according to Yogi.
He remarked, "I shall write a letter of appreciation on my behalf to the Ambassadors/High Commissioners of all 16 nations. At the review meeting, all the groups that had just returned from international trips gave the Chief Minister thorough summaries of their journeys. They also requested that the Uttar Pradesh team's international trip be continued to attract investors, and they were informed of the expectations of the investors.
Cabinet Minister Dharampal Singh spoke on behalf of the delegation that traveled to Canada and the United States and claimed that Uttar Pradesh is benefiting the most due to the Chief Minister's charisma. "The Chief Minister's leadership style and vision are well regarded overseas. Investors are quite pleased with the security measures and the conducive atmosphere for investments in the UP It will help the entire state, according to Singh.
After returning from a trip to the Netherlands and France, Deputy Chief Minister Keshav Prasad Maurya stated that both nations' investors have tremendous trust in India and that Uttar Pradesh is their first choice inside the country.   Eastern Uttar Pradesh and Bihar have a sizable immigrant population in the Netherlands. These folks were indentured servants in the Netherlands when they came to Suriname 15 years ago.
They will have completed 150 years of their journey in February. "These folks are willing to contribute to the development of Uttar Pradesh because they have a strong sense of loyalty to their country," the man stated. In the affirmative discussions held during the roadshow, Minister Swatantra Dev Singh spoke on behalf of the delegation that had been to Australia and Singapore and said that all the investors were impressed by the representation of New India's new Uttar Pradesh. 
"Various initiatives were explored while providing assurances of ease and safety. There was also interaction with neighborhood NRI groups. The B2G summit conducted in Sydney covered significant investments in agrotech, urban development, renewable energy, and food processing. The latest free trade pact between Australia and India will also help us. Many businesses are interested in entering the data center industry from Singapore, a GIS partner nation, he added.
The changing conditions of Uttar Pradesh in these significant nations are a topic of conversation for investors, according to Minister Suresh Khanna, who just returned from three cities in the United States and the United Kingdom.   He said that talks about significant investments had taken place with Rolls Royce and the Hinduja Group. The Hiranandani Group in London told UP about their positive experience.
Additionally, the San Francisco-based Saloni Hurt Foundation has chosen to award SGPGI Lucknow a CSR grant of Rs. 415 crore. Similar to this, a MoU for an investment of Rs 41000 crore has been signed for Jio Thermal Power Technology. 8300 crores of rupees will be invested by Sify International. Similar to this, several large businesses in industries including renewable energy, hotels, skill development, logistics, and IT/ITES have proposed investments, including Rs 1000 crore in the production of health ATMs.
Minister Jaiveer Singh and Minister Ashish Patel stated that the majority of the technological businesses from these nations have been investing in South India on behalf of the delegation that returned from the South Korea and Japan visits.   They have never met the Uttar Pradesh team before. The road has been paved for significant investment.
Speaking on behalf of the group of ministers who had just arrived from Germany, Belgium, and Sweden was Nand Gopal Gupta, also known as "Nandi. He said that this was the first time that the Uttar Pradesh team had gone international and that it had been extremely positive for the investors. He suggested that we schedule these visits regularly.
After visiting Mexico, Brazil, and Argentina, Deputy Chief Ministers Brajesh Pathak, and Sanjay Nishad reported that there was a positive vibe for UP in all three nations.   Mexico's agricultural, dairy, and food processing industries have enormous potential. Zebu Embryo Company has shown a desire to collaborate closely with Mathura's Agricultural University. On the other side, productive discussions were had with several Brazilian military industry firms.