Trends
Top 10 Best Food Processing Companies in India in 2023
Top 10 Best Food Processing Companies in India in 2023
India's food processing industry plays a crucial role in connecting Indian farmers with customers in both home and foreign markets. Efforts are being made by the Ministry of Food Processing Industries (MoFPI) to promote investments along the whole value chain. In terms of employment created throughout all Registered Factory sectors, the food processing industry accounts for 12.38% (at the 3-digit NIC categorization), or over 1.93 Mn persons. 5.1 million people are employed by the unregistered food processing industry, according to the NSSO 73rd Round data.
Grain, sugar, edible oils, drinks, and dairy products are the main industries that make up India's food processing industry. Fruits and vegetables, poultry and meat processing, fisheries, food retail, the dairy industry, and other sub-sectors make up India's food processing business.
Key details:
The estimated total horticulture production for 2021–2022 is 341.63 MT.

India is the world's top producer of milk, contributing 23% of the total amount produced globally, which is expected to reach 209.96 MT in 2020–21 at a CAGR of almost 6.2%.

India is third in the world for egg production, producing at least 122.11 billion eggs in 2020–21, with 91 eggs available per person annually.

India produces 7.56% of the world's fish, making it the second-largest fish producer. Estimates place the overall fish production for FY 20-21 at 14.73 MMT.

8.6 MT of sugar was exported from India up to May in the current 2021–22 marketing year, which ends in September.

In India, online grocery shopping has had a CAGR of over 50% and is expected to reach $10 to $12 billion by 2025.

Despite the significant obstacles the sector encountered, India's exports of marine products reached $7,740 million in 2021–22. Compared to 2020–21, it had a growth that was 30% greater. The top 3 international markets for Indian marine exports are the USA, China, and Japan. Sixty-three per cent of exports went to these three nations.

From 102 MT in 2019–20 to 521 MT in 2020–21, other cereal exports grew.

In terms of global meat output, India comes in eighth. From 6.69 MT in 2014–15 to 8.80 MT in 2020–21, the nation's meat production has grown.

According to preliminary projections, the output of wheat is expected to be 111.32 MT, rice will be 127.93 MT, and Nutri/coarse cereals will be 49.86 MT in 2021–2022.

During the same period, the CAGRs for cotton, oilseeds, and pulses were 7.9, 6.1, and 2.8%, respectively.

In August 2022, rice exports reached a value of $1032.48 million, accounting for 3.13% of all exports that month.
Introduction
The process of converting agricultural materials into food or changing one type of food into another is known as food processing. From home cooking to sophisticated industrial processes used to produce convenience meals, food processing encompasses a wide range of food preparation techniques. Some food processing techniques are crucial in lowering food waste and enhancing food preservation, which lowers agriculture's overall environmental impact and boosts food security.
The majority of foods require primary food processing to be consumable, while secondary food processing transforms the components into well-known dishes like bread. Tertiary food processing has come under fire for contributing to overeating and obesity, having excessive amounts of sugar and salt and little to no fibre, and generally being unhealthy in terms of meeting the nutritional needs of people and farm animals.
The advantages of processing food
Toxin elimination, preservation, easier marketing and distribution chores, and improved food consistency are among the advantages of food processing. Additionally, it enhances the amount of food that is available each year, making it possible to transport delicate perishable items over great distances, and renders a variety of foods safe to consume by neutralizing spoilage and harmful microorganisms.
Without contemporary methods for food preparation, neither lengthy journeys nor supermarkets would be conceivable. Meals that have been processed are often less likely than fresh foods to deteriorate before consumption and are better suited for long-distance transit. Some processed foods, which were initially produced, contributed to the reduction of food shortages and the general improvement of population nutrition by making a wide variety of new foods more widely accessible.
Food-borne illness incidence can be lowered by processing. Fresh materials are more likely to contain pathogenic microorganisms (like Salmonella) capable of causing serious diseases. Examples of fresh materials include fresh fruit and raw meats.
Only with the widespread use of food processing is the enormously diverse modern diet feasible. Modern eaters have easy access to a vast range of food that their predecessors could never have imagined because of the transportation of more exotic foods and the removal of much hard labour.
Food's flavour may frequently be considerably enhanced by processing.
Food produced in bulk often costs less than food prepared from scratch on an individual basis. Therefore, there is a large profit potential for the producers and providers of processed food goods. When compared to home preparation, using processed food may be more convenient for people, but this benefit is rarely directly reflected in lower costs.
People who ate processed food no longer had to spend a lot of time preparing and cooking "natural," unprocessed items. People now have a lot more options for their lifestyle than they had in the past because of the growth in free time. There is limited time for the preparation of food using fresh ingredients since many households have adults who work away from the house. The food sector provides goods that address a variety of demands, such as completely prepared ready meals that can be quickly cooked in a microwave.
People with allergies, diabetics, and others who cannot ingest some common food components benefit from modern food processing as well. Additional nutrients, such as vitamins, can be added to food during processing. The contributions of many sectors of the economy are the reason why countries' economies are expanding so quickly. Food processing is one area of the Indian economy that makes a substantial contribution. Many businesses are forging a significant footprint in the industry. You can get a good idea of the top businesses in India by looking at the top 10 food processing firms.
Here is a list that can aid you in understanding the various businesses on the list, their history, and their areas of expertise.
Top 10 Food Processing Companies In India
1. Nestle
Industry – Food processing
Founded In – 1866
Headquarters – Vevey, Switzerland
Area served – Worldwide
On the list of food processing businesses in India, Nestle comes in #1. It is a business with incredibly deep origins that date back to roughly 1866. The international food and beverage processing firm Nestle is from Switzerland. Nestle items may be found everywhere around you, including baby food, coffee, dairy goods, morning cereals, candies, bottled water, ice cream, and a variety of other delicacies. Your preferred Maggi brand? That's also a Nestle product. Among the most well-known goods produced by this food industry in India are Maggi and Kitkat. It is a business that is a part of Mumbai's food processing industry. The business has three further branches in India in addition to Mumbai.
2. Parle
Industry – Food processing
Founded In – 1929
Headquarters – Vile Parle (East), Mumbai, Maharashtra, India
Area served – Worldwide
A multinational food processing business with headquarters in Mumbai is called Parle Products. Parle-G biscuits are the company's best-known product. It controlled 70% of the world's biscuit market in 2019. The best-selling biscuit brand worldwide as of 2020, according to Nielsen, is its Parle-G. The Chauhan family of Bombay's Vile Parle created the Parle Products firm in India in 1929.
In 1939, Parle first started making biscuits. India gained independence in 1947, and the business immediately began promoting its Glucose cookies as an Indian replacement for British biscuits. Due to the popularity of items like Parle-G cookies, 20-20 Cookies, Happy Happy, Hide & Seek, Krackjack, Magix Creme, Milano, Monaco, and cold drinks like Gold Spot and Frooti, the Parle brand gained widespread recognition in India.
3. Britannia
Industry – Food processing
Founded In – 1892
Headquarters – Kolkata, West Bengal, India
Area served – Worldwide
The Wadia Group, led by Nusli Wadia, includes the Indian firm Britannia Industries Limited, which specializes in the food sector. One of India's oldest still operating businesses, it has its corporate headquarters in Kolkata and is well known for its biscuit goods. The firm distributes biscuits, pieces of bread, and dairy goods under the Britannia and Tiger brands both domestically and internationally.
The firm has been embroiled in several management-related scandals going back to the circumstances surrounding the Wadia Group's acquisition in the early 1990s. It is profitable and still maintains a substantial market share. The production and selling of biscuits, bread, rusk, cakes, and dairy goods are the company's main business.
4. Cadbury
Industry – Confectionery
Founded In – 1824 
Headquarters – Uxbridge Business Park, Buckinghamshire, England
Cadbury India's business began in 1948. Malanpur, Madhya Pradesh, Thane, Induri, Bangalore, and Baddi are its five production facilities located around the country (Himachal Pradesh). It only has one office for cocoa activities in Dharapuram (Tamil Nadu) The biggest Cadbury brand share internationally is held by Cadbury India, which has over 70% of the market. A baseline for other chocolates in India and considered the "gold standard," Cadbury Dairy Milk is one of the most well-known brands in the country.
Other well-known brands include Oreo, Bournville, 5 Star, Perk, Bournville, Celebrations, Halls, Éclairs, and Tang. The leading Malted Food Drink (MFD) in the nation and the primary brand in the Milk Food Drinks category is Bournvita. Halls is a popular candy in the medicated category, and Cadbury India has also entered the biscuit market by introducing the world's most popular biscuit brand, Oreo.
Since 1965, Cadbury has taken the lead in the expansion of cocoa farming in India. Together with the Kerala Agricultural University, the research was conducted. Additionally, to boost cocoa yield, the Cadbury team trains cocoa farmers in many areas of cultivation.
5. Mother dairy
Industry – Milk and Dairy Products
Founded In – 1974
Headquarters – Noida, Uttar Pradesh, India
Mother Dairy is a wholly owned subsidiary of the National Dairy Development Board, a government-owned, statutory body responsible for manufacturing, marketing and selling dairy products, edible oils, fruits and vegetables under the Ministry of Fisheries, Animal Husbandry and Dairying. In 1974, Mother Dairy was established as a division of the National Dairy Development Board (NDDB).
In Delhi-NCR, where the firm is a significant milk provider and sells over 30 lakh litres of milk per day, it distributes milk products under the "Mother Dairy" brand. In addition to offering milk and other dairy goods, it is now the only dairy firm that also sells packaged sweets, fruits, vegetables, edible oils, and other items in a variety of other industries.
The fruit and vegetable division of Mother Dairy is called Safal. In addition to having a major presence across Bengaluru, it has several fruit and vegetable outlets in the NCR. As a division of the National Dairy Development Board, Mother Dairy was established in 1974. (NDDB).
The business, which distributes milk products under the "Mother Dairy" brand, is a significant milk provider in Delhi-NCR, selling over 30 lakh litres of milk each day. In addition to milk, it is now the only dairy firm to sell other goods in a variety of industries, including packaged sweets, fruits, vegetables, edible oils, milk, and dairy products.
Mother Dairy's division for fruits and vegetables is called Safal. It runs a sizable number of fruit and vegetable shops in the NCR and is also well-represented in Bengaluru.
6. Haldiram
Industry – Food
Founded – 1937
Founder – Ganga Bishan Agarwal (Haldiram Ji)
Headquarters – Nagpur, Maharashtra, India
The headquarters of the international Indian sweets, snack, and restaurant chain Haldiram's are in Nagpur, Maharashtra. The business operates manufacturing facilities in a number of different cities, including Nagpur, New Delhi, Gurgaon, Hooghly, Rudrapur, and Noida. In Pune, Nagpur, Raipur, Kolkata, Noida, and Delhi, Haldiram operates a variety of eateries in addition to its own retail network locations. There are more than 410 goods available from Haldiram's.
Traditional namkeens, western snacks, Indian sweets, biscuits, sherbets, and pickles like gulab jamun, as well as potato chips, frozen meals, Bikaneri bhujia, and papadum, are all included in its product line. The business also manufactures foods that are ready to consume. The introduction of American technology created for this purpose allowed for the development of dishes based on potatoes in the 1990s.
7. Amul
Industry – Food processing
Founded – 1946
Headquarters – Anand, Gujarat, India
Area served – Worldwide
Located in Anand, Gujarat, Amul is a cooperative dairy state government society in India. It is a cooperative brand run by Gujarat Cooperative Milk Marketing Federation Ltd. (GCMMF), which was founded in 1946 and is currently governed by 36 lakh milk producers in Gujarat as well as the 13 district milk unions' apex body, which are dispersed throughout 13,000 villages in Gujarat. India's "White Revolution," sparked by Amul, led to the nation being the top producer of milk and milk-related goods in the world.
Anand Milk Union Limited is referred to as AMUL. For the promotion of its product line, Kaira Union has launched the "Amul" brand. The founder of Anand Agriculture College, Maganbhai Patel, suggested calling the institution "Amul" after the Sanskrit term "Amulya," which translates to "priceless" or "valuable."
8. Kissan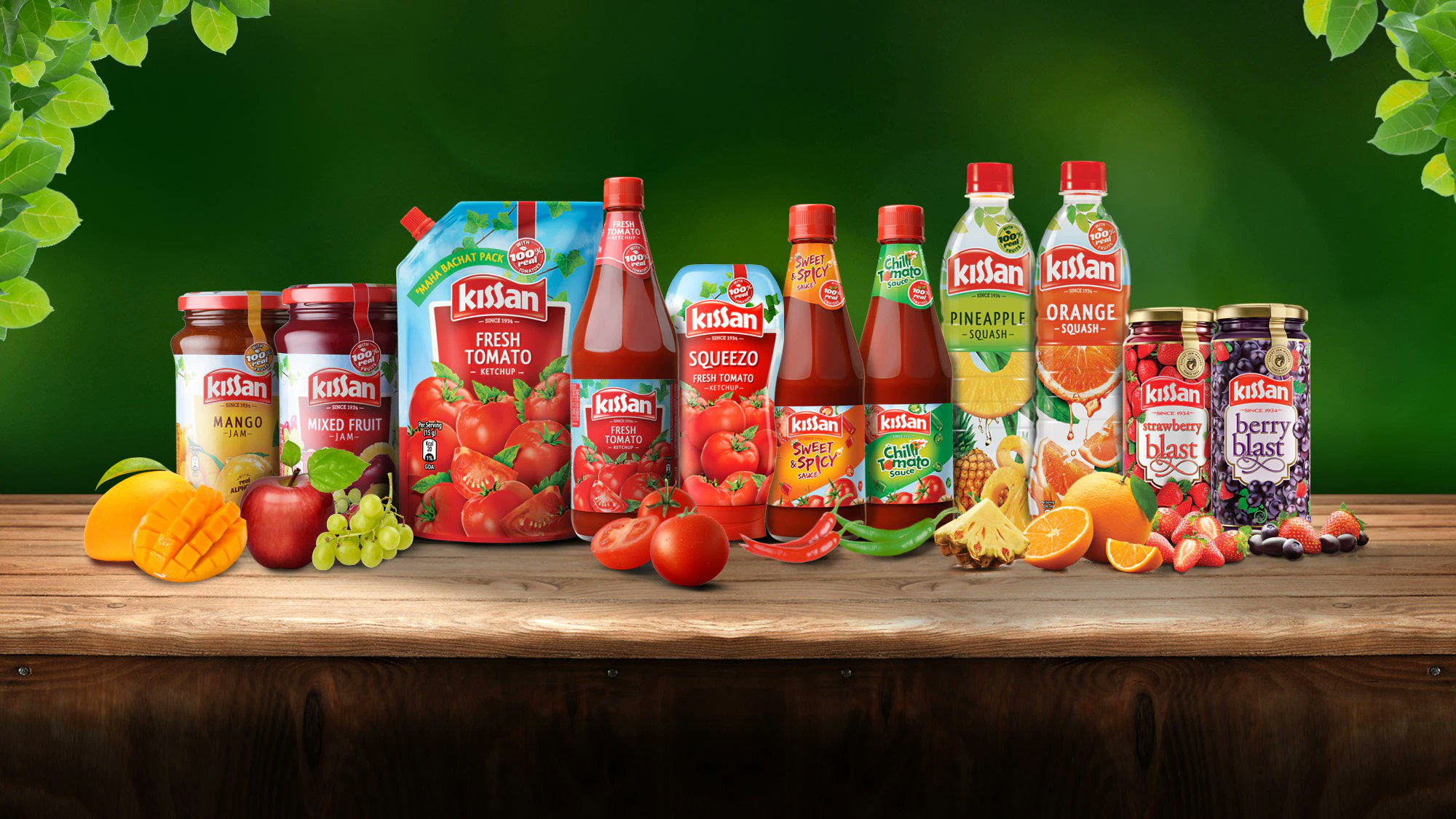 Industry – Food Processing
Founded In – 1950
Kissan offers a happy experience that is prepared with just genuine, farm-grown ingredients and tastes fantastic.
Trains travelling through Punjab during the British rule would stop at a processing facility where farmers would sell their just harvested fruits. This place was known as Kissan by the locals, and as a result, it became well-known. Kissan's path has been mostly focused on assisting small farmers in producing high-quality food. Along with our ketchup and sauces, all of our products, including jam, peanut butter, and squash, are made using ingredients sourced from farmers all around India.
Grapes from Karnataka, Oranges from Nagpur, Lemons from the foothills of the Himalayas, Pineapples from Kerala, and Gujarati Peanuts. Thanks to the devoted Indian Kisans who founded the brand Kissan. Kissan is a business that offers its customers a selection of delectable jams to choose from. One of the first fruit jams produced in the nation. The business also sells packaged squashes and ketchup.
9. PepsiCo
Industry – Beverages and Food processing
Founded – 1898
Headquarters – Harrison, New York (in the hamlet of Purchase), United States
Area served – Worldwide
One of the top 10 food processing firms in India is the well-known American multinational PepsiCo. It's a business with divisions for snacks, meals, and drinks.
The corporation produces numerous excellent goods, like Doritos, Lays, Pepsi, and Quaker Foods. It is a long-standing business with strong origins in India. The company's continuous presence in India is the cause of that. Environmentalists have repeatedly criticized Pepsi for its links to harmful agricultural practices in its supply chain, distribution practices like the use of pesticides and deforestation associated with palm oil, its use of water resources, and the negative effects of its packaging—packaging Pepsi has consistently been one of the major sources of plastic pollution worldwide.
10. Patanjali
Industry – Conglomerate
Founded – 2006
Headquarters – Haridwar, Uttarakhand, India
Area served – Worldwide
One of the leading food manufacturers in the nation is Patanjali. In terms of the availability of nutritious food, this company stands apart from other food processing businesses. The Indian market is an important market for Patanjali. The firm offers a wide range of goods, including biscuits, wheat, ghee, oils, cosmetics, and nutritious amla and aloe juices. It is a food processing business that is rapidly growing.
Future of Indian Food Processing Businesses
According to a Deloitte India survey, the Covid-19 epidemic has caused customers to place a higher emphasis on sustainability, health, and convenience while turning their attention to proteins and fresh proteins.
The "Future of Food" study, which was released today at the CII Agritech conference, highlighted a number of significant themes that may influence the Indian food business, including nutrition, wellness, and sourcing.
Anand Ramanathan, a partner at Deloitte India, commented on the findings, saying: "From a consumer aspect, the pandemic has resulted in a heightened focus on health, convenience, and sustainability. Increased emphasis on proteins, fresh vegetables, and processed meals has resulted from changing the food pyramid, which has also been influenced by rising income levels.
Prices for food have increased due to factors like COVID-19 and unfavourable weather. According to the paper, pressure on the food system will soon come from both climate change and expanding population along with their ever-changing dietary needs.
According to Ramanathan, "These consumption-related changes are influencing changes in the value chain with an increased focus on elements like traceability, mechanization, intensification, and regenerative agriculture promoted by investments in the Ag-tech space which is attracting venture and investment capital like never before."
The use of agriculture, which accounts for more than half of the world's livable land, has a large negative impact on global emissions. Ramanathan stated: "Health-conscious, modern customers prefer to eat foods that have a less environmental imprint."
Beyond only being concerned with their own health, people are now more aware than ever of the ecology.
Following are a few significant trends from the "Future of Food" report:
Healthy eating: Grain intake made up 55% of daily calories, down from 63% in 1961. Protein consumption climbed to 63 gm in 2015–17 from 55.3 gm in 2000–2002, while superfoods like olive oil and green tea are also becoming more popular.
With an increased emphasis on leading a healthy lifestyle and practising preventative medicine, Nutri-cereals like millet have begun to supplant everyday mainstays like wheat and rice. Consumers are also enthusiastic about food augmentation to improve nutrition.
Conscious sourcing: Modern customers are also worried about the safety of their food, which has caused them to favour organic food. The Indian organic food market is anticipated to increase at a compound annual growth rate of 21% from its present level of Rs 60 billion to Rs 182 billion by 2026.
Conscious preferences: The rise of regional brands is a result of consumer demand for foods that suit their own area tastes. This can compel companies to design their product mix carefully. The emphasis on national brands is shifting to include regional variations as well. Customers now choose packaged necessities over unpackaged goods while making purchases. This development was enhanced with Covid-19. This penchant for low-cost packaged food is giving private-label retail businesses more popularity.
Conscientious convenience: The frozen and ready-to-eat sectors have seen a notable increase as well. From 2020 to 25 there is expected to be a 28% compound annual growth rate for the online meal delivery business and a 53% CAGR for online groceries.
Overview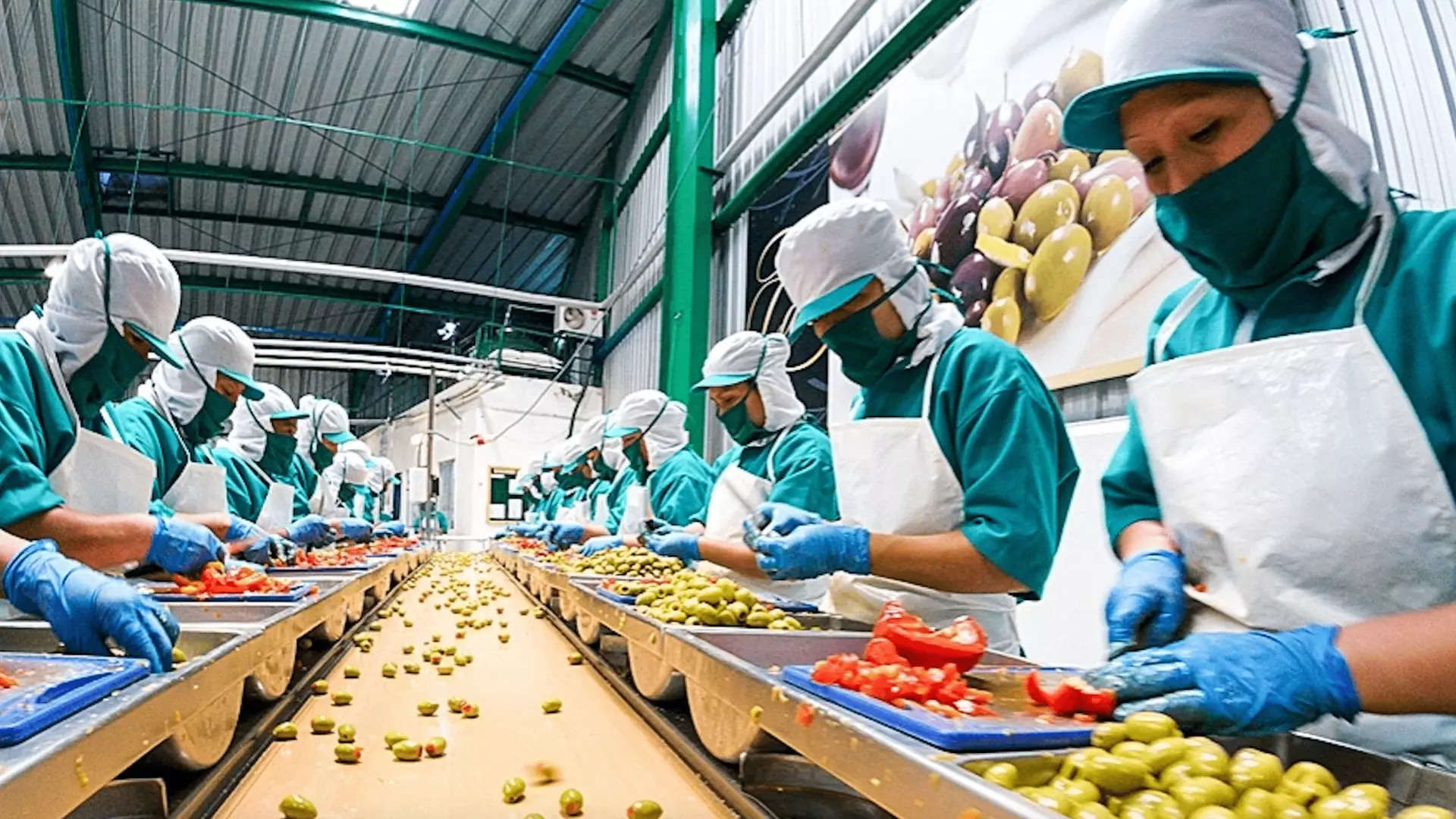 Simply put, food processing is the process through which agricultural materials are turned into consumable food items. It encompasses a variety of processing techniques, including home cooking, industrial techniques, and grinding grain to form raw flour. These techniques are used to manufacture convenience meals like noodles, spaghetti, and chips. Because India harvests and subsequently processes a wide range of food items for consumption, the food processing sector plays a significant role in the country's economy.
India is the world's top producer of milk, bananas, mangoes, guavas, papayas, ginger, and okra. It ranks second in the production of wheat, rice, fruits, vegetables, tea, sugarcane, and cashew nuts. India is also the world's third-largest producer of cereals, coconut, lettuce, chicory, nutmeg, mace, and pepper. This business is expected to survive all seasons and never worry about a recession because of rising wages and growing demand for healthy, packaged foods. Government support for the sector is also rising.
Market Statistic
One of the largest food processing industries in the world, India's output is anticipated to exceed US$ 535 billion by 2025–2026.

By 2024, 9 million new employees in this industry are anticipated.

The food processing sector represents 32% of the overall food industry in India, which is growing at a CAGR of 11%.

Between April 2014 and March 2020, India's food sector garnered $4.18 billion in foreign direct investments.

The yearly household consumption in India is anticipated to quadruple by 2030, elevating the country to the fifth-largest consumer in the globe.
Key Trends & Growth Drivers
The organized food retail industry is expanding, and urbanization is rising.

MSMEs are making significant contributions to the food processing chain in India through a variety of techniques and skill developments.

In India, the internet meal ordering industry is expanding rapidly.

Packaged, healthful, and immunity-boosting foods like roasted nuts, popcorn, and roasted pulses are in hot demand.

A change from loose to branded packaging is occurring in the market.

This industry is given importance by the government's "Atmanirbhar Bharat" project, which provides support through a number of measures.
Recently enacted government initiatives:
In its "Make in India" initiative, the Indian government has given the food processing industry top priority and encourages investment there. In order to improve the food processing supply chain, the government has also developed 134 cold chain projects and 18 mega food parks. These measures will probably benefit businesses that process food. Additionally, the food processing sector is on a strong development trajectory as a result of recent government measures, such as the Rs. 10,000 crores ($1.35 billion) program launched by Mrs Nirmala Sitharaman, the Finance Minister, to boost this sector.