Health
To reduce the sting of new cancer-drug pricing, the industry digs holes in the 'flawed' model as regulator steps even in 2022
The emperor of drug illnesses gives birth to a kingdom of poor people.
Many people get buried when they die of cancer, not just the dead ones. When a person receives treatment, their family is often left broke.
A single dose of an anti-cancer drug can cost more than one lakh rupees, which is a lot. Not to mention the costs of the hospital. To answer this question, we need to know: Why are these drugs so pricey, and what is being done to fix and regulate their prices?
Anti-cancer drugs usually cost more than diseases like heart problems or respiratory problems. They are priced based on three factors:
Even though there are a lot of generic drugs to keep the cost of anti-cancer therapies low, new patented medicines aren't subject to price controls for five years after they're launched.
Many medicines are biotech-based infusions or injectables, which require a lot of time and money to make and get to people, which makes them more expensive.
People in the United States and other developed countries have health insurance. In India, up to 70% of the population doesn't have medical insurance or reimbursement plans. So, the patient has to shoulder the burden of treatment.

When these problems first came up, the government tried to figure them out for a long time. It set up several committees to keep the prices of anti-cancer drugs down. But, at the very least, these moves have been half-assed.
In a new controversy, the government and big drug companies are at odds. On the other hand, the government says that manufacturers and sellers of anti-cancer drugs use shady distribution channels to make money, which leads to high prices for patients. On the other hand, the drug makers say that their efforts have always been in the people best interest who use their medicines.
That is why this debate has so many different points of view. Are there any chances that the problem will be solved at the end of the day? As time goes on, will people finally be able to get some help?
The tussle over the formula.
When a company makes or markets a drug, it sells it to a distributor or a stockist at a price called "price to trade." The distributor or stockist is then the first point of sale for the drug.
The government thinks something isn't right. As a result, in several letters to the Department of Pharmaceuticals, OPPI has said that the distribution processes of its member companies are well-documented and in line with global best practices.
This group also claims that as part of their patient-assistance programs (PAPs), the companies give away free medicines every time a patient buys certain anti-cancer drugs from the companies. In this case, the free treatments are provided by third parties, like an NGO or a group of patients. These groups use a set of rules to determine which patients are eligible for free medicines.
This is a problem for drugmakers because the government thinks that capping the trade margin at 30% will lower the price of the drugs, but this is not true. They say that PAPs make the prices much lower for the patients and that those programs can last for years, which means that there will always be enough medicine.
On daily news, the head of OPPI says the government is going in the right direction to fix high trade margins. But, when it comes to drugs to treat cancer and rare diseases, the government relies on a "flawed formula."
Ananthakrishnan says that formula, which is being used in a pilot program for 42 anti-cancer drugs, makes the prices too high. According to him, the prices of new anti-cancer drugs are too high for most countries, like India. Global drug companies use PAPs to make them as cheap as possible.
PAPs help patients by giving them free extra medicines based on their income and ability to pay (such as two different strips of tablets or vials of injections for each purchase). This system, he says, has worked well because it keeps patients on their medicines and improves their health at the same time.
Because free drugs aren't sold or distributed, OPPI says they should be excluded when calculating trade margins. This is because they aren't sold or distributed, making a drug more expensive.
The dangers of good deeds
OPPI sent a letter to the National Pharmaceutical Pricing Authority (NPPA), the government's drug pricing watchdog under the Department of Pharmaceuticals. In the letter, OPPI asked the NPPA to define "net sales quantity," which is used to determine the average or effective price for distributors. If you want to figure out your profit margin, you should only include "commercial sales units" in your total sales. There is no trade involved in non-commercial units, so you can't figure out your profit margin if you give them away.
That doesn't seem to be the case with the government, which thinks there's something fishy going on. It says that trade margins are very high and must be considered when figuring out the final prices. Sources say that the government doesn't know what PAPs are is one reason not to believe the industry's point.
"If a company gives two strips free for each one that is bought, it can change that to one strip free for each one paid for, or even cut the number of patients who can benefit from these schemes," says a source. The government says that if global drugmakers can make these medicines freely available to patients, the same rate should be used for bulk supplies to government-run institutions like the railways, defense, or the central government's health services.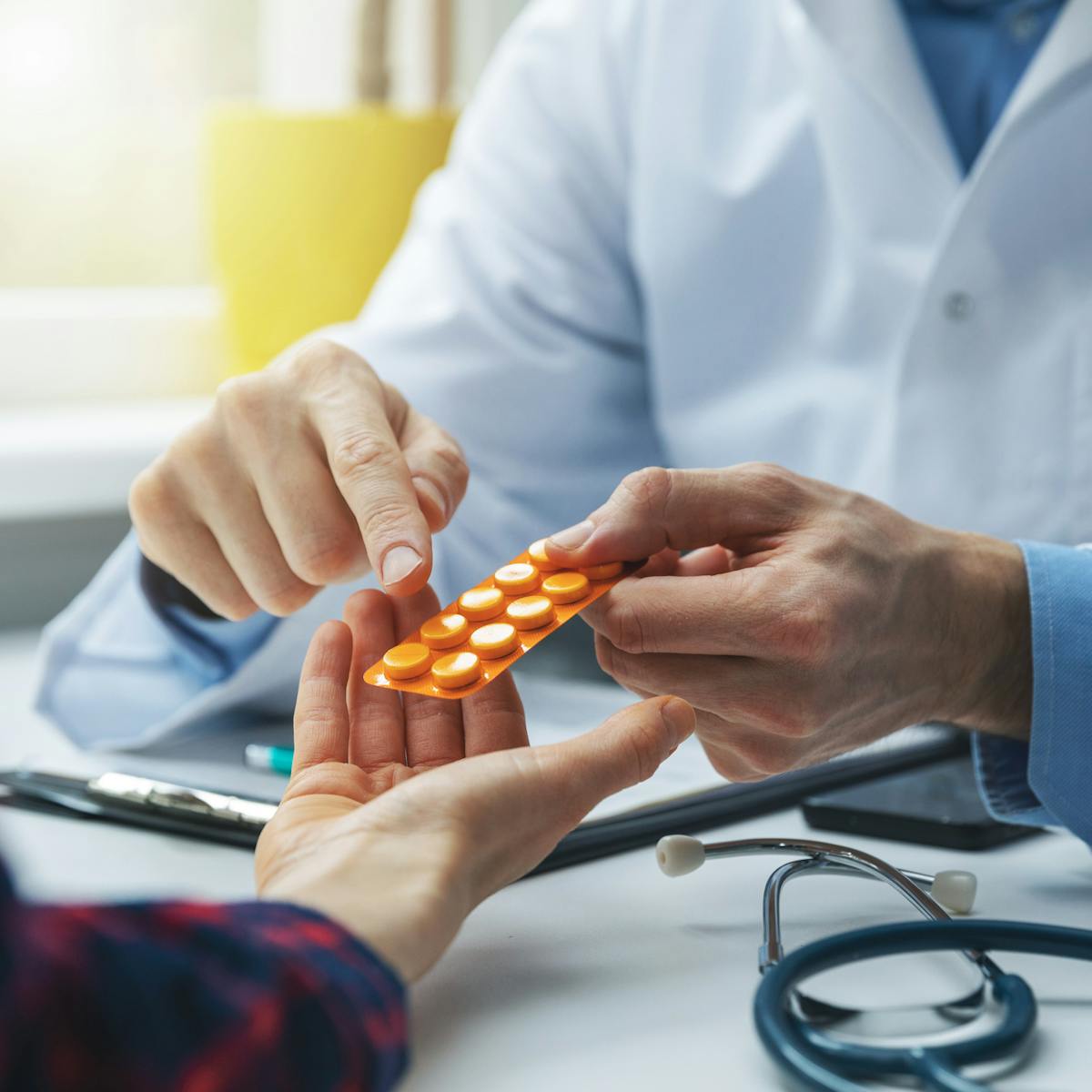 When the NPPA said that, last June, the British drug company AstraZeneca was given a recovery notice by the NPPA for allegedly overcharging patients between March 2019 and January 2021. A drug called Tagrisso (osimertinib) is used to treat a specific type of lung cancer, and it comes in an 80mg tablet. The authority told AstraZeneca to pay INR157.38 crore, which is the amount that was overcharged. If the payment isn't made on time, the company will be charged interest.
The fight was not wholly unexpected. NPPA's choice of AstraZeneca was made in the light of a February 2019 notification that made it easier to cut trade margins on 42 anti-cancer drugs. Intending to stop "unreasonable trade margins," the pricing watchdog uniquely used its powers, and it decided to limit trade margins on those drugs to 30%.
If the gossip is true, this is the NPPA's "dipstick," or a small project that could lead to more. Over many years, committees worked on the issue and came up with recommendations. The NPPA used those recommendations to say that trade margins on some drugs were more than 1,800 percent. As the NPPA said, the government is "committed" to protecting consumers from "such naked fleecing."
This is especially true in a knowledge-based industry like pharmaceuticals, where there is little choice for the customer. Consumers are guided by the doctor's prescription and medicine given to them. They have to pay the MRP (maximum retail price) to buy the medicine with or without a discount.
In fact, "none of the DPCOs [drug price control orders] had set a cap on MRP, which is what guides people and what they pay." People don't have to follow any rules about MRP or trade margin because there are no laws. So, it is essential to limit trade margins. The committee says that the industry should set intra-trade margins but that the government should set a cap on how much the government can say about them.
When it comes to the case of AstraZeneca, The NPPA's decision to punish AstraZeneca sparked even more debate. Last year, the British drug company filed a writ petition against the government authority in the Delhi High Court, claiming that it charged patients too much for their medicine.
According to industry sources, AstraZeneca's original price for Tagrisso 80mg was INR204,000 per strip of ten tablets. As part of its PAP, the company gives two free strips each time a patient comes to a patient group because they can't afford to pay. It costs INR68,000 per strip to account for GST and customs duty, which means the accurate price is INR68,000 each. AstraZeneca says that if the National Pharmaceutical Pricing Authority's formula of setting 30% margins is used, INR6,800 per tablet is much less than INR97,000 per strip.
Because of the NPPA's decision, global drug makers are terrible. The price of medicines in India is used as a benchmark or "reference price" for prices in other countries like Egypt, Vietnam, or Indonesia that use the same prices for their medicines. They say that if the government wants trade margins to include medications sent through PAPs, it could change their supply strategies and put some drugs out of India's reach.
The price of drugs in the US and Europe can also be a problem. Some patient groups say that drug companies charge high fees to make up for lower prices in other parts of the world.
If AstraZeneca wanted to share its writ petition with ET Prime, its India office said the case was still in progress, and they couldn't give them a copy. They also said they couldn't say much because the case was still ongoing.
In an email, an AstraZeneca India spokesperson said, "The company has done a comprehensive review of the matter and is of the firm view that it has followed all applicable laws, including the Notification SO No.1041 (E) dated February 27, 2019. The NPPA's demand is grossly erroneous and legally unsustainable."
The company says that the NPPA hasn't considered several arguments supporting its claims, including that osimertinib is a patented drug. The DPCO, 2013, and the notification dated February 27, 2019, don't apply.
AstraZeneca says it wants to make sure patients have the best access to its drugs through its PAPs, which help patients who pay out of their own pockets get medications for free if they qualify. The company warned that the NPPA's order could impact PAPs and the cost of medicines across the industry.
Also, it said the company is punished even though it sold drugs to government institutions at lower prices through tenders. Even so, it included the MRP instead of the amount that was sold for accounting purposes. May is the first week of May, and a division bench will hear the case at the Delhi High Court.
NPPA sources say that in their response to the court, the anti-cancer drugs' prices have been cut by up to 90%, and the public has gained more than INR984 crore as a result. It said that the writ petition should be rejected because AstraZeneca doesn't give out free medicines to everyone, and it's not meant for everyone.
They think that AstraZeneca is best in this whole thing. That's what Krishna Sarma of the Corporate Law Group tells ET Prime. The makers of new drugs welcomed the government's decision on trade margin rationalization (TMR) if it didn't mess with their prices.
Due to a lousy mechanism, the price went up.
In Sarma's view, how the "price to stockist" came to be was another move toward price control rather than trade margin regulation. Free supplies were given to patients under PAPs, and government supplies were included in "net sales."
It has led to artificially lowering the MRP by as much as 70%, and that's for a patented drug. This is what we did in the court case that we filed." In both patient-assistance programs and government purchases through tender, there were no trade channels, so "no trade margin was paid," says Sarma, who adds:
She says that if TMR is used with a flawed derived formula, it will be impossible for vital PAP programs to continue and leave patients without medicines.
Why not lower the MRP? Companies can give free drugs as part of PAPs, but why not lower the price of the drugs on their own?
Sarma says that the problem is that many countries use prices in India as a guide, which means that global drug companies can't charge different prices in other countries. Likely, other countries will illegally send "suitcase exports" from India to other countries, and it will be tough to stop this.
When you think about it, cancer has become a significant health problem in India and all over the world. Indian cancer cases rose sharply to over 1.3 million in 2020, while the world figure rose to 23 million new topics during the same time. A decade ago, the figure was more than double, and forecasts say that this number will only get more prominent in the future.
The global data-science company IQVIA says that in 2020, the world spent more than $164 billion on oncology drugs. By 2025, that figure is expected to be more than $269 billion. That makes the debate about who can get new anti-cancer treatments a hot-button issue. But the fight between the industry and government agencies may go on for a long time, which means that relief for patients is in jeopardy.
edited and proofread by nikita sharma