Stories
Was there a massacre in Bucha, and what is India's view on the matter? What was the reaction of Ukraine's President, Volodymyr Zelenskyy?
Over 300 bodies have been discovered in Bucha, a Kyiv suburb; some had their hands bound, flesh burned and shot in the back of the head. The findings have prompted similarities to civilian fatalities in this area during World War II.
Images of mass graves and streets strewn with dead emerged from the town of Bucha near Kyiv on Sunday, and it looked like something out of a horror film.
Ukraine claims to have collected around 400 victims in civilian attire strewn throughout the streets and stacked in mass graves.
After Russian soldiers departed from the region, the bodies were discovered with their hands bound behind their backs, close-range gunshot wounds, and signs of torture. The evidence has been dubbed "proof of a Russian army massacre" by Ukraine.
According to a report, Associated Press journalists saw the bodies of at least 21 people in various locations around Bucha, northwest of the city. Residents started the Russian military and used the property as a base. One group of nine, all dressed in civilian clothes, was distributed. They appeared to have been assassinated at close quarters. Two of them had their wrists tied behind their backs, one had a gunshot wound to the head, and another had his legs bound.
Victims were discovered in a shallow mass grave in a church compound. According to another account, five bodies with their wrists bound were found in the basement of a children's sanatorium that was used as a "torture chamber" for civilians.
Over the weekend, when awful accounts and images emerged, NATO officials were shocked and issued strong comments condemning the killings. The demand for stronger sanctions against Russia has grown louder. The need for sanctions is so strong that Germany's defence minister, Christine Lambrecht, has suggested that the European Union consider blocking Russian gas imports, which may harm her own country. However, in solidarity with Ukraine against the Russian invasion, European leaders are now prepared for the worst.
The current images are disturbingly similar to civilian massacres in the area around Kyiv, including Bucha, during World War II, when Hitler's Operation Barbarossa against the Soviet Union resulted in what was dubbed the "Holocaust by Bullets."
According to accounts, between the First and Second Battles of Kyiv, Nazi forces killed an estimated 1.5 million people, predominantly Jews, at close range.
Atrocities were recalled as low-ranking Nazi Einsatzgruppen paramilitaries combed the occupied country, randomly executing citizens in homes and streets in Bucha, according to news accounts that surfaced 80 years later.
To return to the present, Human Rights Watch (HRW) published a report: "On March 4, Russian forces collected up to five men in Bucha, roughly 30 kilometres northwest of Kyiv, and summarily murdered one of them." According to a witness, soldiers ordered the five guys to kneel on the side of the road, pulled their T-shirts over their heads, and shot one of the men in the back of the head. "He toppled [over], and the women [on the scene] shouted," the witness claimed.
The report also mentions the suffering of a woman who told Human Rights Watch that on March 13, a Russian soldier repeatedly raped her in a school in the Kharkiv region where she and her family were sheltering. According to her, he allegedly beat her and sliced her face, neck, and hair with a knife. HRW investigated the woman's images and medical records, according to HRW, who is now undergoing treatment in Kharkiv after fleeing the horrible occurrence.
These and other reports have surfaced, putting Russia in the crosshairs of the international community. On the other hand, the Kremlin has categorically denied the allegations, claiming that the tape is a "monstrous fabrication" intended to discredit Russians.
According to Reuters, Kremlin spokesman Dmitry Peskov said, "It's just a well-directed but terrible performance," and urged the international community to "compare the facts and recognise what a horrific fake we're dealing with."
Whether the images were fabricated, stories of Russian atrocities from many sources have left little to the imagination. The International Criminal Court (ICC) has already opened an inquiry into alleged Russian war crimes, which could conceivably include Putin. However, enforcement remains a question because Russia appears to have no intention of cooperating with the probes, mainly because it does not recognise the ICC.
What is the location of Bucha in Ukraine?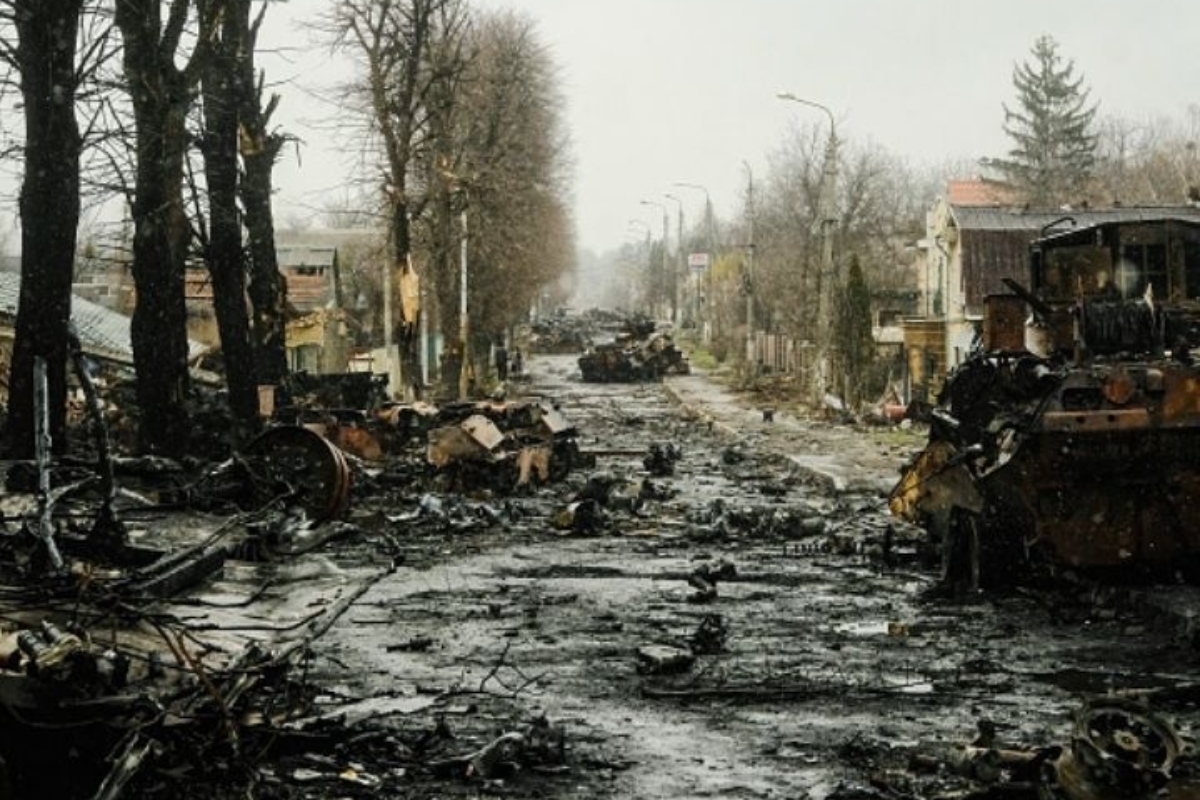 Bucha is a tiny hamlet located on the outskirts of Kyiv, Ukraine's capital. Before the war, it had a population of around 35,000 people and was located near the cities of Irpin and Hostomel.
Bucha is around 28 kilometres from downtown Kyiv, according to Google Maps.
Following peace negotiations in Istanbul last week, Russia indicated it would begin to draw back its operations in northern Ukraine and surrounding Kyiv.
Despite the commitment, Russian troops have continued to bombard such areas while relocating to the east.
Why are the bodies only now being discovered?
Since the full-fledged war broke out just over a month ago, Ukrainian soldiers have been fighting Russian troops in the vicinity of Kyiv.
Ukraine has fought back hard and begun retaking cities outside of the capital, notably Bucha.
Moscow's troops withdrew from Bucha late last week, according to Sharavsky. Hundreds of slain people uncovered on the streets of Bucha and the Kyiv suburbs of Irpin and Hostomel looked like a "scene from a horror movie," according to Oleksiy Arestovych, an adviser to Ukrainian President Volodymyr Zelenskyy.
He claimed that several persons were shot in the head and had their hands bound and that some bodies had evidence of torture, rape, and burning.
Vitali Klitschko, the mayor of Kyiv, said residents were "shot with joined hands" and that "what happened in Bucha and other suburbs of Kyiv can only be regarded as genocide."
As Ukraine's military reclaims land and discovers evidence of execution-style slayings, authorities said they were documenting material to add to their case for prosecuting Russian leaders for war crimes.
President Zelensky of Ukraine slams European 'indecisiveness' on sanctions.
The Ukrainian president told the Irish Parliament that new "rhetoric" over sanctions has surfaced but that "I cannot tolerate any indecisiveness after what we have been through and everything Russia has done to us."
On Wednesday, Ukrainian President Volodymyr Zelenskyy slammed European hesitation about halting Russian energy imports, alleging that certain politicians were more concerned about commercial losses than war crimes. In his address to the Irish Parliament, new "rhetoric" over sanctions has developed, Zelenskyy said, "but I cannot allow any indecisiveness after what we have gone through and everything Russia has done to us."
As the Russian invasion of Ukraine enters its 42nd day, he makes his remark.
"They regard their country as a colonial empire in the twenty-first century… Russia must be held accountable "he stated
According to Zelenskyy, Russia uses hunger as a weapon in its battle and a tool of dominance. He accused Russian President Vladimir Putin of attempting to shut off crucial food supplies for people in Ukraine and elsewhere by prohibiting cargo exports.
Zelenskyy also alleged that Russia had launched missile attacks overnight on Ukrainian oil storage.
"We still need to persuade Europe that Russian oil cannot provide new funding sources for the Russian military machine," Zelensky added, advocating for the complete isolation of Russian banks from Western finance.
"The only thing we're missing is the moral approach of some leaders — political and business leaders — who still believe that war and war crimes aren't as bad as financial losses," he added through an interpreter.
The European Union is preparing to apply the fifth wave of sanctions to cut off Russian coal supplies, while NATO and G7 foreign ministers are meeting in Brussels to discuss the next moves.
However, due to the economic damage to their economies, Germany and other EU members have been hesitant to target all Russian energy exports.
Zelenskyy said residents in cities near Kyiv were tortured, shot in the back of the head, thrown down wells, blown up with grenades in their flats, and crushed to death by tanks while in cars in a speech before the UN Security Council on Tuesday.
He said that those who carried out the executions and those who gave the instructions "must be brought to trial quickly for war crimes" before a tribunal comparable to the one set up after World War II in Nuremberg.
"But we don't have a choice; our land's and people's fates are being decided," she says, "he stated, "We know what we're up against. And we'll go to any length to win."
Russia has argued that its troops have committed no crimes against humanity.
"Not a single local person," stated Vassily Nebenzia, Moscow's UN envoy. "While Bucha was under Russian administration, it was subjected to violence.
Valentyn Reznichenko, the governor of Ukraine's Dnipropetrovsk region, said the Russian military targeted petroleum storage overnight. The exact number of casualties is unknown.
"It was a frightening and stressful night." The enemy struck our region from the air, hitting the oil depot and one of the factories. The gasoline depot at the oil station was destroyed. Rescuers are still putting out the fire at the plant. "Earlier in the day, Reznichenko stated on the Telegram messaging app.
According to the governor of Ukraine's eastern Luhansk region, Serhiy Haidai, the shelling of Rubizhne city on Tuesday killed one person and injured five others.
Since 2014, Russia-backed separatists have controlled parts of Donetsk and Luhansk, which Moscow recognises as autonomous entities. So far, Ukrainian forces have held back Russian troops attempting to march east. Still, they are outmanned in terms of both personnel and equipment, according to Zelenskyy, who spoke to his country by video late Tuesday.
Evidence of what looks to be deliberate deaths of civilians in Bucha and other towns before Russian soldiers retreated from Kyiv's outskirts has sparked outrage worldwide. Scores of Russian diplomats have been removed by Western countries, with more to follow.
While Moscow denies the claims, Biden demands Putin be placed on trial.
President Joe Biden of the United States has requested that Russian President Vladimir Putin be charged with war crimes, despite Moscow's denial of any role in the Bucha massacre. On Monday, Biden again called Putin a "war criminal," referring to the Kyiv suburb.
"Everyone sees what's going on in Bucha," he added, adding that he would pursue stricter sanctions against Russia.
The Kremlin has unequivocally refuted any charges relating to the massacre of civilians in Bucha, saying that Ukrainian allegations should be viewed with caution.
"This information must be properly questioned," Dmitry Peskov, a spokeswoman, said.
"Our experts have found indicators of video falsification and other fakes based on what we've observed."
Peskov encouraged world leaders not to jump to conclusions. "Any claims against us are unequivocally denied," Peskov stated. Other foreign leaders, notably Prime Minister Justin Trudeau of Canada, have expressed their displeasure with the findings.
"We strongly condemn the killing of civilians in Ukraine," he tweeted on Sunday. "We are dedicated to holding the Russian regime accountable, and we will continue to do everything we can to help the people of Ukraine."
"Those responsible for these heinous and heinous attacks will be held accountable."
Melanie Joly, Canada's Foreign Affairs Minister, issued a statement on Twitter, calling the soldiers' conduct "terrible" and a "senseless slaughter of innocent civilians."
"Canada will spare no effort, including war crimes investigations, to guarantee that those responsible are brought to justice," Joly said.
Experts predict a war crimes investigation may take years.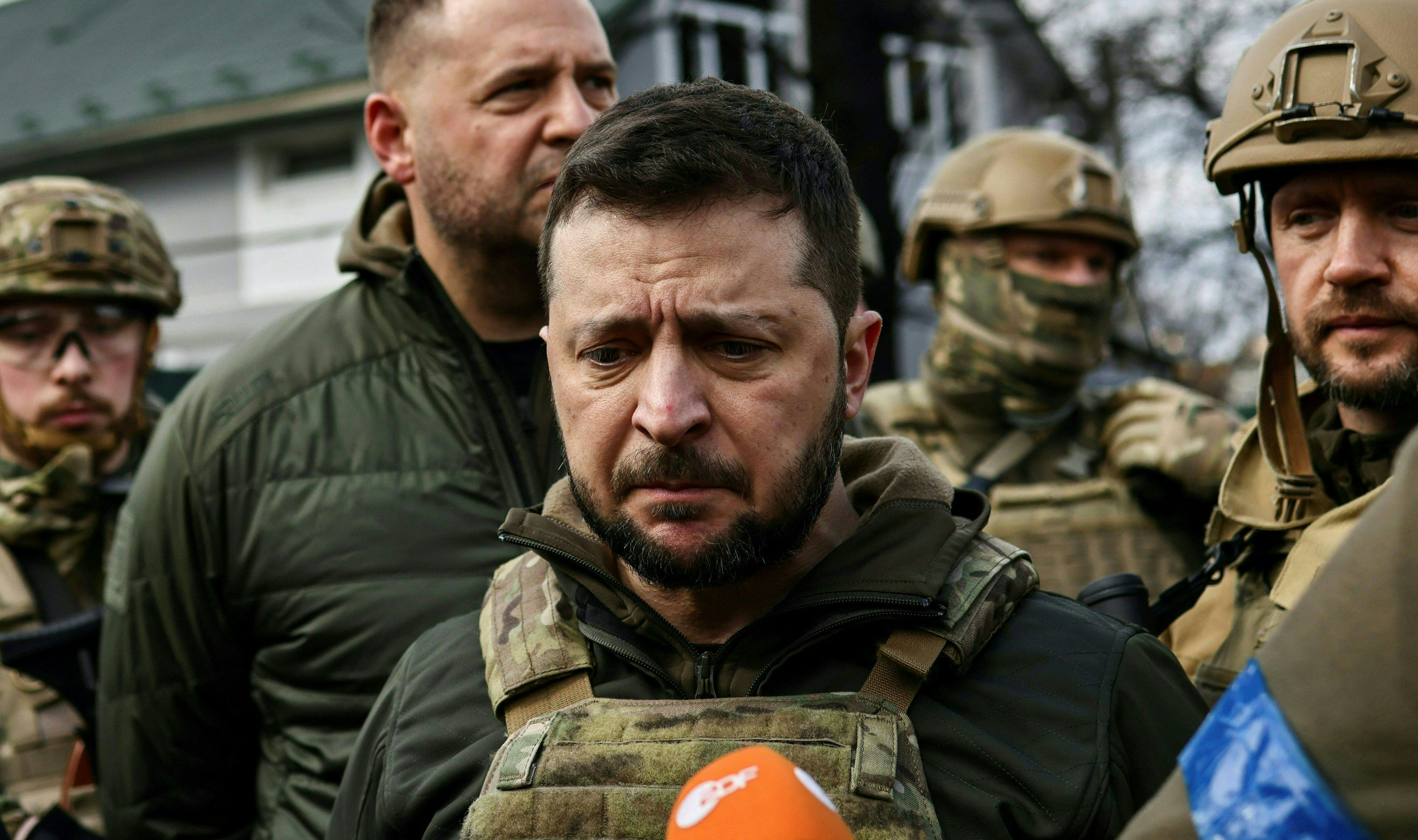 Last month, the International Criminal Court's chief prosecutor said that an investigation into potential war crimes in Ukraine had begun.
Even before Bucha, Ukraine and its Western allies accused Russian forces of attacking people indiscriminately, citing the bombardment of a maternity facility and a theatre listed as housing minors in the southern port of Mariupol.
Canada has sent RCMP investigators to help with the probe, but legal experts warn that prosecuting Putin or other Russian authorities would be difficult and time-consuming.
According to the International Criminal Court, war crimes are "severe breaches" of the post-World War II Geneva Conventions, which establish the international humanitarian rules to be obeyed during times of war. Experts say that breaches include purposely targeting people and striking lawful military targets with "excessive" civilian deaths.
Investigators may issue an arrest warrant if prosecutors can prove "reasonable grounds to think" war crimes were committed. Prosecutors would have to establish a defendant's guilt beyond a reasonable doubt to get a conviction.
Most accusations require prosecutors to prove purpose, and one way they could do so is by demonstrating that there were no military targets in the area of an attack and that it was not an accident.
"If it happens again and again, and the strategy appears to be to target civilians in metropolitan areas," Alex Whiting, a visiting professor at Harvard Law School, told Reuters, "then that can be pretty significant proof of a desire to do so."
In a war zone, however, prosecutors may have difficulty acquiring evidence, including interviews with witnesses who may be intimidated or otherwise unwilling to talk, which may lead to a years-long investigation, according to experts.
So, what's next?
Ukraine and Russia were supposed to meet by video on Monday to resume peace negotiations, but the finding in Bucha may cast a pall over those attempts. Russia's artillery bombardments in Ukraine's south and east have persisted, despite Moscow's claims that it is now concentrating its efforts there.
On February 24, Russia dispatched tens of thousands of troops to Ukraine in what it described as a "special operation" aimed at weakening its southern neighbour's military capabilities and removing "dangerous nationalists." Ukraine's soldiers have put up an intense fight, and the West has slapped severe penalties on Russia to convince it to withdraw its troops.
Zelenskyy has referred to Russia's campaign as "genocide," a term he has used several times throughout the war to describe Putin's intention to exterminate the country and its people. "We are Ukrainian citizens who do not want to be conquered…." This is why we're being destroyed," he said on CBS's Face the Nation over the weekend.
edited and proofread by nikita sharma