Trends
India's trade deficit more than doubled to $27.98 billion in August.
INDIA'S TRADE DEFICIT COMPARED TO LAST YEAR
As per the latest updates published by the commerce and industry ministry on Wednesday, India's merchandise trade deficit surged to $27.98 billion in August from $11.71 billion a year earlier.

Merchandise exports climbed to $33.92 billion from $33.38 billion in August 2021, while imports surged to $61.90 billion from $45.09 billion in the same period.
Contrary to $420 billion in FY22, India's merchandise exports are expected to be between $470-480 billion in the current financial year, as per Commerce Secretary B.V.R. Subrahmanyam.

He had also said that the trade deficit, which crossed $100 billion during April-July of the current fiscal, would decrease in the coming months.
Exports during April-August rose 17.7% to $193.51 billion from the year-ago period, while imports during the five months grew 45.7% to $318 billion.
INDIA' EXPORTS AND IMPORTS

India's exports rose marginally by 1.62% to $33.92 billion, while the trade deficit more than doubled to $27.98 billion in August due to increased crude oil imports, commerce ministry data said on Wednesday.

The revised data showed that imports rose by 37.28% to $61.9 billion in August.
Per the initial information released by the government on September 3, exports to $33 billion in August declined by 1.15%.

Concerning the same period last year, the trade deficit increased to $124.52 billion in April through August of this fiscal year from $53.78 billion.
In August of the previous year, the government had a deficit of $11.71 billion.


Crude oil imports rose by 87.44% in August of this year to reach a goal of $17.7 billion. On the other hand, the statistics suggest a 47% reduction in gold imports to $3.57 billion.
Adversely, silver sales rose to $684.34 million in the assessed month from $15.49 million in the prior year's fiscal year.

Major commodity groups including coal, coke, and briquettes (up 133.64% to $4.5 billion), chemicals (43% to approximately $3 billion), and vegetable oil (41.55% to nearly $2 billion) witnessed an increase in import values in August.

Electronic products, rice, oil meals, tea, coffee, and chemicals were some export commodities that experienced an upsurge in August.
India's trade deficit was slightly lowered from an earlier target of USD 28.68 billion and USD 11.71 billion to USD 27.98 billion in August 2022, even though it remained closer to the highest of USD 30 billion in July.

India's trade deficit in 2021 was $-65.05 billion, up 529.2% from the preceding year. India's trade balance for 2021 was $-65.05B, a 529.2% increase from 2020.
TRADE DEFICIT

What is a trade deficit?

The trade deficit or unfavorable trade balance (BOT) is the disparity between imports and exports. A trade deficit occurs when an economy spends more on imports than exports.
It can be estimated for various commodities and services and inter-country transactions. The trade surplus is the polar opposite of the trade deficit.

The trade deficit from April through July 2022–23 was 100.01 billion USD, compared to 31.02 billion USD in July 2022.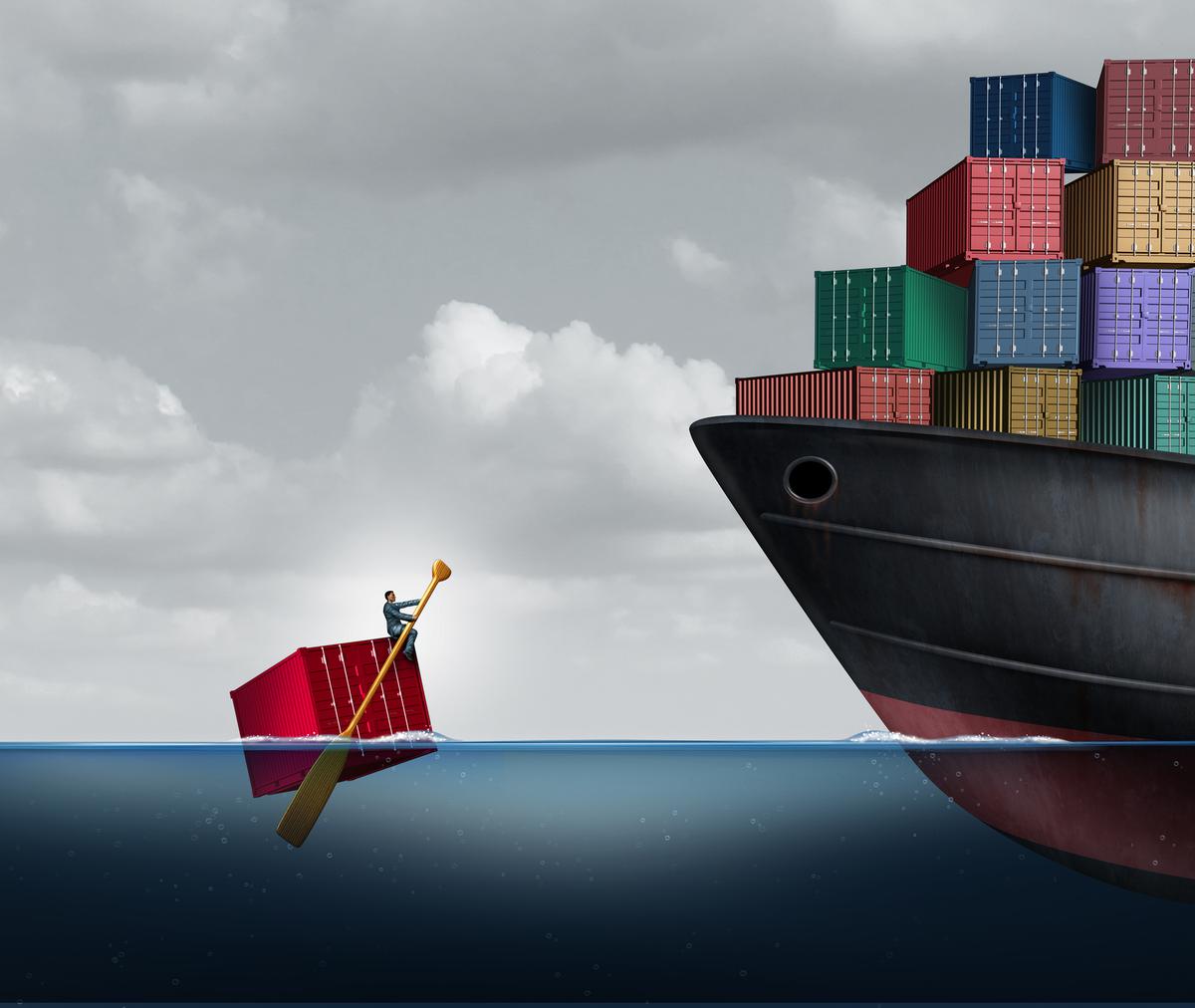 India exported goods of USD 35.24 billion in July 2022, which is approximately parity with the USD 35.51 billion shipped in July 2021. Despite attempts to reduce inflation (Iron Ore & Pellets, Iron and Steel, Petroleum Products, etc.) and ongoing supply-chain disturbances from Covid and the Russia-Ukraine conflict, this goal has been achieved.

The current year, however, is proving to be problematic for India's exports.


REASONS FOR TRADE DEFICIT

The trade deficit expanded due to government intervention to restrict exports of petroleum products and some commodities under domestic demand and inflation.

RISE IN IMPORTS: A CRUCIAL FACTOR

Due to a surge in coal and crude oil imports, which increased as the price of energy commodities continued to rise, imports have grown by 37.28% to USD 61.90 billion. However, as volumes plummeted due to the government implementing special additional excise duty on exports of petrol and diesel at Rs 6 per liter and Rs 13 per liter, exports climbed by only 1.6% to USD 33.92 billion.

The increased consumption of petroleum products, electrical goods, and coal has driven import growth. Gold's price dropped 43.6% to $2.37 billion among major imports after the Center hiked the import tax on the metal last month. However, due to a recovery in domestic economic activity and increased pricing pressure, imports of goods other than oil, diamonds, and jewelry increased by 42.91 percent.
The Indian economy is undergoing several obstacles during 2022–2023. The large budget deficit occurred first, accompanied by the depreciation of the rupee, and now the current account deficit, a significant chunk of which is the increasing trade imbalance.
Since 2019–20, when the Covid epidemic triggered world trade collapse, India's trade imbalance has decreased substantially due to increased exports. India's exports reached a record $418 billion in 2021–2022.

edited and proofread by Nikita Sharma