Trends
The acquisition of Citibank India may be delayed till May: MD of Axis Bank.
The acquisition of Citibank India may be delayed till May: MD of Axis Bank.
According to Amitabh Choudhary, MD & CEO of Axis Bank, the acquisition of Citibank India by Axis Bank may be delayed till May if the lender encounters any technological difficulties. The bank is expecting to finish the deal by March 31.
The third-largest private sector bank in India, Axis Bank, announced in March of this year that it had agreed to pay Rs 12,325 crore to get Citigroup's India consumer banking operations, which include credit cards, retail banking, consumer loans, and wealth management. The private sector lender will increase its credit card portfolio by 31% by acquiring roughly 30 lakh Citibank India users.
We continue to work very hard to make March 1. We are updating the RBI on the progress of the job while addressing some IT problems. The process has already begun, as Citibank employees are being contacted about the positions they would hold at Axis, according to Chaudhry, who spoke to media outside of an event in Mumbai.
Many minor Technological Adjustments need to be addressed, and many of these items will be supplied in January or February. It needs to be tested. There are no delays at the moment. Depending on how things go, we might move it to May. Currently, March is our target date, according to Choudhary.
According to him, it will take 18 months for Axis Bank to completely take over Citibank's customer base and technology after the deal is complete.
During the lender's post-earnings conference call in July 2022, Axis Bank told investors that it estimated concluding the deal in the March quarter of the current fiscal year.
The chairman of one of the biggest private lenders in India stated that after the announcement of the merger, attrition rates at Citibank's India business have returned to normal levels.
According to the MD of Axis Bank, private sector capital investment has started to pick up, and it looks that India may win the present decade if it can successfully carry out its plans.
After the transaction is complete, Axis Bank will have around 10.6 million active cards and 28.5 million active Savings Accounts. There will probably be a 2.5 million card rise in the bank's credit card user base. According to the most recent RBI data, as of October, it had 9.09 million credit cards. The market leader for credit cards is HDFC Bank, followed by SBI and ICICI Bank.
According to a survey by Macquire Research, HDFC Bank's market share in card spending bounced back by 250 Basis Points in October after experiencing a notable loss the previous month. This improvement was driven by amazing holiday value propositions.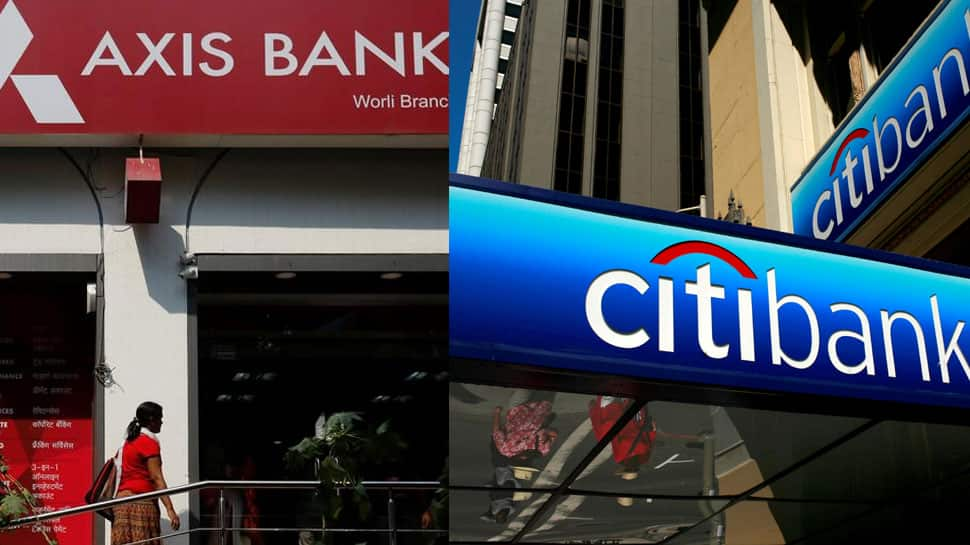 About the Axis Bank-Citibank deal
The acquisition includes Citi's retail deposit operations, wealth management, private banking, and portfolios of Unsecured and Secured Loans. The sale of Citicorp Finance (India) Limited is a part of the agreement.
Axis Bank will get over 1.2 million Citibank India Retail Clients, including 40,000 Clients for wealth and private banking, which would improve its position in the fiercely competitive urban retail market. With the addition of 2.5 million Citibank cards, its card balance sheet is expected to increase by 57%, placing it as one of the top three card firms in the country.
After competing against potential buyers, Axis Bank was selected as the purchase after taking into account problems with competition and job security for present Citigroup workers.
The sources said that after the merger receives the required clearances, Axis Bank's balance sheet size will increase and the retail part will experience a big increase.
In 1902, Citigroup established a presence in India, and in 1985 it launched its consumer banking division.
Citigroup in India will continue to focus on outsourcing or global business assistance given from centers in Mumbai, Pune, Bengaluru, Chennai, and Gurugram in addition to the institutional banking business.
American banking giant Citigroup said in April 2021 that being a part of its Worldwide Strategy, it would withdraw from the Indian consumer banking market.
Citi decided to stop doing retail banking in India and 12 other countries last year, claiming a lack of scale to stay competitive. Following that decision, Citi opted to sell its assets, sparking intense interest from several players, including DBS Bank, ICICI Bank, and Kotak Mahindra Bank.
With this agreement, Axis will catch up to its competitors in the credit card industry. With 16.27 million cards, HDFC Bank has the most card issuers in the country, followed by SBI Card (13.52 million) and ICICI Bank (12.77 million).
As of January 2022, HDFC Bank had a 24.8% market share for credit card spending, followed by SBI Card (21.5%) and ICICI Bank (20%).
As the country recovers from the pandemic, there has been a very high increase in credit card usage.
In response to recent rumors that Citi's credit card business may be experiencing attrition, Chaudhry stated that the bank had taken some attrition into account when pricing the contract and that the current pattern was consistent with its expectations.
The IRDAI fined the bank Rs 2 crore for disobeying the regulator's directive, using false statements to get authorization, and breaking the rules regarding share transfers. It was relevant to the agreement between Max Life Insurance Company and Axis Bank.
Axis Bank and its affiliated companies, AxisCapital and Axis Securities, had proposed to purchase 12% of the stock in the insurer held by MaxFinancial Services Ltd (MFSL), and MLIC had asked for regulatory clearance.
According to the IRDAI, the insurer's promoters, MFSL, and Mitsui Sumitomo Insurance Company (MFSI), engaged in several buy-and-sell transactions with the private sector bank.
According to the regulator, these promoters transferred shares to AxisBank for a price that was notably less than their fair market value.
How will it help Axis Bank investors?
Axis Bank may see growth in its retail operations and an increase in income per customer due to the improved services it can provide thanks to access to High-value Clients, a wealth management business, and a sizable high-quality credit card portfolio. The acquisition will increase Axis's presence in the big cities.
Most banks want to expand their unsecured portfolio since it gives a higher income. Axis Bank is getting what other banks are vying for through this agreement, which will increase its spread. Additionally, it will present cross-selling chances because they will have a database of High-quality Clients, which will support the bank's profitability and share price increase over the long term, according to the research head of a well-known brokerage house.
It presents some problems because not all Citibank clients might stay. Several High-Net-Worth Individual (HNI) customers of Citibank, according to representatives of several private banks, have been approaching them.
Analysts claim that the Axis Bank management would have planned for this, so there is not much cause for alarm. The analyst predicted that Axis Bank will gain a larger Client Base to cross-sell lending and other products, and a larger base of high-value retail consumers.