Trends
Byju Raveendran Is Answerable For The Horrendous Cheap Tactics And Mental Harassment Of Both Children & Parents
Byju's, one of India's most valueable edtech startup's entire journey, has been controversial, but it may have just crossed the line this time with allegations ranging from buying children's phone numbers to threatening and stalking parents. Does and is Byju's dwelling on the "survival" at all costs strategy, and why this is not acceptable and its time to take action.
Byju's Inside And Outside Story –
These are indeed challenging times as businesses around the world are caught up in a nasty trap of a slowing economy, falling revenues and profits and a difficult market environment.
And while even mega corporate houses have turned on the "survival" switch and resorted to layoffs in order to plug in the expenses and get a hold on profits and revenues, what is not acceptable, however, is blatant harassment and invading mental peace of clients, customers or individuals leave alone children.
Having said so, one company has completely gone over the board to maintain its position in the market, so much so that it has done the impossible of buying phone numbers of children and making calls to parents to the point of actually harassing and stalking parents.
Now Byju is a so-called Indian multinational company started by the esteemed Byju Raveendran and his wife Divya Gokulnath in 2011 in Bengaluru.
If you go on the website of Byju's, in order to establish the mission of the company, every company has one; what you will find, though, is a very well-designed website that gives all the courses, the information about their offerings and their growth story etc. but nowhere will you find a mission statement.
Doesn't that in itself strike as strange? Here is a company that has dedicated itself to catering to children's learning but has yet to state its mission as to why it wants to do so.
Before we further discuss Byju, let us reorient to the latest controversy and allegations that have been levied on this so-called "imparting learning centre for young minds".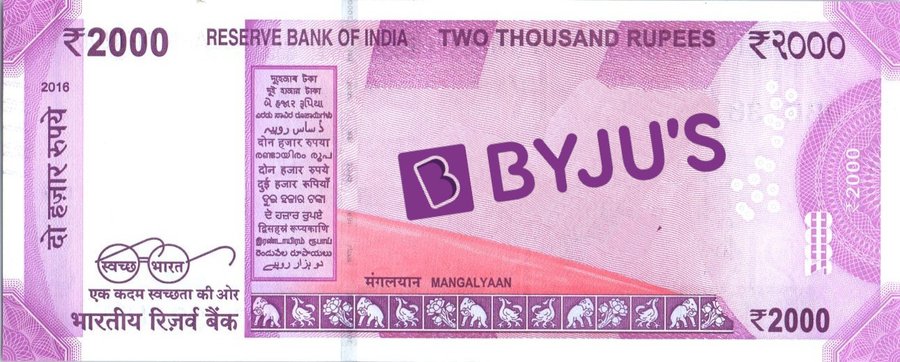 ALLEGATIONS
Some parents have come forward to allege that Byju is forcing them to buy courses for their children —
However, this is not new, as many parents have disclosed and so have those employed in Byju, as to how the company gives unreasonable targets and literally forces the employees to pressure parents into getting their children enrolled in the courses by Byju in any capacity.
Some cases have been revealed wherein the company is also buying parents'/children's phone numbers and breaching private info, harassing and stalking them.
This one is mind-baffling; while it is a known fact that phone numbers of people can be bought in bulk (where and how do you think telemarketers make those calls) but what is not acceptable is harassment, stalking and disturbing mental peace.
The Consumer Affairs department had also voiced concerns against Byju's earlier this year.
By the above point, we can establish the fact that this is not one of the odd cases but a regular practice that Byju's management, under the leadership of its founders, Mr Byju and his wife themselves, have incorporated as a business strategy.
Now, why is this conclusion relevant simply because a company's management cannot form its own policies and business strategies in isolation from its leadership's oblivious?
Therefore, the story is that our very own homegrown ed-tech firm focused on children's learning is imparting such an excellent example of how young users' parents can be manipulated to such an extent that it should force government bodies to intervene.
NCPR, The National Commission for Protection of Child Rights, has revealed that the firm has been targeting first-generation learners and forcing parents to buy courses and, in some cases, also buying their phone numbers.
What's more, is that Byju's, for the longest time, has been associated with and accused of hard-selling courses and misleading students, but why would it do so?
Just to get the parents to pay more money for expensive courses, who cares about what is the actual requirement, learning and education that the child needs?
This is a gross misrepresentation and a classic case of up-selling, but here we are not talking about a commodity, good or service, we are talking about education, and it is the right of every child to get not only one but also the correct one based on the child's needs.
The chairperson of the NCPCR, Priyank Kanoongo, has disclosed that the body has initiated action and will send a report to the government concerning the latest antics on the part of the ed-tech firm.
Hailing Growth
Byju's had been doing rather well through aggressively targeting parents and selling their courses, which does not pertain only to pandemic days but even before the pandemic started.
Byju's had managed to make its mark as a learning imparting firm and was growing rapidly in India. The platform offered various courses to students in different parts of the country.
Then came the round of acquisitions, which allowed the company to expand its portfolio. However, it is also a known fact that losses are indeed climbing. 
Please Don't Work With Byju's
While a spree of layoffs marks the present period, Byju's too has laid off 5% of the workforce and carried out this exercise from time to time.
There also have been reports in the media, the source being the former employees of the company who have spoken about ill-treatment, massive work pressure and unfair practices adopted by the company.
But Byju's aggressive antics have now transformed into targeting many parents whose children are learning about courses from the platform.
What is worse is that when few of Byju's customers were spoken to, many of whom are from the low – income homes, it came to light that families were being aggressively targeted by salespersons and coerced into paying for courses.
Even more disgusting is that some families were also "tricked into taking out loans and ultimately left out of pocket."
Can you believe being ambushed in public, being pressurised at home, or secretly collecting personal data about you and your child?
All these are the antics that the Buju's staff are accused of, and who is leading from behind – the leadership, of course!
Similarly, the Consumer Affairs (CA) department also voiced concerns about Byju's practices in the market. Although the leadership is so commendable and responsible, they are yet to address the allegations by the NCPR.
Byju Raveendran, What Is Your Inner Story?
Following the facts coming to light, Byju Raveendran, the founder and CEO, have been summoned for an in-person meeting on December 23.
Here are the experts of the summon sent to Byju's – "The Commission requires you to appear in person before it along with the details of all the courses run by BYJU'S for children, the structure of these courses and the fee details, the number of students currently enrolled in each course, the refund policy of BYJU'S, the legal documents regarding the recognition of BYJU'S as a valid ed-tech company and all other relevant documents regarding the claims made in the news report at 1400 hours on 23.12.2022 to explain the discrepancies in relation to the said matter."
What An Embarrassment
To think that a CEO and founder of a company that prides itself on imparting learnings and education and has gone to great lengths to even rope in an international brand ambassador and spent millions on it is now being summoned under Section 14 of the Commission for Protection of Child Rights (CPCR) Act, 2005.
What does this mean for Byju Raveendran?
The following –
"Under Section 14 of CPCR Act,2005, the Commission has all the powers of a Civil Court trying a suit under the Civil Procedure Code, 1908 and particular, in respect of the following matters-
(a) summoning and enforcing the attendance of any person and
examining him on oath;
(b) discovery and production of any document;
(c) receiving evidence on affidavits;
(d) requisitioning any public record or copy thereof from any court or office; and
(e) issuing commissions for the examination of witnesses or documents,"
Conclusion: Byju's has been let off easily for many ill-doings in the past ranging from – mistreatment of employees, massive work pressure, inhospitable work environment, unplanned and disruptive layoffs, missing out the severance package of many of its employees, playing hardball with employees and customers alike, misselling, or upselling and the latest feather in the horrendous cap of this ed-tech company is harassing, stalking, disrupting personal peace and buying of personal details.
Is there any line that the company has not crossed under the able and supreme guidance of its top-notch founders and the CEO – we rest our case!