An exciting IT startup announced funding of INR 14 crore
Let us talk about the information and technological industry and the IT startup workings. The IT startups have somewhat become a big support to the big giants working and this industry has become the backbone of the economy of the country. This is a big industry that consists of information technology, services, consulting, and outsourcing as its offerings. The technological industry in our country had contributed to around 8% of the total GDP in the year 2020. This industry is a huge source of employment, giving job opportunities to around 4.5 million people every year. We have so many IT startups coming up in this country that it has become a big industry. 
Looking back at the history of this industry in India, the first company of this sector to be set up was in the year 1967 in the financial capital of the country, Mumbai, Maharashtra. The company established at that time was Tata Consultancy Services, which nowadays is called TCS. TCS, in the year 1977 came into partnership with Burroughs, thus beginning the export of information and technological services of the country. The United States of America is responsible for two-thirds of the export of such services of India. 
Now if we come to the major technical and IT hubs of the country, the first one undoubtedly is Bengaluru. The city, which is also known as the Silicon Valley of India, is the biggest technology hub in the country.
Bengaluru, which was earlier called Bangalore is responsible for more than 40% of the exports of these services of the country, which are worth more than USD 45 billion and give employment to more than 10 lakh people directly and 30 lakh people indirectly. There are famous tech parks located in the city, which are Electronic City, ITPL, Bagmane Tech Park, Global Village Tech Park, Embassy Tech Village, Embassy Golf Links, and many others. The companies situated in these parks are Wipro, HCL, SAP Labs, TCS, Oracle, IBM India, Sonata Software, Mindtree, Infosys, HCL Technologies, and many others. 
Then comes Hyderabad. The "City of Nawabs" is also called HITEC City or Cyberabad, are the second-largest exporter of technology in the country and the largest bioinformatics hub in the country. The IT exports from Hyderabad in the year 2020 were worth USD 15 billion, which is equivalent to almost INR 128807 crore, and has around 1500 IT and ITES companies that are a source of employment to 582126 people. The famous tech parks in Hyderabad are HITEC City, Genome Valley, and Hyderabad Pharma City. The companies situated in these parks are Accenture, Tata Consultancy Services, Microsoft, HCL Technologies, Oracle Corporation, Dell, Cognizant, and many others.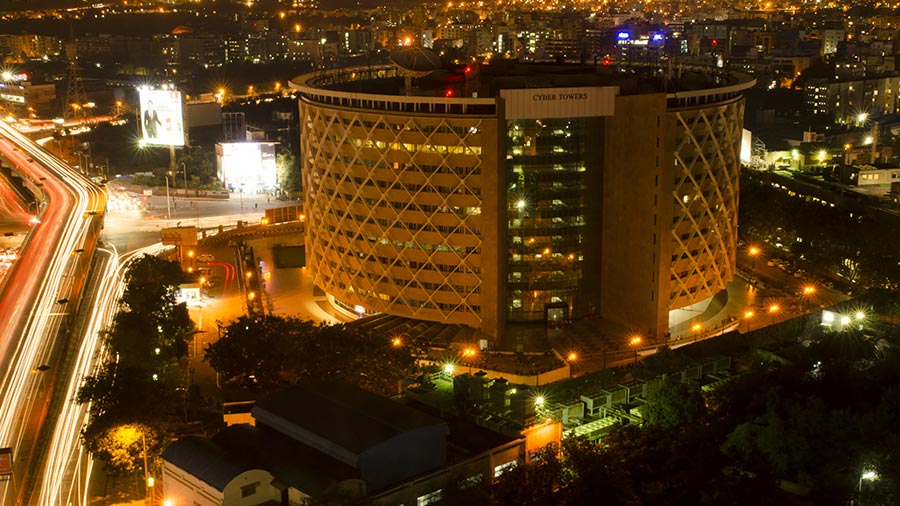 Then next in line are Chennai, Pune, and Delhi NCR, which includes cities like Gurugram and Noida. The famous tech parks found in these cities are TIDEL Park, Ramanujan IT  City, DLF Cybercity SEZ, SIPCOT IT Park, Mahindra World City, Olympia Tech Park, Hinjawadi, Kalyani Nagar, Kharadi, Yerawada, Aundh, and many others. The companies having their offices in these areas are BirlaSoft, HCL Technologies, Comcast, Infosys, Zoho, TCS, Wipro, UST Global, Tech Mahindra, Amazon, Capgemini, Mindtree, Persistent Technology, and many others. 
The IT industry of the country is seeing huge growth. The industry is growing at a rapid rate and is booming. It has become one of the top 5 industries of the country. The value of the industry has reached USD 150 billion in the year 2021 and is expected to grow at 7.3 percent YOY growth and grow by USD 98.5 billion in the year 2022. The top 10 IT companies working in this domain according to Indian Companies ranking are- Tata Consultancy Services, Infosys, HCL Technologies, Wipro Limited, Redington India Ltd, Tech Mahindra Ltd, Larsen, and Tubro Infotech Ltd, Mphasis Ltd,  Mindtree Ltd, and Hexaware Technologies Ltd. 
Let us now have a discussion on the funding of a startup working in this industry that has taken place recently. 
Announcement of funding of IT startup 
The IT startup, Metasky has raised funds of the value INR 13.7 crore, as announced on March 10, 2022. This round of funding was led by Sequoia Capital India and Woodstock Fund. 
According to the IT startup, the funds raised will be used in growing and expanding the team and building the product which will be ready for the communities of different types of users. 
About the startup that has announced its funding 
The IT startup, Metasky was founded in the year 2021 by Ankit Arora and Prakhar Sharma. The startup is engaged in providing a platform that is a bridge to WEB3. The platform of the IT startup provides a Skywallet, which is the everyday NFT Wallet. The benefits of having Skywallet are-
a) Can be used across any blockchain or currency
b) Is one place for all the possessions of Web3
c) Is simple and secure
d) Works on any website 
The platform provides exclusive Web3 clubs for the users and their community where-
They can chat, play games, and host events
Create their own DAO and Tokens in 1 click
Create eco-friendly NFT artwork and tickets
Offer exclusive content and NFT memberships 
The IT startup recently has launched its first project, which is a community-led play-to-earn game called 'Tanukibles'. 
About Sequoia Capital India 
Sequoia Capital India is engaged in helping the daring, build legendary companies. The team of Sequoia Capital India partners with young companies, discovering their stride and established ones, looking for the next level of growth. The venture capital fund helps ventures and ideas transform into enduring businesses. 
The portfolio of Sequoia Capital India consists of companies like Nugit, 1mg, 90 seconds, Appier, ASG Hospital, Aptus, BYJU'S, Capital Float, CardUp, Chillr, CleverTap, Cloud Nine, CRED, DailyHunt, DailyHotel, FPL Technologies, GO Colors, Groww, GoKwik, Happay, Hector Beverages, Insider, Leap Finance, Lummo, LocoNav, LingoAce, Micromax, Octro, Ola, Purplle, Rebel Foods, Shop up, SaaS Labs, Tiny owl, Ula, Via, Zefo, Zomato, Zoomcar, Wildcraft, and many others.
About Woodstock Fund 
Founded in the year 2019, Woodstock Fund is an emerging technology investment firm. It has its focus on investing in early and growth-stage distributed leader technology startups and companies. Woodstock Fund works on the intersection of technology and value creation. Woodstock Fund is of the belief that there will be a paradigm shift across all four areas- school, economic, technology, and ecology. This indeed will create many disruptive value creation opportunities. 
The portfolio of Woodstock Fund consists of companies like Casper Labs, Near, Adaptive, Suderania Fund Services, BlockWallet, Polygon, Wall, Metsaky, SuperFarm, Mintbase, Reef, Public Mint, ICHI, SanackClub, Stafi, and many others. 

The IT startup is providing something which is very new and is trending in today's world. We wish the IT startup a stroke of good luck and hope it has a bright and successful future ahead.