Trends
Pakistan's dire economic crisis: Why PM Shehbaz Sharif is in Geneva, reaching out to the world
Pakistan's severe economic crisis: Prime Minister Shehbaz Sharif is in Geneva to appeal to the international community. Pakistan's economic crisis has several root causes. Due to declining foreign exchange reserves, high inflation, and the ongoing effects of last year's devastating floods on millions of people, Pakistan is on the verge of collapsing.
Pakistan's economy is in shambles as a result of extremely high inflation, dangerously low foreign exchange reserves, and the refusal of international lenders such as the International Monetary Fund (IMF) to provide additional funding. Despite the fact that the main economy has been weak for some time, the 2022 floods caused unprecedented damage, destroying critical infrastructure and uprooting millions of people.
As its economy approaches collapse, Pakistan is relying on the IMF to make changes to the Extended Fund Facility (EFF) was established in 2019, as well as assistance from friendly nations in the form of long-term loans or donations.
The country's Prime Minister, Shehbaz Sharif, made an impassioned plea for assistance on the first day of the International Conference on main Climate Resilient Pakistan (ICCRP) in Geneva (January 9). The representatives met with IMF staff on the sidelines to discuss their currently stalled EFF.
Floods in Pakistan in 2022 will be catastrophic.
Pakistan's economy was already in bad shape before the floods, but they have now put it in jeopardy. The country and the IMF agreed on an EFF worth $6 billion in 2019, which was later increased to $7 billion.
In a press release at the time, the IMF stated that Pakistan's slow economic growth, high inflation, high debt, and weak external position all contributed to the country's difficult economic environment. To blame are recent procyclical and unequal economic policies aimed at boosting growth at the expense of persistent structural and institutional weaknesses and rising vulnerabilities.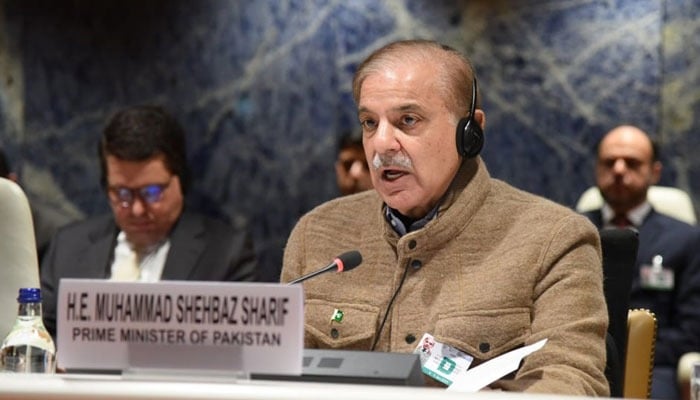 The floods wreaked unfathomable economic havoc on an already precarious situation. Floods caused by climate change cost the country an estimated $3 billion in damage, killed over 1,700 people, and displaced 8 million people, according to Dawn.
The floods thwarted any attempt at economic recovery, and when the EFF was sanctioned, Pakistan violated its IMF commitments. As a result, the government was unable to meet certain requirements, such as Pakistan's promises to raise energy prices, levy additional taxes, and control the exchange rate artificially, and the IMF refused to release a $1.18 billion payment due in November 2022.
The economic downturn
The State Bank of Pakistan's (SBP) foreign exchange reserves fell to $5.576 billion during the week ending December 30, 2022, according to Dawn, indicating that the country is currently facing a severe cash shortage.
The country's foreign exchange reserves, along with an additional $5.8 billion held by commercial banks, are sufficient to cover three weeks' worth of imports. Pakistan is still dealing with the aftermath of the floods, and one of its top priorities is repaying its foreign debt and affording necessities such as food, medicine, and energy.
According to central bank data, the country's reserves are at an 8-year low and less than half of what they were a year ago. The country, on the other hand, must pay foreign lenders $8.3 billion in the first quarter of 2023.
The country is expected to stop making these payments if it does not receive assistance.
Utilising friendly countries
The country has asked for help from friendly countries and international organisations. Ishaq Dar, the finance minister, reportedly expressed current hope for currently$3 billion bailout from Saudi Arabia on January 4. This second bailout request from an Arab country in less than a main year appears to be awaiting final approval.
China, Pakistan's "always-on friend," is another potential donor. According to the Chinese Embassy, Prime Minister Sharif and Chinese Premier Li Keqiang spoke for a long time on January 5.
Marriyum Aurangzeb, the country's information minister, announced at the ICCRP meeting on Monday, January 9, that donors had promised Pakistan more than $8 billion to help it recover from last year's floods. The contributions came as the ICCRP began its work in Geneva, hosted by Prime Minister Sharif and UN Secretary-General Antonio Guterres.
The United States, France, Saudi Arabia, China, and Japan have already pledged financial support to Pakistan. The Asian Development Bank and the Asian Infrastructure Investment Bank have both expressed a willingness to help.
However, as Sharif pointed out, "we (Pakistan) are racing against time," with the populace's misery worsening as the clumsy wheels of global finance turn. According to Guterres, both "morally bankrupt" international financial systems and natural disasters "double victimise" Pakistanis. "This system routinely denies middle-income countries the debt relief and concessional relief they require to invest in natural disaster resilience," he claimed.
Inflation and austerity
Ordinary Pakistanis are suffering while Pakistan's leaders seek global support and assuage concerns about Pakistan's ability and commitment to uphold its international obligations. In December, Pakistan's inflation rate was around 24.5%, owing to significant increases in the prices of food and other necessities. This percentage was nearly 29% in rural Pakistan, according to the Pakistan Bureau of Statistics. (PBS).
Food that spoils quickly has increased in price by 56%. Onion prices have also risen by more than 415 percent in the last year. Wheat, a staple food in Pakistan, has increased in price by 57%, according to PBS. The price of a single roti has reportedly risen to Rs 30. Consider that the average family consumes approximately 10 rotis per day and that the minimum daily wage is Rs 500.
Various types of austerity measures are in place. Defense Minister Khawaja Asif told reporters on December 21, 2022, that the country's energy consumption could no longer be sustained. As part of a series of energy-saving measures, shopping malls had to close at 8 p.m. local time, and restaurants and wedding venues had to close at 10 p.m. Asif claims that 20% of government employees have the option of working from home, according to Bloomberg.
On Monday, the United Nations Secretary-General will co-host a major conference in Geneva with Pakistani Prime Minister Shehbaz Sharif to raise more than USD 16 billion for Pakistan's resilient recovery from last year's catastrophic floods caused by climate change.
Last summer, devastating floods caused by unprecedented monsoon rains displaced over 33 million people and killed over 1,700 people. Foreign Minister Bilawal Bhutto Zardari, Finance Minister Ishaq Dar, Climate Change Minister Sherry Rehman, and Information Minister Marriyum Aurangzeb accompanied the Prime Minister.
In a series of tweets prior to his visit, Sharif promised to present the case of flood victims to the world. He also stated that Pakistan would highlight flood relief and rehabilitation efforts. We will present to development partners and friendly countries a comprehensive post-disaster framework plan for recovery, rehabilitation, and reconstruction with resilience, he said.
Sharif believes that humanity is at a crossroads in history, and that what we do now will determine how resilient future generations will be.
The International Conference on Climate-Resilient Pakistan will be attended by people from 40 different countries, according to the organisers.
The event will be co-hosted by Sharif and UN Secretary-General Antonio Guterres. Closing the funding gap, he claims, will aid in the repair of critical infrastructure, the reconstruction of lives and livelihoods, and the revitalization of the economy for the millions of Pakistanis impacted by the unprecedented devastation.
Sharif previously stated in an article for The Guardian that the first phase of rebuilding flood-affected areas in Pakistan would cost 16.3 billion USD over three years. He estimated that rebuilding the flood-ravaged areas would cost an additional USD 13.5 billion over the next ten years.
edited and proofread by nikita sharma