Trends
If India is the "Bright Spot" in the global economy, then why the unemployment rate is increasing and fewer well-paid jobs are available for the young generation?
India is one of the fastest recovered countries from the Covid pandemic and it is also forecasted to be the third-largest economy by 2030. But despite seeing growth in the economy, the job sector is struggling with job security.
Despite the economic uncertainty brought on by Russia's war in Ukraine, India is predicted to grow by about 7% this year. According to a prediction by New York-based investment firm Morgan Stanley and S&P Global, that trend is anticipated to continue, assisting it to surpass Germany and Japan to become the third-largest economy in the world.
India is expected to achieve that status by 2028, according to the International Monetary Fund. The largest economies on the planet are those of China and the United States. India is better positioned than the majority of other emerging markets to withstand global headwinds.
India is currently thought to be the next region to experience growth after China. The earliest indications are already present, and this is the expectation, says economist Mukhopadhyay. This is the reason why India is currently the beneficiary of significant direct and indirect foreign investment.
By providing incentives for manufacturing in India and spending billions of dollars to upgrade the nation's aging infrastructure, which has long put off investors, Modi's administration is attempting to entice businesses.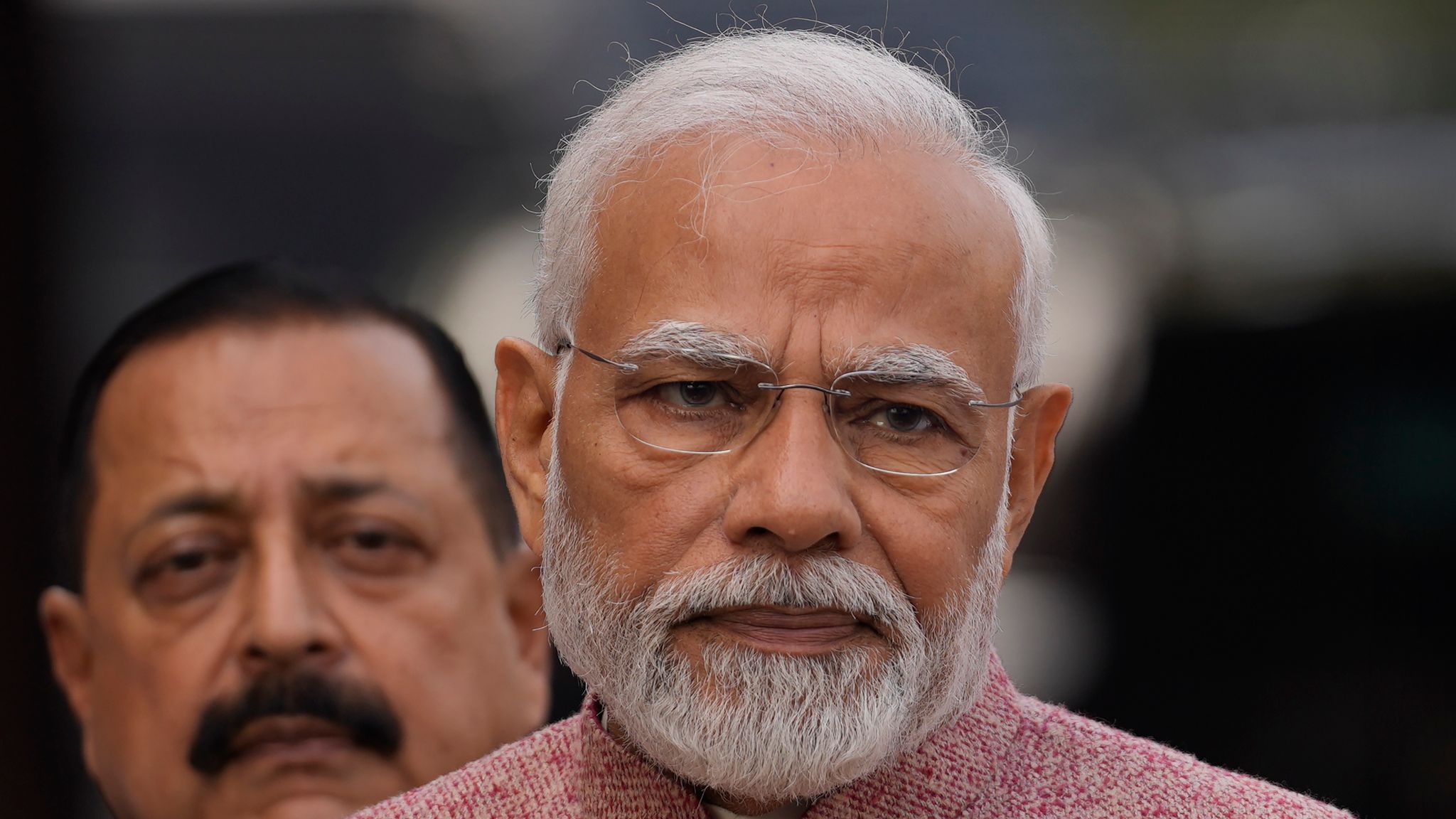 Prime Minister, Narendra Modi elevated India as a global investment destination because of its strong democracy, young demography, political stability, and business-friendly policies. Institutions and credible voices that monitor the global economy have expressed unprecedented confidence in India, and investors who are pouring money into the new India exude the same optimism.
The PM also emphasized changes the government had implemented to increase the comfort of living and conducting business while speaking at the Madhya Pradesh government's Global Investors Summit (GIS) in Indore.
The administration has accelerated reforms over the last eight years and removed several obstacles to investment. According to him, the strength of its private sector is helping modern India advance.
He claimed that in addition to the optical fiber network's expansion into villages, the 5G network is also being expanded.
In terms of smartphone data usage, India tops the list. He said that the amount of foreign direct investment (FDI) coming into the nation is breaking records.
He stated that the IMF regards India as a bright spot in the international economy, notwithstanding the World Bank's assertion that India is better equipped than many other countries to deal with global headwinds.
India has allegedly been on a "reform, transform, and perform" path since 2014, according to the Prime Minister.
Even after being the "Bright spot" in the global economy, why the unemployment rate is increasing at a record high, and why there are fewer jobs for the urban youth?
With the economy expected to grow by 6% in the upcoming fiscal year, which begins in April, India continues to be a "bright spot" globally despite mounting concerns about a recession in the United States and Europe. For the current fiscal year, a 7% prediction has been made.
However, hiring in industries that depend on exports, such as engineering, textiles, and software, has slowed as a result of a drop in international demand. Manufacturing exports have been declining and were 12.2% lower in December compared to the same month last year.
Other signs that India's economy is recovering well from the Covid-19 outbreak contradict the country's rising jobless rate. Instead, the increase in job seekers, many of whom are migratory workers from rural areas, raises questions about consumption and long-term growth prospects.
Although India's total employment reached a pre-pandemic level of 410 million in December, the urban unemployment rate increased to 10.1%, according to figures compiled by the Mumbai-based think tank Centre for Monitoring Indian Economy (CMIE).
According to CMIE data, before the pandemic years, urban unemployment lingered between 6% and 7%. This increase was primarily caused by lockdowns. Before that, it peaked at 11.2% in August 2016.
Mahesh Vyas, general director of CMIE, stated that "almost 37 million workers were looking for work in December," citing a rise in the labor force participation rate brought on by women returning to the workforce and young people from rural areas entering the labor force as pandemic fears subsided.
He continued, "At the height of the pandemic, that was the biggest number of unemployed since June 2021."
Skilled freshers expect a well-paid job after all the academic training they got.
Young people between the ages of 15 and 24 have the greatest potential to fuel a country's economic expansion. At this age, people complete their schooling and enter the workforce to launch careers or at the very least support themselves.
After graduation and working hard for their grades, freshers go out to search for jobs but get nothing but offers with the least facilities.
Many young workers stated that they would rather wait for skilled positions for which they have received training than take available menial employment with little pay.
This has led to record-high levels of unemployment in various states, including Haryana, Rajasthan, and Bihar.
In December, the jobless rate in the northern state of Haryana, which is home to major manufacturers like Maruti Suzuki, reached a record high of 37.4%. It was almost 20% before the epidemic.
Many young people shared their emotions, saying that they at least expect an Rs.20000 job at starting and also stated it's better to stay at home rather than work for a low-paying job.
According to economists, the worsening employment situation may harm consumer demand, private investment, and economic prospects.
According to Sunil Sinha, an economist at India Ratings, a division of Fitch Ratings, the loss of jobs in the IT and some manufacturing sectors has hurt consumer sentiment and would hit household spending and corporate investments.
He claimed that as businesses encountered weak demand both domestically and abroad, there was a growing concern about additional job losses.
The leader of the main opposition party, Rahul Gandhi, spoke at a nationwide rally about Modi's "divisive tactics," unemployment, and rising costs.
The administration has adopted a policy of creating jobs by promoting economic growth and boosting industry, according to Gopal Krishna Agarwal, the Bharatiya Janata Party's economic affairs spokesman, rather than giving "helicopter money" to unemployed young people.
He stated, "The economy is on a recovery path, and inflation has slowed." The goal of boosting the economy by providing incentives to more sectors will continue in the yearly budget that will be unveiled next month. Some argued that this might not be successful immediately.
The two primary issues facing Prime Minister Narendra Modi's administration are still managing high inflation and providing jobs for millions of young people just starting their careers.
Young unemployed individuals frequently participate in opposing gender conventions that have restricted women's participation in education and paid employment, especially young women. Additionally, they serve as change interpreters for the generation that follows them by offering advice on relationships, health, and other matters (teenagers and pre-teens).
Young individuals without jobs frequently offer innovative ideas for affecting societal change. According to a study, they introduce urban ideas into rural communities to promote agriculture, education, and women empowerment.
They consequently improve the feasibility of rural lifestyles. Unemployed youth ensure that villagers stay in rural regions rather than moving to cities by boosting education. They encourage new enterprises by advocating for improved infrastructure.
Additionally, the government may work with unemployed young to create fresh forums for offering useful guidance on rural business, skills, technology use, and other challenges.
edited and proofread by nikita sharma