Trends
Top 10 Best Burger Brands In India In 2023.
Burgers are one of the most iconic American foods. However, original variations of this dish can now also be found in countries all over the world. It is also gaining popularity in India. This dish is very well infused into Indian cuisine because India is known for its spiciness. Cooking a burger has recently reached a new level. It can be traditional, vegetarian, or experimental – you will undoubtedly find something that will delight your taste buds. This type of business will generate income for the entrepreneur while providing an exciting experience. Check out the list of the main top 10 burger franchises in India.
From McDonald's to Burger King, international brands introduced a new trend of eating burgers in cafes or a setup known as quick-service restaurants over the last two decades (QSR). For years, these brands have dominated the Indian fast-food market. Today, several Indian brands are making a big and famous name for themselves in the fast-food market in neighborhoods across India. Besides the food, India has given birth to Mad Over Donuts, the domestic rival of Dunkin Donuts.
India is a foodie's paradise. We enjoy experimenting with natural spices and techniques to create delicious meals. And globalization has introduced western food concepts to our country. They are a consistent fast-food sector in India, thanks to new food inventions and taste trends. Burger franchises in India profit yearly, owing primarily to their popularity among young people.
There's something so delicious and classic about a simple burger that it's an evergreen dish that appeals to people of all ages. Can you ever go wrong with a combination of soft buns paired with a filling patty, zingy sauces, and crunchy vegetables? They are unquestionably one of the most popular fast food items, as they provide a quick and easy meal that can be consumed on the go. Furthermore, the dish's design allows for infinite variations, resulting in a wide range of delectable variations. As a result, numerous joints across the country are adored by burger fans.
Why Buy a Burger Franchise?
According to QSR Magazine, 85 percent of customers love or like food, according to Datassential, then a foodservice industry research firm. And, get this, according to the latest research, they outperformed 99 percent of the thousands of other foods in the firm's flavor database.
So it is no surprise that the restaurant industry has given birth to an almost infinite number of brands and offerings over the last several decades. Furthermore, today's diners are curious and eager to try new things. That means there's more of a lot of room for creative burger vendors who can offer something new and exciting.
What are the different kinds of Burger Franchises?
The type of basic concept for a burger business may begin with the two threshold factors: (1) an entrepreneur's available budget or capital and then (2) determining what unique twist on burgers the market requires. Fast-food burger joints, fast-casual restaurants, and possibly even a food truck will be available. If you prefer to go it alone, both the fast-food and fast-casual categories offer a diverse range of franchises with initial investment costs ranging from relatively low to quite high.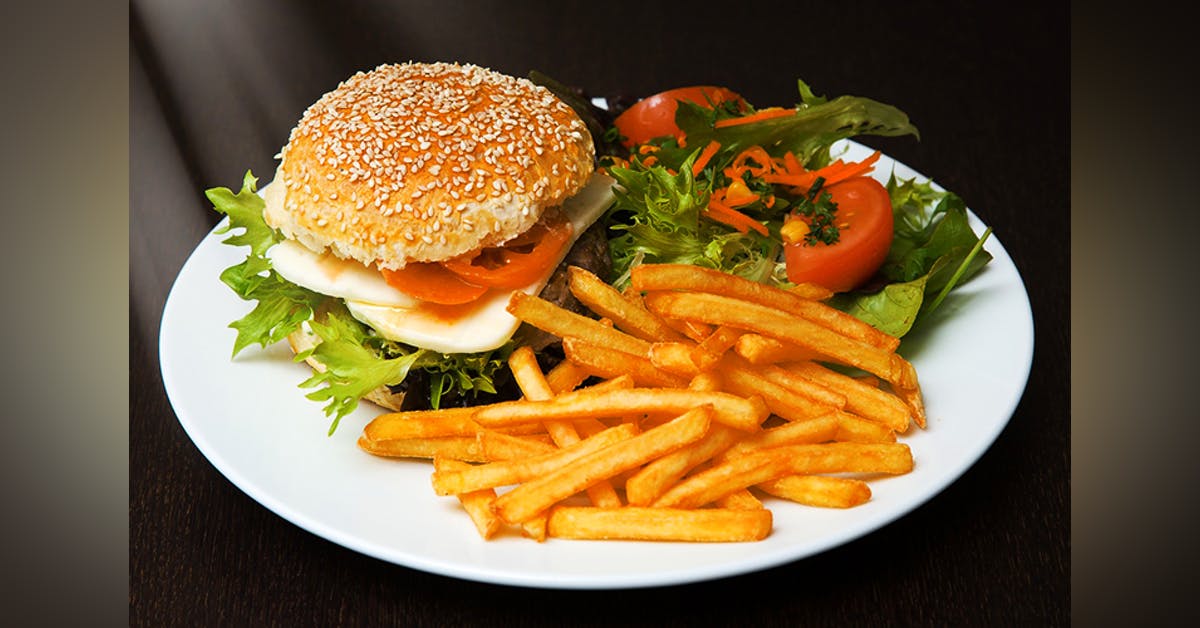 If you want to open a small or big franchise location for an existing chain, you'll get a lot of help with site selection, construction or lease guidance, and so on. In addition, you will then benefit from the company's relationships with brokers who are very familiar with the specific business model and can better find the right property for your needs if you open a franchised brand location.
Here are the Top 10 Best Burger Companies In India In 2023.
1. FATBURGER
Established in 1952

Since 1990, they've been franchising.

152 franchise units

$70,000 – $140,000 as an initial investment

6% in royalties
Fatburger is a fast-casual restaurant chain founded in 1952 by Lovie Yancey with a distinct culture and concept. The Fatburger menu focuses primarily on hamburgers, with patties ranging in size from small to large and in number, and add-ons such as cheese, bacon, and eggs. Classic oldies music in the background contributes to establishing an authentic diner atmosphere.
2. BURGER POINT
Established in 2010

Since 2013: franchising

50-100 franchise units

$7,000 – $14,000 as an initial investment

Fees for royalties: 5000/m
Burger Point is a fast-food restaurant chain that serves burgers, wraps, fries, and drinks. At Burger Point, quality is the essential ingredient, and burgers are made from fresh, 100% pure ingredients with no freezing, re-packing, or over-processing. In addition, Burger Point's burgers are free of all additives, fillers, and preservatives.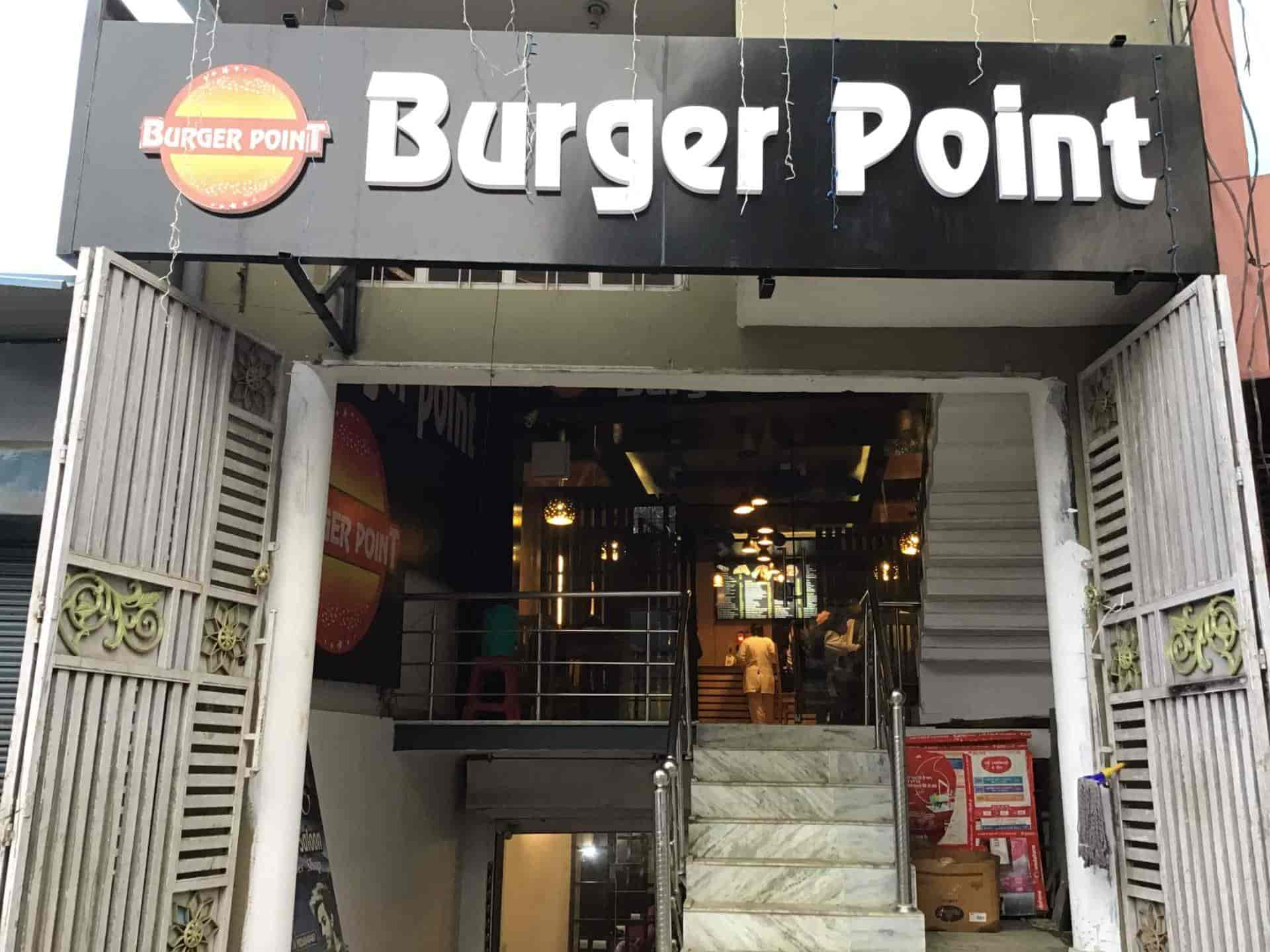 3. BURGER KING
Established in 1954

Since 1967, they have been franchising

50-100 franchise units

The initial investment ranges from $316,100 to $2,660,600.

Royalty Rates: 4.5%
Burger King (BK) is an American global fast food restaurant chain whose menu ranges from primary offerings of food, as well as French fries, then sodas and milkshakes, to a more extensive and more and more diverse set of products. In addition, BK uses non-beef products such as TenderCrisp, TenderGrill chicken sandwiches, and other products such as mutton sandwiches and veggie sandwiches to expand in India.
4. CHEEBURGER CHEEBURGER
Established in 1986

Since 1986, they've been franchising.

50-100 franchise units

The initial investment ranges from $140,000 to $280,000.

5% in royalties
Cheeburger is a 1950s-style burger restaurant chain that serves cheeseburgers, french fries, onion rings, and milkshakes. The restaurant's motto is "bigger is better," It serves massive Angus beef burgers. Cheeburger does not consider itself a "fast food" restaurant because its meals are prepared to order and take longer to serve than typical fast food restaurants.
5. MOOYAH BURGER
Established in 2007

Since 2007, they've been franchising.

50-100 franchise units

The initial investment ranges from $140,000 to $280,000.

6% in royalties
Mooyah Burger restaurants serve hamburgers, then turkey food, veggie food, french fries, and shakes. They are well-known for their beef hamburgers made with Angus Beef Brand beef and their 24-hour-cooked french fries.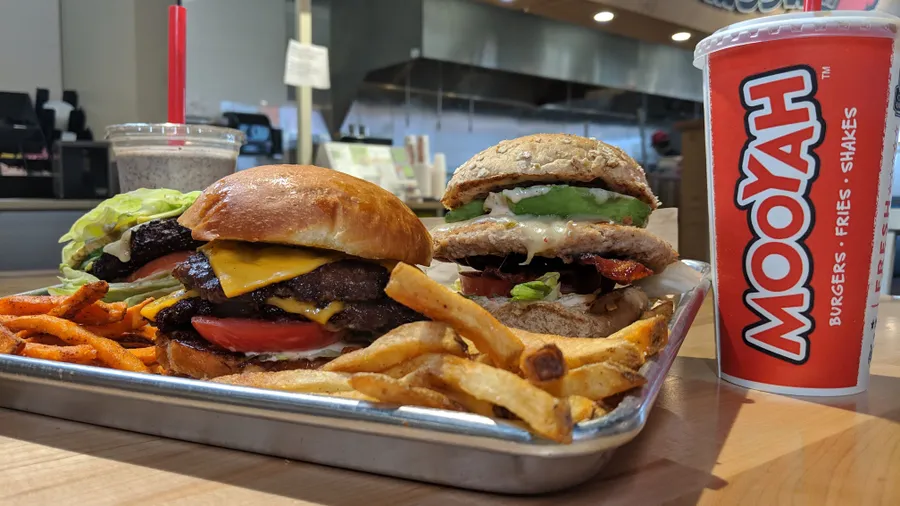 6. ELEVATION BURGER 
Established in 2002

Since 2002, they've been franchising.

No. 50-100 existing locations

The initial investment ranges from $140,000 to $280,000.

6% in royalties
Elevation Burger is a fast and casual restaurant chain specializing in organic hamburgers. The menu includes organic hamburgers, french fries cooked in olive oil, shakes, and malts. Restaurants are typically LEED-certified and use energy-efficient equipment and recycled and recyclable materials.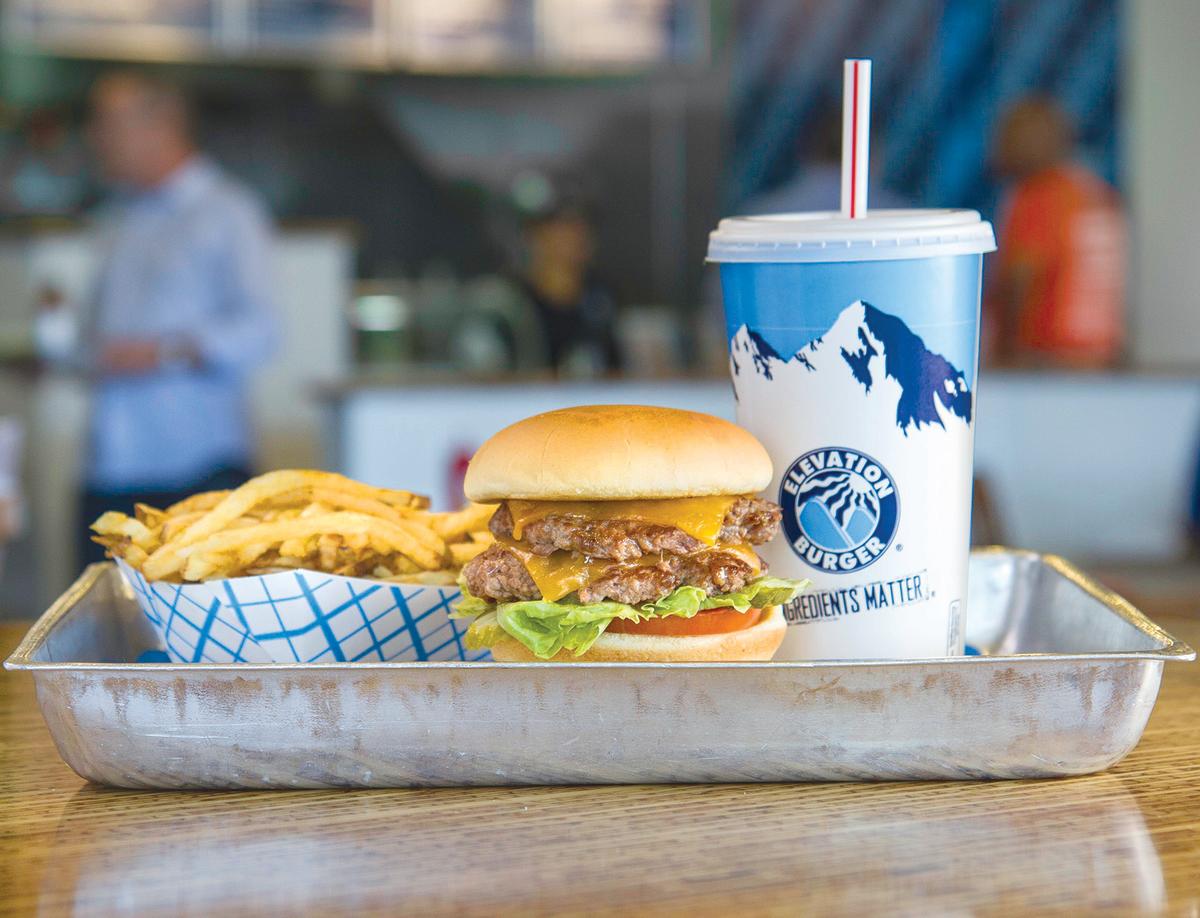 7. BURGER-UNCLE
Incorporated in 2013

Since 2013: franchising

22 franchise units

$7,000 – $14,000 as an initial investment

6% in royalties
Ranjeeta Enterprises' Burger-Uncle brand has developed a small-level shop concept for selling high-quality burgers made in front of customers. The slogan of Burger-Uncle, a food restaurant chain, is "The Taste Starts Here."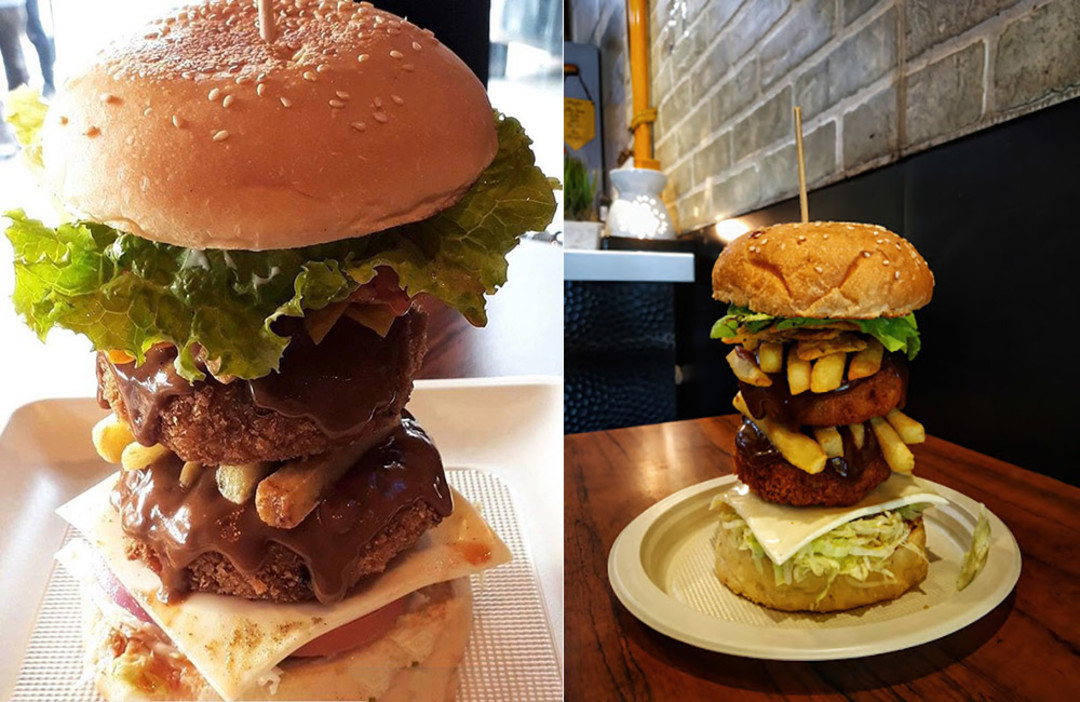 8. FUNDUZ BURGERS & VADAPAV  
Established in 2014

Since 2014, they've been franchising.

20 franchise units

$7,000 – $14,000 as an initial investment

Nil royalty fees
Fundus is a fun and engaging quick-service restaurant chain founded in 2014 in Jaipur, India, serving a wide range of Burgers, Wraps, Sandwiches, Vada Pavs, Instants, Milkshakes, and then Mocktails in a welcoming environment that rocks. Fundus has something for everyone, also from tree huggers to then vegetarians and flexitarians, with more than 50 incredible items on the menu.
9. BOXO BURGER 
Incorporated in 2013

Since 2014, they've been franchising.

10-20 franchise units

The initial investment ranges from $2,900 to $7,200.

7% in royalties
Boxo Burger is a rapidly expanding quick-service restaurant chain primarily focused on exploring new opportunities in the fast-food industry. Box Burger is a pioneer in establishing a food brand that serves Indian-style burgers. Box-o-burger is a fantastic fast food concept designed to meet today's needs and desires.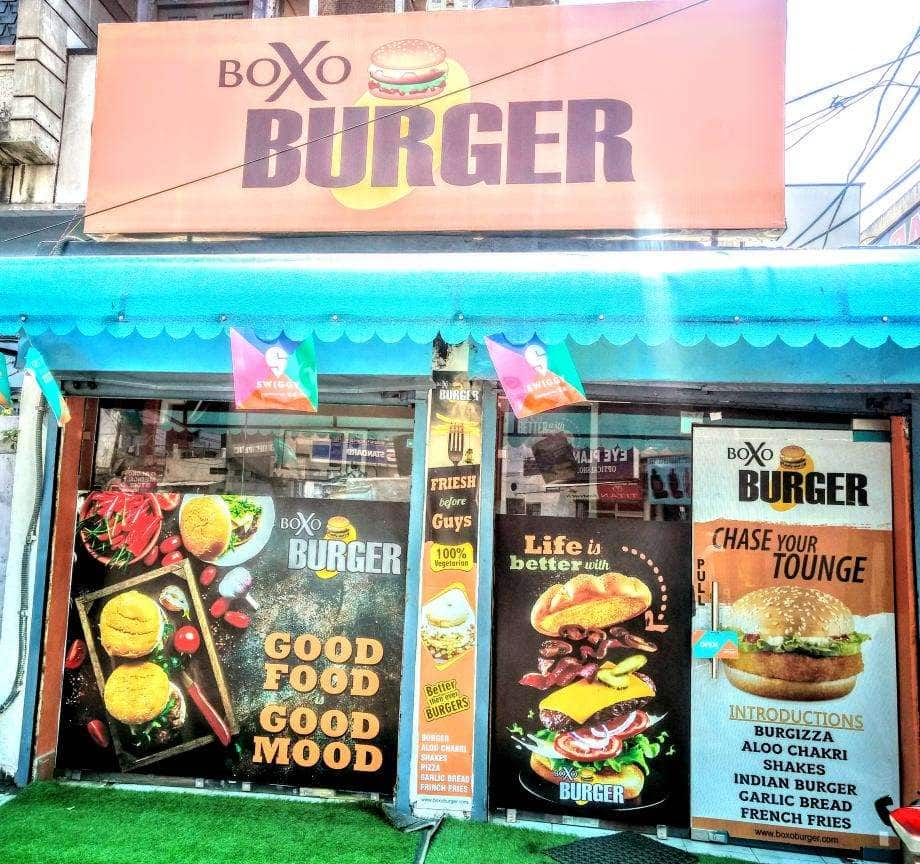 10. BURGER SINGH
Established in 2014

Since 2016, they've been franchising.

Less than ten franchise units

The initial investment ranges from $29,000 to $44,000.

Fees for royalties: 12%-16%
Burger Singh was founded in 2014 to meet the massive demand for Indian flavors by adding an Indian twist to burgers. This immediately struck a chord with foodies, and the chain quickly became one of India's most innovative, popular, and well-liked burger joints.
History
Because of variations of the meal have been served for over a century, its origin is unknown. In 1758, Hannah Glasse's book The Art of the Cookery Made Plain and then Easy included a recipe for "Hamburgh sausage," which suggested serving it "roasted with toasted bread under it."
In 1869 or earlier, a similar snack known as "Rundstück warm" ("bread roll warm") was popular in Hamburg and allegedly eaten by many emigrants on their way to America. Still, it may have contained roasted beefsteak rather than Frikadeller. On the main Hamburg America Line, which began operations in 1847, Hamburg steak is said to have been served between two slices of bread. Each of these may be associated with the invention of the hamburger and explain its name.
The Boston Journal first mentioned a "Hamburg steak" in 1884.[OED, under "steak"] On July 5, 1896, of which the Chicago Daily Tribune made a highly specific claim about a "hamburger sandwich" in an article about a "Sandwich Car": "A very much distinguished favorite, of only five cents, is Hamburger steak sandwich, while the meat for which is already kept ready in small patties and then 'cooked while you wait on the gasoline range."
Invention claims
The hamburger's origins are unknown, but "hamburger steak sandwiches" have been advertised in newspapers from New York to Hawaii since at least the 1890s. Various people have been credited with the invention of hamburgers, including Charlie Nagreen, Frank and then Charles Menches, Oscar Weber Bilby, Fletcher Davis, and Louis Lassen. According to White Castle, Otto Kuase invented the hamburger in Hamburg, Germany.
Some have pointed to a recipe for the "Hamburgh main sausages" on toasted bread published in Hannah Glasse's 1747 book The Art of the Cookery Made Plain and Easy. The hamburger gained national recognition in the United States at the 1904 St. Louis World's Fair, which when the New York Tribune described it as "the innovation of a the food vendor on the pike."
However, the debate over invention has yet to be resolved. "One big problem is that there is little written history. Another problem is that the food spread largely at the World's Fair, from tiny vendors who came and still went in an instant. And it is very much entirely possible that more and more than one person came up with the idea simultaneously in different parts of the country," writes ABC News.
Lassen, Louis
Although debunked by The Washington Post, a very popular myth recorded by the Connecticut Congresswoman Rosa DeLauro stated that Louis Lassen, a Danish immigrant, served the first hamburger in America after opening Louis' Lunch in New Haven in 1895. In 1900, Louis' Lunch, which is a small lunch wagon in New Haven, Connecticut, is credited with selling the very first hamburger and steak sandwich in the United States.
According to New York Magazine, "the dish which actually had no single name until some rowdy sailors from the great Hamburg named that the meat on the bun after themselves years later," though this claim is debatable. Louis was out of steaks when a customer ordered a quick hot meal. Louis made a patty out of ground beef trimmings and grilled it between two slices of toast. Some critics, such as New York Magazine food editor Josh Ozersky, argue that this main sandwich was not a hamburger as the bread was toasted.
Nagreen, Charlie
One of the earliest claims comes from the person named Charlie Nagreen, who sold a meatball sandwiched between two big slices of bread at the main Seymour Fair, now known as the Outagamie County Fair, in 1885.
The Seymour Community Historical Society in Seymour, Wisconsin, attributes the invention to Nagreen, now known as "Hamburger Charlie." Nagreen was fifteen years old when he was reportedly selling pork sandwiches while walking at the 1885 Seymour Fair. According to the Historical Society, Nagreen named the hamburger after the Hamburg steak that local German immigrants were familiar with.
Kuase, Otto
Otto Kuase, according to White Castle, invented the hamburger. He then created a beef patty cooked in butter and then topped with a fried egg in 1891. German sailors later dropped the fried egg.
Bilby, Oscar Weber
The family of Oscar Weber Bilby claims the first hamburger on a bun which was served on Grandpa Oscar's farm on July 4, 1891. The bun was made of yeast. However, Governor Frank Keating declared in 1995 that the first actual hamburger on a bun was then created and consumed in Tulsa, Oklahoma, in 1891, dubbing the city "The Real Birthplace of the Hamburger."
Charles and Frank Menches
A New York City diner's bacon cheeseburger
In Hamburg, New York, Frank and Charles Menches had claimed to still have sold a solid ground-beef sandwich at the Erie County Fair in the year 1885. They still ran out of pork sausage for their sandwiches during the fair and had to substitute beef. After their supply of sausage was depleted, the brothers purchased chopped-up beef from a butcher named Andrew Klein.
Despite the fact that Stein's market was sold in 1874, historian Joseph Streamer wrote that the meat came from Stein's, not Klein's. In addition, the name of the big hamburger comes from Hamburg, New York, not Hamburg, then Germany, according to the story. Frank Menches' obituary in The New York Times said these events occurred at the 1892 Summit County Fair in Akron, Ohio.
Davis, Fletcher
The hamburger was then claimed to have been invented by Fletcher Davis of Athens, Texas. According to the oral histories, he then opened a lunch counter in Athens in the 1880s, serving a "burger" of fried ground beef patties with mustard and the Bermuda onion between the two slices of bread, then with a pickle on the side.
According to legend, Davis and his wife Cindy ran a great sandwich stand at the St. Louis World's Fair in 1904. According to historian Frank X. Tolbert, Athens resident Clint Murchison's grandfather dated the main hamburger to the 1880s with Fletcher "Old Dave" Davis. Tolbert was sent a photograph of "Old Dave's Hamburger Stand" from 1904 as proof of the claim.
Other claims about hamburger steak
Several non-specific claims of the invention are made in relation to the term "hamburger steak," with no mention of it being a sandwich. For example, an 1834 Delmonico's menu in New York is said to be the first printed American menu to include hamburgers. However, the original menu printer was out of business in 1834. In 1889, the Walla Walla Union in Washington offered hamburger steak on its menu.
"Hamburg Beefsteak" was on the "Breakfast and then the Supper Menu" of the Clipper Restaurant at 311/313 big Pacific Street in San Fernando, California, between 1871 and 1884. It cost 10 cents, the same as mutton chops, battered pig's feet, and stewed veal. However, it was not on the dinner menu. There were only "Pig's Head," "Calf Tongue," and "Stewed Kidneys" listed. Another claim is that the hamburger originated in Summit County, New York, Ohio. Summit County, Ohio, but not Summit County, New York.
The Ascension of Indian Burger Brands
Burger King is very much getting ready to deliver what customers want with the main menu tailored for more local taste buds and an efficiency-led expansion plan in India.
Few meals better represent quintessential American 'fast food' than a burger. And appears that Indians, too, are addicted to it. Zomato, a food delivery service, recently revealed that the food was one of the most and top searched foods on its app last year. And this can be only be good news for companies like Burger King, as well as the 4.2 lakh crore Indian food industry, which is expected to grow at a 9% CAGR.
Burger King, also known as the "Home of the Whopper," is the world's second-largest fast-food brand, with a global network of 17,800 restaurants. Burger King India, which debuted on the Fortune India Next 500 list this year at No.319, is a joint venture between the food behemoth and private equity firm Everstone Capital. The company intends to invest $200 million in India over the next seven years.
In the year November 2014, India became one of the 100th countries in which Burger King opened a location, with Rajeev Varman, the company's CEO, in charge. Varman has nearly two decades of experience at the company and has helped expand the restaurant's main global footprint to markets such as Canada and the United Kingdom. He is now back in India to expand the brand. And there's no other better way to do it, he believes, than by providing genuine value to the customer.
Varman has tailored the company's menu and messaging to Indian tastes. For example, it is expanding its vegetarian offerings, improving its flame-grilling expertise, and emphasizing value leadership rather than price as a differentiator. "Buying cheap products is not always a good value." "We need to be more value [oriented] in pricing while also providing premium quality," says Varman.
He's laying the groundwork for an ambitious goal of opening 700 stores by December 31, 2026. This is part of Burger King's official exclusive National Master Franchisee Rights agreement, which allows it to use its globally recognized brand name to expand in India, according to brokerage firm Motilal Oswal. A portion of its expansion will be funded by proceeds from its public offering last year, which was 157 times oversubscribed. The offer assisted Burger King India in raising Rs. 810 crores.
The franchise agreement also provides flexibility in menu customization and supply chain management efficiencies. "It reached 200 restaurants in the first five years of its operations, making it one of the largest and fastest growing quick-service restaurants (QSR) among the international brands in India," Motilal Oswal says.
Varman is leveraging Burger King's efforts by utilizing the company's "cluster approach" and penetration strategy, which reduces costs and aids in better operational management. In India, it currently has six significant clusters: around Delhi-NCR, Mumbai, Punjab, Bengaluru, Hyderabad, and Kolkata.
The company is slowly developing its sixth and most recent cluster, which is centred in Kolkata. This cluster will also cover Odisha. "We basically build 70% of our restaurants in existing clusters in any given year." "It allows us to take advantage of our best economies of scale in distribution and costs," Varman says.
Burger King is, in a sense, making up for a lost time. But, according to Varman, the company has missed out on the first-mover advantage enjoyed by global brands such as Domino's, McDonald's, and KFC, which have been in India for over two decades.
"We arrived late and walked into an environment with two three very established brands," Varman explains. "We always have to size up and deal with the shortcomings of being late as well," Varman says, noting that the other brands have already established supply chains, distribution centers, and manufacturing units. "And when you come in almost two decades later as a brand, you can take advantage of all that setup," he says.
The pandemic hampered the brand's progress even in its growth phase. As a result, Burger King India's revenue from operations fell slightly more than 28% year on year to 162 crore in the third quarter of FY21. Varman, on the other hand, likes to say of this time, "We had a pause, not a stop."
Burger King took advantage of the "pause" to launch a new menu featuring a new Whopper line, more sauces for the Indian palate, and four premium burgers—cheese, paneer, tandoori chicken, and fiery chicken—in addition to its existing 18 vegetarian and non-vegetarian food. "When we first opened, we actually opened with a very new kind of product line," Varman says.
"We had those plans for this fiscal year, but we were able to complete them much faster during the lockdown." We also used this opportunity to place a strong emphasis on our digital business. It was critical that we had our own app, riders, and delivery system. We are the first in India's food business in the QSR space to launch a loyalty program."
This digital investment was unavoidable. "One thing I've noticed in the last seven years is that Indians are much more digitally savvy," Varman says. "As a result, a company that does not invest in digital will fall behind in terms of connecting with its audience."
The strategy is effective. According to Elara Capital, Burger King India's annual growth rate of 53.4% between FY17 and FY20 is the highest among peers, with Jubilant FoodWorks (the Domino's franchisee in India) posting 10.1% and Westlife Development-owned McDonald's posting 10.4% growth during the same period.
Following the lockdown, Burger King reported a 69% quarter-on-quarter increase in dine-in sales during the third quarter of FY21. In the meantime, rival Jubilant's revenue from operations increased by 31% sequentially to 1,057 crore in Q3. "Our business's resilience has been tested like never before over the last nine months, and we are pleased to see that our crisis management strategy worked," says Pratik Pota, CEO and full-time director of Jubilant FoodWorks Limited.
Aside from the unavoidable Covid19 issues, an ongoing challenge for Burger King India is the presence of unorganized players, who account for nearly 60% of the Indian food services market. But Varman is unconcerned. "India has a lot of room for expansion." "The average Indian goes out six to eight times per month, whereas the number in China is closer to 30 to 45 times per month," he says. "As a result, there is enough room to grow a business, and unorganized food players will either fade away or become more organized."
According to Burger King's chief marketing officer Srinivas Adapa, the company's five-inch Whopper is what sets it apart from the competition. That's a full meal for 100 people, which is appealing to millennials, who account for roughly 60% of Indians who dine out.
"India has the most millennials, as well as the most people who spend the most money eating out, with dual income families, higher disposable incomes, less time to cook at home, and so on," says Varman. This, according to Adapa, fits well with Burger King's brand personality. "It's about being authentic, quirky, and not always being politically correct." That is, of course, how the brand is positioned globally as well as in India," he says.
The goal, he says, is to find the sweet spot between their core offering—the Whopper—and what the customer wants. Consider how Adapa anticipated the trend toward healthier eating. "Health-driven consumer behavior had existed long before [the pandemic]."
We created a program called "trust in taste" about three years ago. "We eliminated trans fats, worked to eliminate MSG from our products, and in the last year or so, we eliminated artificial colors and flavors," he says. "We're also on our way to eliminating artificial preservatives."
When it comes to competition, Karan Taurani, vice president (research analyst) at Elara Capital, believes that as the economy has opened up, businesses like Jubilant have recovered much faster. "If it recovered by, say, 95% in October, Westlife or Burger King would have recovered by only 65%," he says.
However, Burger King India has been quick to reduce the size of its outlets, according to Taurani. "They want an outlet size that is almost 25%-30% smaller than a Westlife." "That could be advantageous," he says. "Until now, everything they've done has been a too' of McDonald's in branding, pricing, strategy, and so on." But if they can differentiate in terms of branding and product innovation, I believe they have a chance to gain an advantage over the competition."
To address this challenge, and any others that may arise, Varman will return to basics, to his days of running a Taco Bell restaurant in his 20s, to put the customer first. "Those lessons have stayed with me even as I continue to expand the brand across three continents." "I always remember closing the restaurant at three o'clock in the morning and driving back to California for an hour," Varman muses.
In fact, he has made it mandatory for all new employees to spend at least a week at a retail outlet to get a sense of what the customer wants. Varman also doesn't mind eating at competing restaurants. "We have the humility to learn from the competition." In today's world, anyone who does not do so is missing out. "I always tell my development team that we are a mile wide but only an inch deep," he says.
The outlook for franchising in the fast food sector has never been better, following the gradual unlocking of society following the outbreak of the COVID-19 pandemic in 2020 and the lockdowns it caused.
As the pandemic spread, the UK spent a lot of money on takeaways. During the first six months of the lockdown, up to 135 million takeaways were delivered, an increase of 58 million from the previous year [Guardian]. If you've been looking into burger franchise opportunities in the UK, you can rest assured that the industry is still thriving.
So, if you're thinking about opening a food franchise or making a career change with a fast food franchise, you couldn't have chosen a better time. Learn more about the benefits of being a part of this thriving industry below.
The main Benefit of Owning a Burger Franchise
You will have a lot of repeat customers and a steady income.
Everyone has a go-to place when they're in the mood for tasty food, whether they're nipping in a restaurant or order in some takeaway. You'll reap the benefits of satisfied customers who love your food and keep coming back for more once you've tapped into this and become someone's favorite burger joint.
The food franchise industry is a busy and thriving one, so it pays to stand out if you want to win loyal customers and ensure your business's success. The simplest way to stay ahead of the competition is to ensure that your fast food franchise's marketing is on point.
A strong social media presence and exclusive offers are excellent ways to initially capture customers' attention. If you tease potential customers with a discount the first time they buy from you, that may be enough to get things started.
When they know, they like your food and want more, reward them with a loyalty program and encourage them to tell their friends for even more exposure. If you really nail your marketing, you'll be the favorite food franchise of many friendship groups in no time.
Edited by Prakriti Arora