Trends
Top 10 Best Photography Mobile Apps 2022
Top 10 Best Photography Mobile Apps 2022
The term "photography" refers to a wide range of activities. Many people dabble in it as a pastime. However, it is an outstanding career if you can locate your opportunity. Most photographers use DSLR cameras and high-tech equipment to capture the greatest photos. Still, many, on the other hand, rely on their smartphones. Many things can be done with a phone camera. There are also cameraless apps that can assist photographers. Using top photography apps will help you improve your images from excellent to great. After all, taking a stunning photo entails far more than simply clicking the shutter button on your smartphone.
Everyone enjoys taking selfies. We take selfies when we visit our favourite places or when we see friends, and we also take selfies for no reason. Taking selfies and posting them on social media platforms has become fashionable in recent years. Many smartphone makers have already begun developing better selfie cameras. In addition, several smartphones with the greatest selfie cameras are available on the market. However, we endeavour to make our photos more beautiful and use a variety of photo editing software to do so. A wide range of picture editors is available on the market.
With grainy output and sluggish shutter speeds, camera phones were no good. Smartphone manufacturers, on the other hand, are employing every trick in the book to improve their cameras' low-light performance and add features that their customers demand.
The issue is that cameras are essential on smartphones currently, and efforts on the part of the manufacturers and the default camera programs have not been consistent. Users turned to third-party popular camera apps and configured them as the main camera app for Android to get the most out of the Android camera and take more gorgeous photographs as a result of this.
You could have noticed other people's fancy images and wondered how they got them, and that's where photo editing applications come in handy. The adage that the best product you possess is the one you still have with you is as true today as it has ever been. Almost everyone who has a modern smartphone has access to a fantastic camera that can take worth publishing photographs and films in a matter of seconds.
Smartphone photography has grown in popularity among both amateurs and pros because it provides an accessible and easy means to preserve life's memories on the road while still producing professional-looking results. As fantastic as the stock interface is, there is a slew of apps that can help you improve your shooting.
As more individuals include mobile photography into their everyday routines, whether as a fast memory snapshot, a social media image, or as part of a professional process, it's critical to make it through each device's capabilities.
Even the native camera app on entry-level Android smartphones provides a satisfactory shooting environment. Our leading smartphone options, many of which are Android-based, are an excellent place to start for anyone looking for a high-quality mobile photographic experience.
Shooters can enhance images through not only mobile editing capabilities but also during the first shooting stage with the help of apps. Finding apps that are appropriate for each user's photography needs might also help them save money before upgrading to a new smartphone with a better camera.
However, sifting among thousands of mobile apps on Google Play to locate one that delivers on its claims can take a long time. We've created a selection of Android apps that will enhance your phone's shooting to help you get to a fun and productive mobile live camera faster.
The top smartphone cameras are suitable for a wide range of excellent photo apps for Android. With many camera modules available on modern smartphones to capture various types of shots, the quality of the images that may be captured with the cameras is heavily dependent on the photographer's expertise.
Best Photography Mobile Apps 2022
1. VSCO
VSCO is a multi-purpose photography app. It may be used as both a camera and a photo editor. It also includes some helpful hints, as well as a variety of entertaining filters to try. Filters imitate a variety of film styles. They're a little wordy, but at the end of the day, they're still filters. This one is a little more difficult to suggest than the others. It isn't much better, although it is quite good at a few things. A one-year subscription costs $19.99. It adds new functions, but with so many alternative tools available, it's difficult to justify. It might, however, be right up your alley.
VSCO is a simple-to-use application with a variety of editing capabilities. It not only has a lot of options, such as brightness, clarity, and temperature adjustment. You do, however, have accessibility to a tool for alignment. VSCO may even be used to edit videos. Most people don't require or want more precise image controls while editing, and they don't want to spend hours improving their photo editing. The VSCO Android app is the most excellent solution available for such people.
The software uses cutting-edge editing technology to deliver breathtaking, film-like images. Anyone can transform ordinary landscape photos into spectacular images using a variety of presets and photo editing tools. A simple touch on the phone screen shifts the viewer's perspective between the original shot and the final edited output, allowing for quick contrasts when editing photos, even now in raw format. People can upload pictures edited on VSCO Journal to Facebook, Twitter, Instagram, and other major social networking sites.
2. Snapseed
Snapseed was already one of the greatest picture editing applications on the Play Store before Google bought it. The software allows you more or as little power over photo editing as you wish. 
Snapseed is an easy photo editor for everybody, featuring primary tools like filters and the capability to crop photos, as well as more advanced functions like adjusting the white balance or using a brush to remove up a piece of the image.
If you're still unconvinced about Snapseed's capabilities, try stocking up on a RAW image and using the built-in pro tool. Snapseed features up to 29 various tools and filters, as well as the ability to build custom filters that can be used for other photos within the program. But perhaps the most exciting aspect of it all is that Snapseed is entirely free to download and use.
Snapseed includes several sliders that may change the vignette, blur, temperature, and other aspects of a photo, giving users complete control over their images. Fans of old-style will like the opportunity to apply gritty patches, 1960s-style film reel enhancements, or the app's Retrolux filter. Snapseed also lets you stack effects on any picture, comparable to how layers work in Photoshop, making it simple to get a different outcome every time you edit a photo.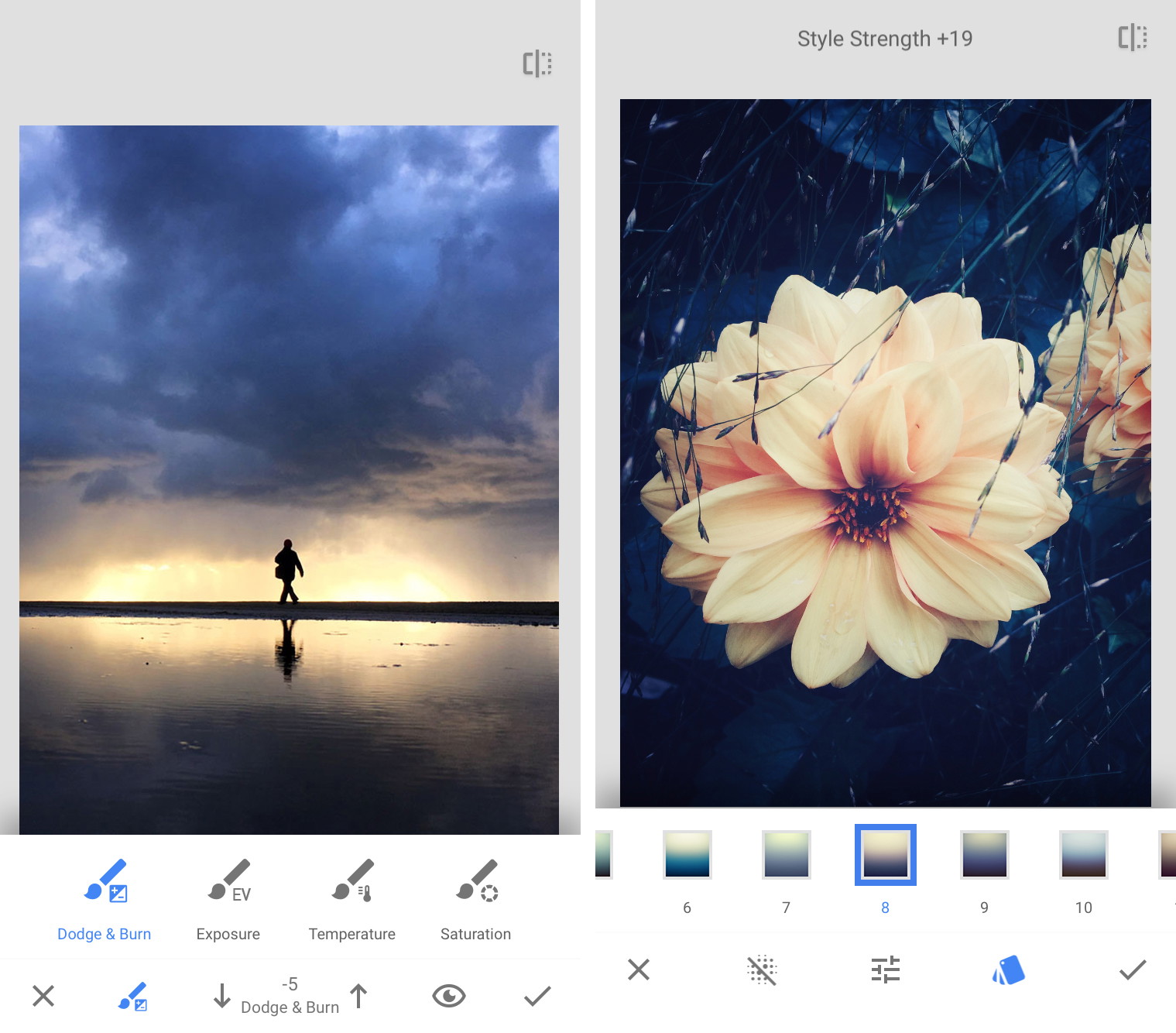 3. AirBrush – The Most Powerful Photo Editor
AirBrush is the most incredible iPhone photo editing software, according to the most recent updated version, which was released on December 20, 2019. AirBrush is a free-to-edit, effective, and simple-to-use iPhone photo editor that includes a variety of effects for adding and removing face imperfections, such as acne, smoothing wrinkles, evening out skin tone, whitening teeth, and more, so you can achieve the ideal shot every time.
AirBrush provides you with the most natural, basic photo editing tools so you may create the right look for your photos. One of the extra features is the ability to share the app with up to six family members when Family Sharing is activated.
4. ProShot
ProShot is a camera program featuring a variety of functions, modes, and shooting options, including RAW support. The app also has video, slo-mo, light painting, and timelapse modes in addition to the standard photo option. That's a lot to absorb in, particularly for a newbie, and even the app's makers have said that ProShot can be intimidating at first, and that might be a turn-off for people looking just a few tweaks for everyday photography. This software, on the other hand, delivers if you like being able to regulate every element of the photography process.
In photo mode, users can choose from a variety of shooting modes, similar to those found on a full-size camera, such as Auto, Program, Manual, and two Custom settings, depending on how much control they require. You may keep your favourite camera settings, such as shutter speed, ISO, and white balance, under the Custom modes.
Also worth mentioning is the app's "Hacks" feature. You can activate these exploits to force the camera hardware if it can't detect compatibility with some capabilities — for example, if video doesn't allow recording beyond 30 frames per second (fps) — if it can't recognize the connection with such features. However, doing so may cause app stability and necessitate reinstallation, so while it's a wonderful feature, it's something you should do around your own risk.
A free ProShot Evaluator app is available for individuals who want to see which software functionalities are available on their device first. It provides features for both the back and front cameras on the smartphone, such as the possible RAW support, ISO range, histogram, and others.
5. Photo Lab Picture Editor & Art
Photo Lab Picture Editor & Art adds a personal touch to your images. It contains over 900 different effects, including realistic photomontages, fashionable photo filters, gorgeous frames, innovative artistic effects, numerous picture collages, and much more.
The photo editing tool has a basic and intuitive U.I. that makes it very easy to use. This Android picture editor includes all of the essential features, such as cropping, rotating, lighting, sharpening, and even touch-ups.
You can also save your work to the gallery, post it on Twitter, Facebook, or Instagram, or share it as a text. A free version with advertisements is available. The primary disadvantage is that when you use it, it watermarks your images.
Photo Lab Picture Editor & Art's Unique Features:
Choose from more than 50 preset styles for one-touch editing.

Face photo montages using an advanced face identification system
6. Halide 
It is a simple app that may simply replace the normal iPhone Camera app. It's easy to use, and it supports RAW, JPEG, and HEIC image formats. The gallery shows all of the images on your device, including those captured with other apps.
Depth, Halide's portrait setting, consistently provides more natural-looking bokeh effects with less distortion around hairlines and edges. You can't change the depth of a photograph, and Halide doesn't have any Portrait Lighting effects built-in, but you can add Portrait Illumination by altering the image in the Photos app on iOS.
Stock photo in portrait mode On the iPhone X.R., the Camera app only functions if a person's face is in the frame, but Halide offers Depth mode for both human and non-human subjects.
With a tap, you can select the brightness and focal point, but there are also more granular options accessible, allowing you to quickly change exposure settings and examine which areas of an image area in the frame before taking your shot.
Finally, Halide just implemented Shortcuts support, allowing you to use Siri to take a picture or run the app in Depth mode. You'll never waste too much time setting up a photo using Halide.
7. PicsArt Photo Studio
PicsArt Photo Studio is the best Android Photo Editor software I've used on my own. The app includes a lot of cool features. PicsArt is one of the most popular photo editing programs, with over 100 million downloads. The sheer variety of possibilities you have for modifying your images is what makes PicsArt so unique. It has a built-in camera and a social networking site for sharing images.
Colleges, frames, sketches, stickers, and more are among the other features. The program is free to download with certain in-app purchases, but you will have to deal with advertisements. It's all included within a single app. This program allows you to add many types of filters to your images.
This app can also be used to create a collage. This Android Photo Editor app is one of my favourites. So, if you do want to try out this app's editing features, you may get it from the Google Play Store.
8. Retrica
Consider getting the finest camera filter app. Retrica could be the most fantastic photo-taking app if you have a natural affinity for photographs with a vintage or cross-processed style.
Retrica is designed to be simple to use, with no voice control on your camera. The Retrica, on the other hand, has over 100 distinct filters with a wide spectrum of patterns and colours.
Retrica allows you to apply the filter at the point of capture, unlike the other filter-specific Android camera apps that only allow it at the processing step. Retrica allows users to see a live preview and provides Random Filter, which selects the optimal filter based on the user's preferences.
Aside from that, Retrica's camera controls are minimal, making it an ideal camera software for capturing high-quality images quickly.
9. Google Photos
You might believe that Google Photos is the finest place to save all of your photos and videos to have them backed up to the cloud. However, Google has been working hard to make Photos into a terrific all-in-one solution for anything that has to do with photos.
Google Photos now offers ideas for what kind of adjustments can be done to an image, according to recent improvements. If you don't want to play with all of the numerous settings and options, having the recommendations at your fingertips can indeed help. More editing options, like the latest "sky suggestion" filters, have been added by Google, although they are only available to Google One users.
10. ProCam X Lite
ProCam X Lite is a stripped-down version of ProCam X. The camera app's lightweight version has enough capabilities to operate on its own as a pretty respectable alternative for mobile photographers. Unless they wish to unlock maximum resolutions, limitless video recording duration, real-time histogram, and focus peaking, most users will find the app's functionality more than sufficient. Despite this, ProCam X Lite still allows you to capture RAW.
White balance, ISO, shutter speed, and several focus settings, such as Locked Focus, Macro, Manual, and Infinity, are all fully manual, as is Face Detection, which is accessed individually. All settings, however, have auto modes for quick shooting.
It also comes with up to 20 burst shooting options, interval shots, and exposure brackets, so it can also be used for time-lapses and stop motion. 
Those who take photos will also enjoy the addition of high-resolution video recording, including slow and fast recording speeds, as well as the option of disabling the microphone and recording from multiple angles.
The user interface of this app, which has numerous features, prioritizes the image or video by making tools discreetly tucked away in distraction-free menus. As soon as the camera turns, the user interface automatically switches between portrait and landscape orientations.
Photographer's Companion (Pro) is the best app for supporting photos and videos on Android.
Both a free and a paid version of The Photographer's Companion are available; the paid version includes extra features without advertising. According to the app's name, the app is a handy photography manual that can be used to instantaneously solve any of the calculations a photographer might need to perform before, during, or after a session.
A sunrise and sunset guide may be helpful during the shoot planning phase. Based on the location of the photographer, it details the time of the blue hour, sunrise, golden hour, and more. It even shows the position of the sun and suggests appropriate shooting settings. There are also trackers for stars, the Moon, and the Northern Lights.
For you to find the best shooting settings, the app offers guides for choosing the optimal settings for a wide range of activities, including cycling, capturing a bird in flight, running, skydiving, setting up a vehicle in the city or countryside, and more.
This app also guides you when setting up for macro shots or using flash. While the calculator might seem complex to a beginner, there is a help section available with a single click to guide users to the information they require. Photographers can develop technical knowledge from the company's explanation of each part.
Time Lapse, Light Meter, and Print Size are also available. Depending on the print size and the size of the photo in pixels, the latter helps users find the minimum print resolution.
Those who will use the free version of the app will find plenty of useful information since advertisements don't greatly impede its use, and the guides provide comprehensive information for most photography needs.
However, the commercial edition includes pro-oriented tools and guidelines for bracketing, black and white film development, augmented reality for the Sun, Moon, and Milky Way, a film exposure table, as well as other elements that we believe make it worthwhile to purchase.
Article Proofread & Published by Gauri Malhotra.