Trends
Unprecedented 'bomb cyclone' in US, Canada: What is happening, and why?
What is causing the unprecedented "bomb cyclone" in the US and Canada? Many homes lack heat and lighting as the temperature has continued to drop. On Sunday, about 34,000 homes remained without power in New York.
Four people were killed in a road accident on an icy path in Canada, and more than 30 deaths have been reported in the US due to the intense blizzard (also known as a snowstorm).
Life has been disrupted during one of the most significant times for travel and tourism in the world, particularly in these two nations, as families gather to celebrate the holiday season.
What is going on, why is it happening, and what could the upcoming days hold? We clarify.
What is the blizzard doing now?
The storm's size, according to an AP report, has been almost "unprecedented," spanning from the Rio Grande near Mexico's border to the Great Lakes near Canada. According to the National Weather Service, temperatures plummeted sharply below average in many parts of the country, and about 60% of the US population was under some kind of winter weather advisory or warning.
A blast of Arctic air will plunge south and help spark a strong blizzard that will churn through the central and eastern US, NASA's Earth Observatory predicted on December 22.
The fiercest winter storm to hit the greater Buffalo area of New York since a blizzard that claimed nearly 30 lives in 1977, according to New York Governor Kathy Hochul, was described as an "epic, once-in-a-lifetime" weather disaster. Thousands of flights have been cancelled or delayed as of right now.
Many homes lack heat and lighting as the temperature has continued to drop. Even though power has since been restored, thousands of homes in New York are still cold and dark. On Sunday, about 34,000 homes were still without power.
Due to this, authorities are finding it difficult to provide shelter for migrants coming from Mexico and Central America who are trying to enter the United States.
What exactly is a bomb cyclone?
The blizzard has been described by forecasters as distinct from typical weather phenomena. It's referred to as a "bomb cyclone." Although this kind of storm is not particularly uncommon, it is very powerful and has high winds that are dumping a lot of snow or rain in many places.
A mass of low-pressure air collides with a mass of high-pressure air to create storms. Winds are produced as air moves from areas of high to low pressure.
How quickly the pressure in the low-pressure mass drops—by at least 24 millibars in a 24-hour period—defines a bomb cyclone. The gradient, or difference in pressure between the two air masses, increases quickly. As a result, strengthening the winds. Bombogenesis is the name for this process of rapid intensification, which sounds even more terrifying.
The National Weather Service meteorologist and spokesperson John Moore stated in a New York Times article that the conditions for bombogenesis should continue to move as the region where the two air masses meet move northward and eastward.
What safety measures have been suggested thus far?
But as the Arctic air moves across most of the nation, it will eventually warm and lose some of its frigidity, lowering the pressure differential and causing the storm to eventually pass. According to forecasts, the majority of the country will experience above-average temperatures the following week, according to Moore.
Road users will need to drive with extra caution until then because visibility will be compromised. According to Governor Hochul, "conditions will worsen this evening as temperatures drop across the state later today. I'm asking everyone to stay off the roads this evening. Keep warm, stay inside, and be careful this weekend.
Additionally, those who are indoors have been instructed to maintain safety precautions like charging electronics and keeping torches ready. In addition to dressing in the proper layers, it was suggested that those working outside take frequent breaks to prevent exhaustion or health problems.
A winter storm that has already claimed the lives of at least 34 people in the US is expected to claim more lives after trapping some residents inside their homes with towering snow drifts and knocking out power to tens of thousands of homes and businesses.
The storm's size has been almost unheard of, spanning from the Rio Grande near Mexico's border to the Great Lakes near Canada.
The National Weather Service estimates that 60% of Americans were under some kind of winter weather advisory or warning, and temperatures across the country, from east of the Rocky Mountains to the Appalachians, were significantly below average.
After a bomb cyclone formed near the Great Lakes, causing blizzard-like conditions, including strong winds and snow, hundreds of flight cancellations have already been reported and more are expected, according to an Associated Press report.
As of Sunday afternoon, 2 p.m. EDT, 1,707 domestic and international flights had been cancelled, according to the flight tracking website FlightAware. When two masses of air with different pressures collide, storms can result. When air moves from a high to a low pressure area, winds are created.
If the pressure in the low-pressure mass drops by at least 24 millibars in a 24-hour period, it is considered to be a bomb cyclone.
While it was as high as 1047 millibars elsewhere, air pressure decreased to at least 962 millibars elsewhere. He explained, "It's a very sharp gradient. According to Mr. Moore, the conditions for bombogenesis will change as the Arctic front, the region where the two air masses meet, moves north and east.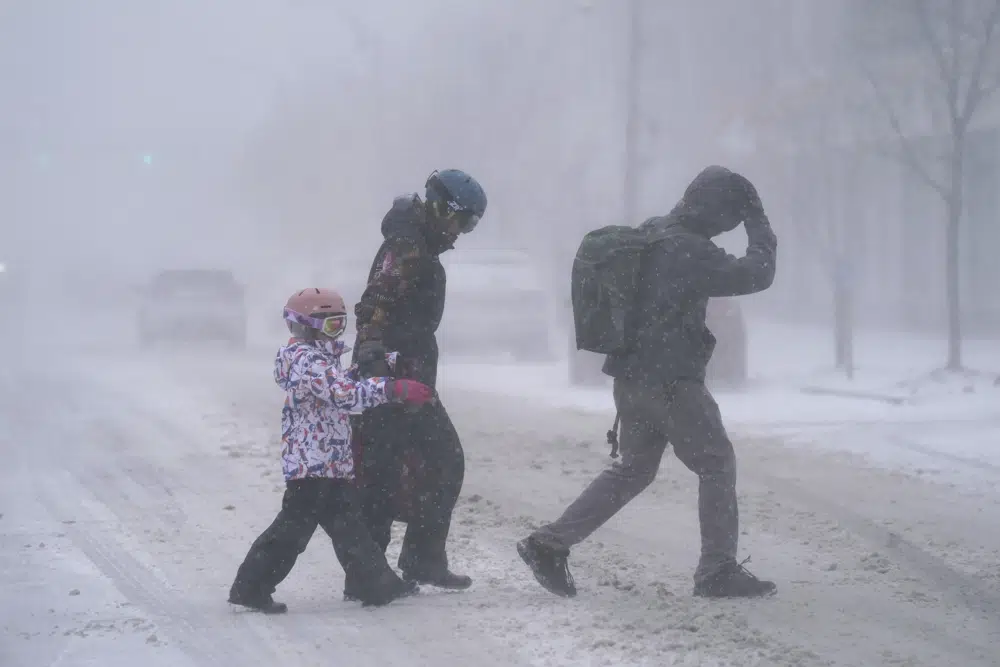 The pressure difference will be lessened as the Arctic air gradually warms and moves across most of the nation. The storm won't last long. Forecasts also indicate that most of the nation will experience above-average temperatures the following week.
Frustration escalating
According to Rosa Falcon, a teacher and volunteer with AFP, desperate migrants who had crossed into Texas from Mexico huddled for warmth in churches, schools, and a community centre.
She continued, "But some still made the decision to stay outside in the freezing weather out of concern for the attention of immigration authorities."
We've been giving out cold weather gear, such as coats, hats, gloves, thermal underwear, blankets, and sleeping bags, as well as hand and foot warmers, according to Burke Patten of Night Ministry, a charity that helps the homeless in Chicago.
Before temperatures returned to more normal weather next week, weather officials predicted that dangerously cold conditions would persist throughout the central and eastern United States over the weekend.
The Canadian government has also issued severe weather advisories. In the provinces of Ontario and Quebec, hundreds of thousands were left without power, and many flights were cancelled in Vancouver, Toronto, and Montreal.
Due to a train derailment, all trains from Toronto to Ottawa and Montreal will be suspended on Christmas Day, according to VIA Rail, Canada's passenger service. "Extreme weather conditions" also forced numerous other cancellations.
Flooding and strong winds
Transportation departments in several plains states in the US reported whiteouts with almost zero visibility, icy roads, and blizzard conditions and sternly advised residents to stay inside. Even as the country entered what is typically its busiest travel season of the year, drivers were being advised not to take to the roads.
Waves up to 26 feet (8 metres) high were reported in Lake Erie, according to meteorologist Kelsey McEwen in Toronto, while the NWS reported winds gusting to 74 miles (120 kilometres) per hour in Ohio's Fairport Harbor. The NWS also issued a travel advisory for the current weather.
The warning stated that "the potentially life-threatening cold temperatures and in combination with dangerous wind chills will create a hazard for travellers who become stranded, people who work outside, livestock, and domestic pets."
Edited by Prakriti Arora