Stories
ITC will keep generating strong growth: Puri
ITC will keep generating strong growth: Puri
ITC is bringing FMCG brands to international markets: CMD Sujith Puri Sanjiv Puri, chairman and managing director of ITC, stated at the company's 111th Annual General Meeting that it wants to sell to more than 60 countries and has well-known brands, including Aashirvaad, Sunfeast, and Bingo.
ITC, a conglomerate selling everything from cigarettes to hotels, has been aggressively expanding its FMCG portfolio internationally and domestically, according to chairman and managing director Sanjiv Puri, who spoke on July 20 at the company's 111th annual general meeting (AGM).
ITC is the parent company of well-known brands like Aashirvaad, Sunfeast, Bingo, and Yippee. In recent years, ITC has invested heavily in its fast-moving consumer goods (FMCG) industry by introducing new products, extending distribution, and entering new categories.
"As we expand the FMCG portfolio of your company, it is also our goal to introduce these premium brands to international markets. According to Puri, ITC has created distribution agreements abroad that have significantly boosted the export of its products to more than 60 nations.
"Such exports will eventually contribute significantly to the expansion of your company's value-added FMCG portfolio."
Despite the challenging climate of the previous two years, the company reported that its FMCG business grew by 25% and reached a turnover of approximately Rs 16,000 crore in FY22.
Puri noted in his remarks to shareholders, "despite the enormous inflationary challenges, your company sustained EBITDA margins last year and actually enhanced margins by 650 basis points over the last five years."
In FY22, ITC introduced 110 new FMCG items. The firm also has brands in the staples, confections, and ready-to-eat food categories.
According to Puri, the carefully chosen portfolio's total addressable market potential by 2030 is expected to be Rs 5,00,000 crore, one of the highest figures in the Indian FMCG sector.
Increase in portfolio
The basics brand Aashirvaad was expanded by ITC during the year to include products like organic food, frozen bread and vermicelli, Sunfeast went beyond biscuits to have cakes, and Savlon was expanded to include surface disinfection sprays.
ITC is also investing in categories for the future, with some areas (such as ITC Master Chef frozen treats and natural-action Nimyle floor cleaners) growing gradually.
"We continue developing new growth engines to establish beachheads in regions with promising prospects. Additionally, unknown vectors for accelerating growth will be provided through value-accretive acquisitions like Sunrise Spices and investments in tech-enabled companies like Mother Sparsh and Mylo in rapidly evolving industries like motherhood and childcare, according to Puri.
ITC increased its distribution during the year, so its products are currently offered at 70 lakh outlets nationwide.
According to Puri, the traditional cigarette division of the company recovered during the past year and has since surpassed pre-pandemic levels.
"Your organization will continue to fortify the product portfolio with an emphasis on innovation, premiumization, and outstanding on-ground execution to address the threat of illegal cigarettes and reinforce market status," he added.
I was up 1.12 per cent to Rs 297.90 at 1:35 p.m. on the National Stock Exchange.
Manufacturing establishments
ITC was motivated to invest in five new manufacturing facilities that would be operational soon because of the prospects presented by India's success story, the business said. These facilities will be used for, among other things, packaging and agri-food processing.
A more recent FMCG company
Consumer spending on ITC's more recent FMCG divisions totalled Rs 24,000 crore annually. According to the business, the carefully chosen portfolio's total addressable market potential by 2030 is expected to be among the highest in the Indian FMCG sector at Rs 5,00,000 crore, with plenty of room for expansion.
According to the FMCG giant, ITC's initiatives in the more recent FMCG industries allowed the category to increase 25% in terms of sales during the latter two years of the epidemic, reaching close to Rs 16,000 crore in FY22.
Tobacco industry recovers
According to ITC, the conventional business segment of cigarettes revived in FY22 as economic activity returned to normal and is currently higher than pre-pandemic levels. Smuggled and tax-avoided products have significantly negatively influenced the legal cigarette sector over the years. A relatively steady tax regime is anticipated to allow the industry to regain quantities gradually.
The company said I would continue to enhance the product range with a focus on innovation, premiumization, and superior on-the-ground execution to combat the threat of illegal cigarettes and strengthen market standing.
New product introductions
ITC reported that it released 110 goods in FY22. According to the company, new vectors for accelerating growth will be provided through value-accretive acquisitions like Sunrise Spices and investments in tech-enabled startups like Mother Sparsh and Mylo in rapidly changing industries like daycare and motherhood.
Potential for export
ITC claimed that in recent years, the FMCG company set up international distribution agreements that allowed exports of ITC's "Proudly Indian" products to over 60 countries to advance noticeably. ITC says such exports will significantly expand your company's value-added FMCG portfolio.
FMCG approach
According to the corporation, the FMCG businesses continue to develop structural competitive advantages and boost profitability as part of the ITC Next strategy through various initiatives. Despite the gestation costs connected with scaling up emerging categories and new facilities, the investments and the distinctive synergy of ITC's business capabilities will increasingly contribute to growth and profitability, according to ITC.
Agribusiness News
ITC claimed that its agribusiness is a prominent exporter to over 95 countries and sources over 40 lakh tonnes of agricultural products from 22 states and 20 agri-value chains.
To consolidate farming efforts and increase efficiencies, it aims to rebuild the backend into a strong network of active FPOs. Over 4,000 FPOs would be empowered and engaged over time, helping more than one crore farmers.
Performance of paperboard
ITC reported that its segment revenue increased by 36% and its earnings by over 5%. In the years to come, it claimed that competitively superior performance would be driven by the strategic push on product mix enrichment, structural cost control, sustainable packaging, and Industry 4.0.
Paperboards approach
ITC Next envisions a strategic focus on prospective growth vectors through scaling up value-added paperboards and developing Next Generation sustainable packaging solutions, according to the ITC. The company has recently established several B2B brands to offer advanced options to the food & beverage and takeaway industries. The company produces sustainable packaging solutions on laminated boards and moulded fibre platforms.
"Given the increased consumer and governmental pressure to replace single-use plastics, this market has enormous potential, and the company is determined to contributing more and more to it. ITC has established an extensive afforestation programme that enables large-scale climate action, import substitution, and livelihood support. Overall, the programme has supported nearly 170 million person days of work and covered 9.5 lakh acres."
Newly opened hotels
ITC claimed to have opened nine hotels in FY22, and a strong pipeline of more properties is planned for opening in the upcoming quarters. ITC announced it would soon debut ITC Narmada, its flagship building in Ahmedabad. The travel and hotel industry had difficulties over the last two years, according to ITC. According to the statement, segment revenue for the year more than doubled, and in the second half of FY22, segment PBIT turned positive.
"The resurgence of domestic travel, MICE, and banqueting highlights the numerous prospects in the post-pandemic world for reputable companies like ITC Hotels. Your company is well-positioned to reach the next horizon of expansion thanks to adopting the "asset-light" strategy, strategic interventions in recent years, investments in digital technologies, and exploration of alternative structures in line with industry recovery dynamics ", It read.
Update on ITC Infotech
ITC Infotech recently purchased a sizeable chunk of PTC Inc.'s PLM professional services business, the company stated, building on its substantial expertise in Product Lifecycle Management services.
"This increases its size and solidifies its position as a global leader in digital manufacturing, making it one of the biggest organizations in this market. Targeted investments in chosen fields and technologies, as well as a focus on the needs of the customer and the employee, place the company in a strong position as a globally competitive company with great potential to create considerable value "said ITC.
Sustainability
ITC claimed it maintained its MSCI-ESG "AA" rating for a fourth consecutive year. I received a "Leadership Level" rating from CDP for climate change and water security. ITC claimed that the Dow Jones Sustainability Emerging Markets Index still included it.
The corporation "exceeded its commitment on plastic neutrality this year, continuing our leadership in creating a circular economy, collecting and managing more than 54,000 tonnes of plastic trash across 35 states and Union Territories," according to the statement.
Future Tech Enterprise According to ITC, the company wants to create a Future Tech enterprise through investments in technology, a digitally enhanced smart ecosystem, and sustainability.
E-Store upgrade for ITC
ITC said that their "ITC e-Store," which has 700 goods and 45+ categories, is currently open in 15 cities. According to the statement, overall e-Commerce revenues increased three times over FY 20.
Decarbonization
Despite expanding activities, ITC said that 42% of its overall energy needs are satisfied by renewable sources. Recent investments in solar farms and the high-pressure recovery boiler, according to ITC, will also help the company reach its Sustainability 2.0 targets of getting 100% of the power needed and 50% of total energy usage from renewable sources by 2030.
During the AGM, ITC's stock price reaches a new 52-week high, and CMD Sanjiv Puri promises to achieve "strong growth."
Amid the company's annual general meeting, ITC shares on Wednesday reached a fresh 52-week high of Rs 299.50 per share (AGM).
ITC Limited, a diversified conglomerate, stated on Wednesday that the company would continue to produce healthy growth despite major worries like inflation.
ITC Sanjiv Puri, CMD, stated at the company's AGM that the company has cultivated 25 brands in the FMCG sector and the newer ones will bring in an annual consumer spend of Rs 24,000 crore.
According to him, the business would also strengthen and expand major brands while investing in upcoming areas.
"The fact that your company's more recent FMCG businesses have attracted an annual consumer expenditure of Rs 24,000 crore is really positive right now. The carefully chosen portfolio is anticipated to have a total addressable market potential of Rs 5,00,000 crore by 2030, ranking among the top in the Indian FMCG business, with plenty of room to develop "added he.
ITC introduced 110 goods this year, according to Puri, who also said that the company's future-ready and purpose-driven businesses and brands are well-positioned to grab the opportunities and significantly advance the country's goals.
ITC will resurrect its plans for reorganizing its hotel industry.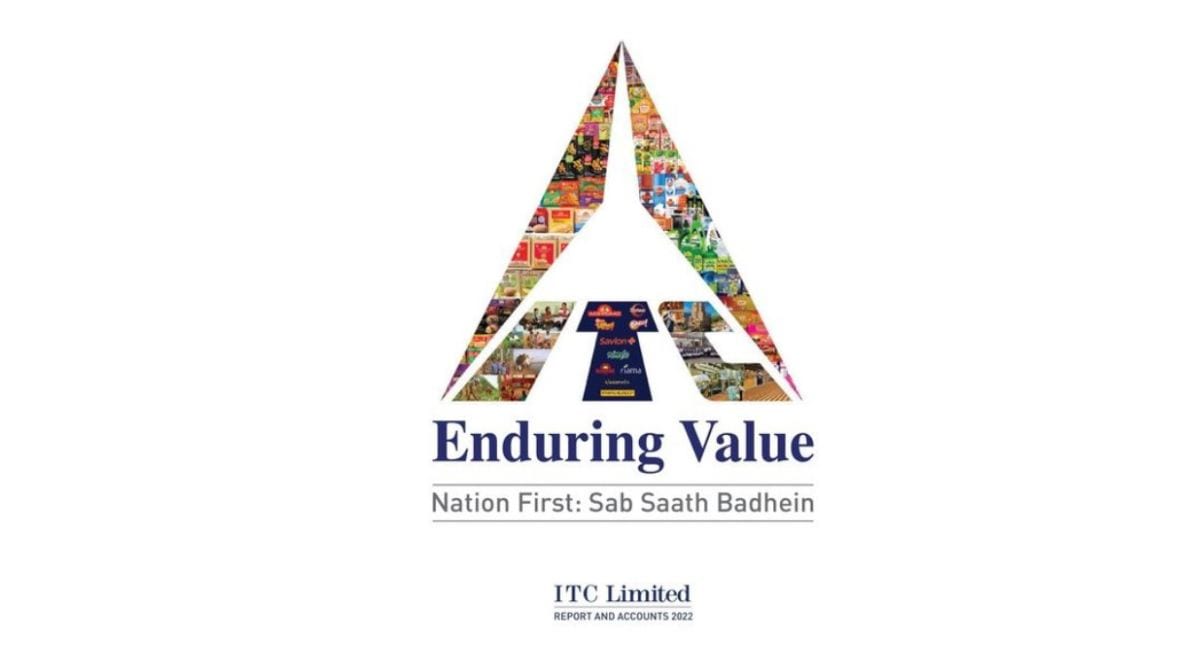 The improvement in the hospitality industry's recovery following Covid has led ITC Ltd. NSE 1.22 per cent to revive its ambitions to develop an alternative structure for the hotel company, according to chairman and managing director Sanjiv Puri.
Puri said the efforts to unlock value for the hotel business were put on hold because the industry was severely damaged due to the pandemic. He spoke to shareholders during the company's 111th annual general meeting, held remotely on Wednesday. According to the characteristics of the industrial recovery, he remarked, "We will move forward with it."
Puri had refrained from disclosing the specifics when the company initially revealed aspirations to develop alternative structures for the hotel business in its 2020 annual report as a strategy to improve value creation. ITC never responded to market speculation on the demerger of the hotel industry.
With 113 managed and owned hotels, ITC NSE 1.22 per cent runs the second-largest hotel network in the nation. It has chosen an "asset-right" strategy that gives three brands—WelcomHotel, Mementos, and Story—a stronger emphasis on management contracts.
According to Puri, the past two years have been particularly difficult for the global tourism and hospitality industries. While segment PBIT (profit before interest and taxes) went positive in the second part of FY22, segment revenue for ITC's hotel sector last fiscal year increased. He noted that the rebounding domestic tourist, MICE, and banqueting trends illustrate the enormous prospects in the post-pandemic age.
In response to questions from shareholders on value creation through bonuses, demergers, and share buybacks, Puri stated that the company is steadfastly committed to generating long-term value for all shareholders.
"We assess every concept, and we'll do whatever will help us create value over the long run. The business strategy, the environment of the competitive landscape, and the level of company maturity all lead to an enterprise strategy. Nothing is set in stone at ITC. The first is a different hotel structure that we've already announced, he continued.
On Wednesday, the ITC stock reached its 52-week high on the BSE, reaching Rs 299.55.
Puri said that the stock price had increased. "In the past, there were elements such as ESG (environmental, social, and corporate governance), concerns over (cigarette) taxation, and some businesses were impacted during the pandemic. These were the difficulties. However, the manner the business has recovered shows how resilient it is. It is our long-term goal and objective," he stated.
ITC's cigarette business volume, according to the chairman, has surpassed pre-pandemic levels, and the company plans to increase the exports of its FMCG products, making it a substantial source of revenue in the years ahead. It currently has distribution contracts for cigarettes and other FMCG products in 60 nations.
ITC will expand the distribution of its major FMCG brands, including Aashirvaad, Sunfeast, Bingo, and Yippee, to explore value-added adjacencies and invest in emerging categories. FMCG margins will increase when businesses expand based on digital interventions, supply chain delays, supplying nearby markets, and investing in classes. Despite inflation, our margins grew, according to Puri, even last year.
Puri claimed that thanks to ITC's integrated backend sourcing approach, which shields it from the fluctuations of exchange rates and commodity cycles, the impact of the extraordinary inflation on the company is significantly smaller than that of competitors. Of course, we import some of them. We attempt to optimize costs, portfolio, and assortment first, and only then do we consider pricing," he added.
edited and proofread by nikita sharma