Stories
While We Are Busy Blaming Muslims in India, China Is Moving Ahead With A Clean Chit for coronavirus
Muslims:You can be wearing a pathani suit, a dress or even a burqa, covid-19 will affect you if you are not taking proper measures and are acting without using a clear mind.
Once upon a time, someone great pointed out that religion is something secondary to a human's life. If this comes before your main goals, it will hamper your thought process and ruin the meaning and essence of life of you.
This is exactly what is happening in our nation. We are so busy blaming the muslims for the widespread corona virus, have we ever questioned our authorities about why were the muslims allowed to actually organise a function with a thousand people? For every wrong doing, there is a system which points it out and you get repercussions. Ideally, the police has to figure out the crime before it's actually over.  India is in a lockdown since the past twenty odd days. In these days, eleven thousand cases have been reported and all the backlash is going towards the muslims. Are we really blaming the right party here? Shouldn't we introspect our own system which allowed this to happen?
Thousands of Muslims gathered together during the wrong time and they now account for a major chunk of corona virus cases in India.
Attendees hitched rides, took trains, boarded buses, and caught flights, crossing state borders and passing through international airports, arriving in thousands in New Delhi from across Asia. During this time, Muslim community was treated as a  scape goat and brought forward with all the evidences possible. They were shamed and looked down upon. People started boycotting Muslim sellers and forced them to leave our nation. The right people must be blamed for all the wrongs they have done.
The only issue pertaining here is that the pandemic is being highly communalised in India.
All the political issues have a back stage and a back drop from where it is formulated. The political juncture at which India faces the COVID-19 pandemic is defined by the previous seven months.
This period began with the revoking of Article 370, an escalation of India's decades-long occupation of Kashmir which enables a shift to Israeli-style settler colonialism, and an internet shutdown which still partially continues, denying the people of Kashmir access to life-saving information and communications during the pandemic. After this, the major articles related to citizenship were passed.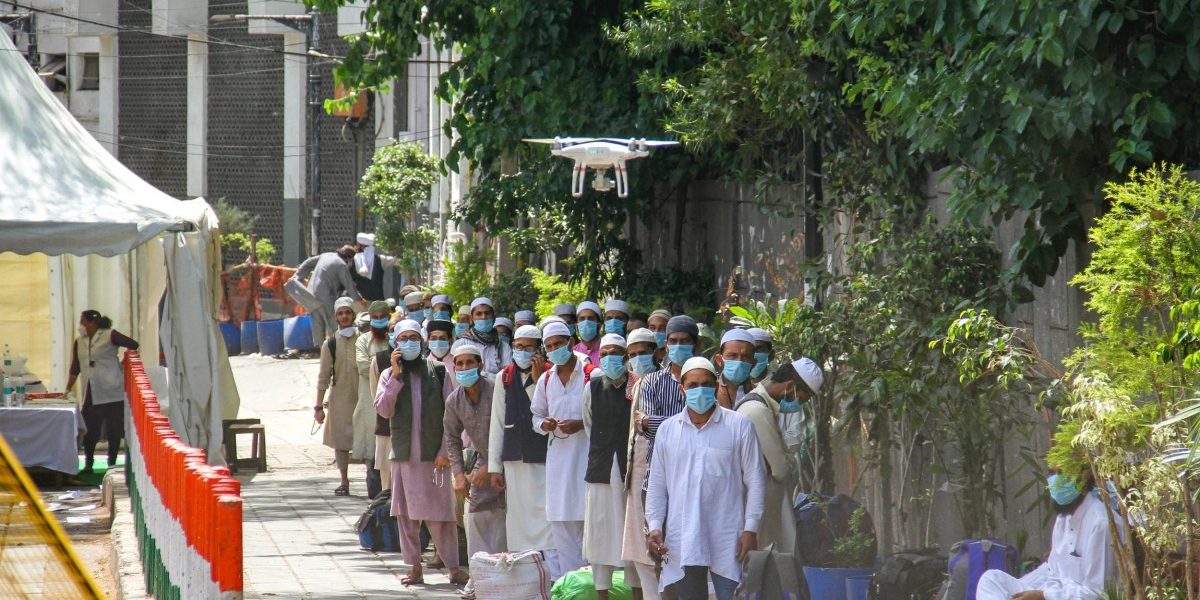 The Citizenship Amendment Act which, in combination with the National Register of Citizens and the National Population Register, effectively excludes Muslims from citizenship, undermining the basic principle of equality in India's Constitution. There were many protests by the people with regards to all the articles which were collectively passed. People were silenced in one way or another every time they raised questions.
It is rightly said that the government is scared of educated citizens
During protests against the citizenship law, there was a partisan response. In many cases, when BJP-affiliated groups attacked protesters, the police did not intervene. However, in BJP-governed states in December, police used excessive and unnecessary lethal force, killing at least 30 people during protests and injuring scores more. In Delhi in February, some policemen actively participated in the mob attacks on Muslims.
India has also made what is at stake globally clearer than ever: as a recent editorial in the Indian left monthly Liberation describes it, 'the choice between the well-being of the people and the profit-hungry ways of global capital, between humanity and racism, between life and death'.
Religion must not be brought into this. It will only make the things worse for us. Amidst this propaganda, we all forgot one thing that the Muslim community isn't the biggest person to blame, its China.
Dharavi, the world's largest and most crowded slum has reported Covid-19 cases. This could spread the virus exponentially. Doctors and nurses, facing an acute shortage of personal protective equipment, have been assaulted or evicted from their homes as they attempted to administer tests.
What should actually be noted by this? The sanitation and hygienic conditions are really very bad. People do not have the basic standards of hygiene. They openly urinate on the roads. Countries like Nepal, Bhutan and other who are ranked below India, have better conditions. We must improve ourselves first and then point out the flaws of others. Where are the large amount of taxes going? People work day and night, earn salary and then give taxes as a respect and duty towards the nation to see all this?
It is rightly said that the meet which happened in Delhi is a major cause of the pandemic, but at the same time, where were the Indian officials during this time? There is a common wall shared between the mosque and a police station, couldn't the police spot some unusual activity?
News channels have focused on the link between the religious gathering in Nizamuddin and the spread of the virus, which in turn has led to a huge increase in anti-Muslim sentiment. They have been fanning the flames of communal hatred, declaring that the virus is being spread by "corona-jihadis" in an act of terrorism. And anti-Muslim narratives are being turbo-charged by constant disinformation spread online and via WhatsApp.
Saeed, a resident of india, said that his nephew was taken to a lab for screening a couple of days ago and tested positive. He was then taken to another quarantine centre in Meerut city's Panchli Khurd area. "Before taking him from here, Mudassar was beaten by sub-inspector Sanjay Baliyan. While beating Mudassar, Baliyan was saying 'Aur Jamaat me jayega' (Will you go again for Jamaat?),"
People all around the world are blaming china for the spread of the virus, here in India, we are openly blaming the Muslim and forgetting about the major invention of the virus.
Earlier this week a baby died in Bharatpur, Rajasthan, after a doctor refused to treat a pregnant Muslim woman because of her religion.
When the nation was told to light diyas and candles, it was in a way interpreted as a way for spreading Hinduism and marking territory. "There were loud shouts of Jai Shri Ram, firecrackers and the distinctive sounds of .315 calibre country-made pistols being fired. I heard the conch and prayer bells from the temple where loudspeakers played bhakti songs" said Akram Akhtar.
In other parts of India too, Modi's call to switch off lights and light a diya or shine a torch "to mark our fight against coronavirus" was interpreted by many Hindus as a show of majoritarian strength.
In Sahranpur, 62 km from Shamli, the police issued a statement denying that Jamaatis quarantined in Rampur "created a ruckus" because they didn't get non-vegetarian food and had excreted in the open. "After going through news reports, news channels and social media posts we have found that these reports are completely wrong and untrue. Saharanpur Police refutes this projected news in its entirety," the official police handle tweeted.
All these fake news clippings end up creating permanent and real damage.(Muslims)
Across the state of Haryana, till April 11, the police have registered 19 cases against 89 people in different incidents of attacks on minorities relating to the epidemic. Police data show that so far 28 accused have been arrested for the attacks. Majority of the victims are muslims.
"Since the Tablighi Jamaat story broke, India's ministry of home affairs has spent more time blaming Muslims than addressing kit shortages, the migrant crisis, & free treatment," tweeted health reporter Vidya Krishnan.
Sometime in October 2019, a man from Hyderabad refused to take his swiggy delivery from the muslim delivery boy. A police complaint has been lodged against the customer.
The amount of hatred that has been instilled in the minds of people by the name of religion is massive. We have failed to spread education, better health care facilities and harmony amongst the citizens.
Our definition of secularism needs some serious remodeling in order to move forward together and stand together.
SEO optimisation-Pavitra