Trends
Adani, World's 3rd Richest, Is likely To Open Family Office in New York Or Dubai
Bloomberg reported last month that RIL chairman Mukesh Ambani was in the process of opening a family office in Singapore Adani Enterprises Limited (AEL), one of the fastest-growing diversified companies providing a wide range of products and services.
Asia's richest man and the world's third-richest, Gautam Adani, is considering setting up a family office overseas to manage his growing fortune, sources reported on Thursday, citing people familiar with the discussions. The chairman of Ports-to-power conglomerate Adani Group is eyeing Dubai or New York as the base for an office that will invest the Adani family's funds, a report said.
The move comes amid a $59 billion increase in Adani's wealth this year, according to the Bloomberg Billionaire Index. If Adani, whose total net worth was $136 billion as of Nov. 11, 2022, according to the Bloomberg Billionaires Index, follows through with the plan, it will join the ranks of the ultra-rich who own family offices, including hedge fund billionaire Ray Dalio and Google co-founder Sergey Brin. Bloomberg reported last month that RIL chairman Mukesh Ambani was in the process of opening a family office in Singapore.
Adani Enterprises Limited (AEL) is one of the fastest-growing diversified companies providing a wide range of products and services. The company is involved in new energy logistics in mining and services, including solar module and cell manufacturing, transportation and logistics such as airports, and road services such as water and data centers, edible oil businesses, and food businesses. It acts as an incubator to establish new businesses in the transportation and logistics and energy and utility sectors, in addition to a growing focus on direct-to-consumer businesses.
In addition, it is involved in the production of packaged edible oils, personal care products, and industrial supplies (including oleochemicals of castor oil and its derivatives and spreads). As of March 31, 2022, the Company has a market capitalization of over $29 billion. Its 22 plants are strategically located in ten Indian states comprising 10 crushing units and 18 refineries. The company's refinery at Mundra is one of the largest stand-alone refineries in India (capacity 5000 MT per day).
About Adani Enterprises Ltd
Adani Enterprises Ltd was established in 1993 under the name Adani Exports Ltd. The company originally started as a partnership firm in 1988 and attained the status of a public limited company in 1993. On 1 April 1994, they were awarded the status of "Super Star Trading House" by the Ministry of Commerce of India. In September 1994, the company came up with its first public issue. In 1998, the company became the highest Net Foreign Exchange Earner (NFE) in the country.
The jetty at Mundra port commenced operations and the company's coal business was commenced. In 2000, the company started trading in edible oil. The company received SRTEPC Gold Trophy 1in 999-00 and 2000-01. The company has been awarded the status of 'Five Star Export House'. They have successfully divested their stake in Mundra Container Terminal to P & O Ports Singapore. The company was granted the highest category 'F' interstate license for electricity trading by the Central Electricity Regulatory Commission (CERC) in 2003.
During 2003-04, the company received the GCCI Export Appreciation Award. In 2005, the company underwent the prestigious 'Five Star Export House reorganization due to its valuable contribution to the country's total exports. In 2006, Adani Agrifresh started its operations. The company commissioned two floating crane boats. They started working on setting up grain silos under Adani Agri Logistics. They also started construction of a 660 MW thermal power project at Mundra AEL's extended jetties at Mundra Port. In August 2006, the company changed its name from Adani Exports Ltd to Adani Enterprises Ltd.
The name change reflects the development with a clear focus on their five SBUs viz.  On 17 July 2007, the Base Depot built by Adani Agri Logistics was commissioned. The company has entered into a long-term contract with Gujarat Urja Vikas Nigam Ltd for the supply of 2000 MW of electricity. In 2008, the company formed a joint venture with Chemoil Energy to expand its refuelling business on an Indian basis. In 2009, they received a Letter of Intent (LOI) for the Macchakatta coal block and an LOA for the Parsa coal block.
Since the effectivity of the plan of amalgamation, MPSEZ has become a subsidiary of the company with a 77.49% stake in the company. During the year, the company established/acquired other subsidiaries. Adani Virginia Inc has also ceased to be a subsidiary of the company.
Growth Of The Adani's Company 
In May 2011, the wholly-owned company acquired Abbot Point Coal Terminal in the Australian state of Queensland for $2 billion as part of its business expansion overseas. In March 2012, the company signed five contracts for the supply of imported coal with the power company NTPC Ltd. During 2016-17, PT Mundra Coal and Adani Bunkering Pte Ltd were discontinued as subsidiaries of the company. During the quarter ending On 30 September 2020, the Group acquired a 51% stake in PLR Systems Private Limited w.e.f. 10 September 2020 for cash of Rs 50.25 crore.
The company had 122 subsidiaries (direct and indirect including LLP) and 1 associate as on March 31, 2021. Adani Global Pte Limited -Singapore (AGPTE), one of the group's subsidiaries, holds a 49% stake in Adani Solar USA Inc (ASUINC), while the remaining 51% stake is held by Adani Green Energy Limited (AGEL). AGPTE 8- AGEL entered into an agreement leading to the transfer of management/control rights of ASUINC to AGPTE with effect from 1 June 2021.
After the current quarter, AAHL took over the management of MIAL from GVK Airport Developers Limited (GVKADL) on 13 July 2021 and subsequently completed the acquisition of a 97.97% stake in GVKADL. With this acquisition, AAHL will also hold a 50.50% stake in MIAL through GVKADL. which in turn holds a 74% stake in Navi Mumbai International Airport Limited. Adani Global Pte Limited-Singapore, one of the group's subsidiaries, acquired a 100% interest in Bowen Rail Operation Pte Ltd on 14 July 2021. In FY'21 Company started operations at Ahmedabad Lucknow and Mangaluru airports.
As of March 31, 2022, the Company has 150 subsidiaries (direct and indirect including LLP) and 3 associated companies. In FY'22, the Company partnered with EdgeConnex to develop and operate data centers across India. It acquired land in Noida and Vizag. Received LoA for 45 MLD Bhagalpur Waste Water HAM project in Bihar. It received LoA for the 67 km Kagal Satara Maharashtra project under the BOT model. During FY'22, the company acquired Mumbai Airport and Navi Mumbai. It also acquired Jaipur Guwahati and Thiruvananthapuram airports.
It has ventured into a new green energy value chain under Adani New Industries to produce hydrogen at the lowest cost. In the road segment, it won an Rs. 17,100 crore project for the construction and maintenance of three Greenfield Ganga Expressway projects totaling 464 km in Uttar Pradesh.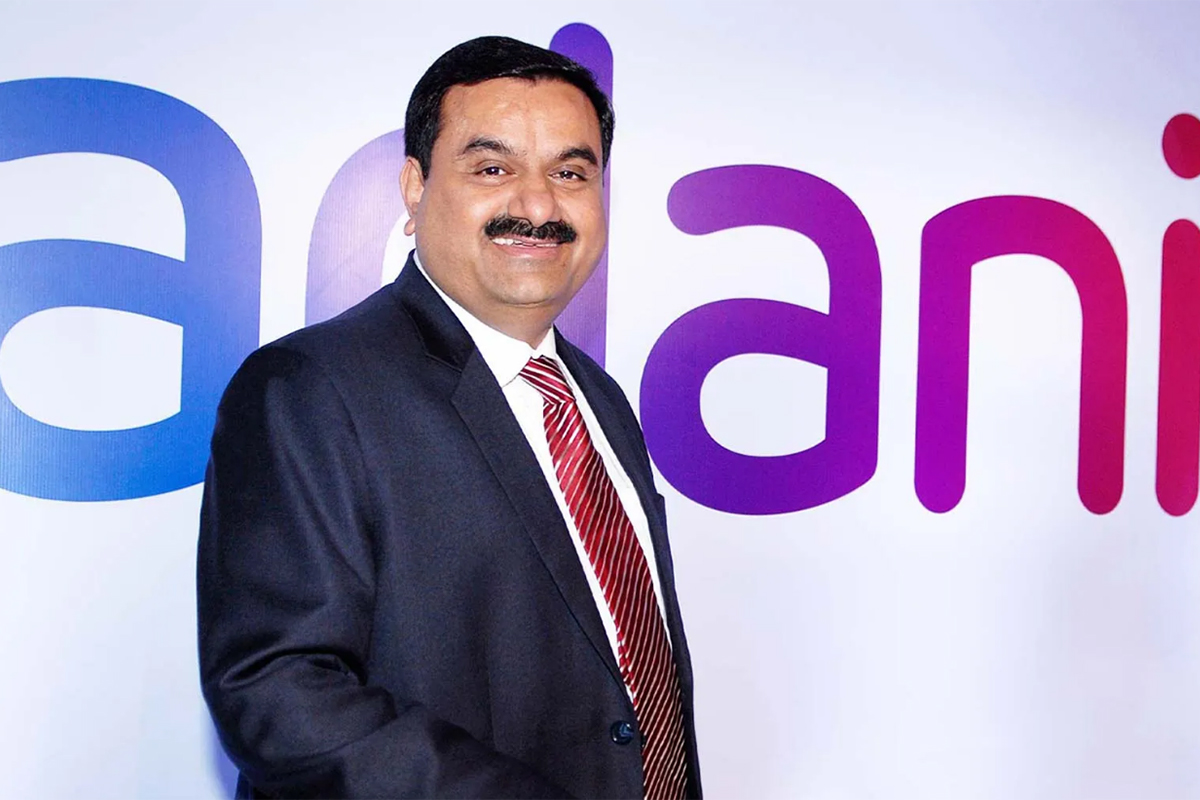 In the defense sector, it has won contracts worth over ₹1000 crore from the Indian Armed Forces, including the first-ever contract for small arms awarded to a private sector small arms manufacturer. It started operating the Bravus mine in Australia. In terms of conventional businesses, the company's Parsa East and Kente Basan (PEKB) mine, the country's first and only owned surface coal mine with scrubbers, continued to operate at a peak capacity of 15 MMT per annum. Apart from other operating mines at Talabira II & III Gare Pelma III and Kurmitar have started operations at Suliyari coal mine.
It has expanded its solar retail footprint in 21 states covering over 2000 cities for solar panel distribution in India. It has achieved project milestones within the given time frames in Suryapet and Mancherial projects. It is the largest greenfield (Ganga) highway in India. It has entered the green hydrogen petrochemical digital and copper businesses. Adani Power shares are up 261 percent year-to-date.
It was followed by Adani Enterprises (up 135 percent), Adani Total Gas (up 122 percent), Adani Transmission (up 90 percent), Adani Green Energy (up 65 percent), and Adani Ports and Special Economic Zone (up 22 percent ). Adani Wilmar, which went public in February 2022, has also rallied 193 so far against its issue price of Rs 230.
Edited by Prakriti Arora