Trends
Pakistan's economic situation reaches its lowest point owing to unpaid loans, a lack of food, and power outages.
In Pakistan, the cost of wheat flour has been steadily rising for several weeks. People have been heavily hit by the sharp increase in the price of wheat because roti and naan are among the country's staple cuisines. Long lines form to obtain government-subsidized flour; on January 7, a 35-year-old man was killed in a stampede at one such distribution location in Mirpur Khas, Sindh. Meanwhile, there have been protests against the high pricing in Khyber Pakhtunkhwa.
While the federal and provincial administrations have placed blame on one another, analysts claim that the situation is the result of long-standing problems that have been made worse by the Russia-Ukraine war, the devastation of the 2022 floods, and the smuggling of wheat to Afghanistan. Pakistan has now received one shipment of wheat from Russia, and some relief is anticipated in the upcoming weeks.
The two states that produce wheat, Punjab and Sindh, have seen flour prices range from about PKR 145 to PKR 160 per kg, while Khyber Pakhtunkhwa and Balochistan have seen higher costs. The cost of 5kg and 10kg flour sacks "has virtually quadrupled from a year ago," according to a Gulf News report. In the same article, it was said that in Islamabad and Rawalpindi, one naan costs PKR 30 and one roti costs PKR 25.
To satisfy its consumption demands, Pakistan imports wheat, the majority of which comes from Russia and Ukraine. For instance, according to statistics from the Observatory of Economic Complexity (OEC), Pakistan imported $1.01 billion worth of wheat in 2020, the majority of which came from Russia ($394 million), followed by Ukraine ($496 million). While last year's rains reduced the domestic crop, this year's fighting damaged that supply. However, the issue in Pakistan is more with distribution than with insufficient supplies.
Due to massive reserve losses from the floods, wheat prices rose significantly in Sindh and Balochistan. Another problem is the smuggling of wheat to Afghanistan, which causes a scarcity locally and raises costs. However, government storage facilities do have enough wheat supplies. Delays in distribution caused the scarcity and subsequent price increases, which are currently being fixed.
In Pakistan, the provincial governments feed wheat to mills (the Indian equivalent of state governments). The retail marketplaces receive the flour from the mills after that. Provinces that foresee a wheat shortfall may seek more supplies from the federal Pakistan Agricultural Storage and Services Corporation (Passco) warehouses. Particularly in rural areas, the smaller chakkis (flour grinders) buy straight from the farmers.
Punjab and Sindh are the two main states that produce wheat. Punjab contributes 77% of Pakistan's wheat production, Sindh 15%, Khyber Pakhtunkhwa 5%, and Balochistan 3.5%, according to the US Department of Agriculture. The border between Afghanistan and Khyber Pakhtunkhwa is quite porous, and a lot of wheat is smuggled through it to sell for high rates in the neighboring nation. Floods in Sindh caused significant damage, which affected its Kharif crop.
According to Pakistan's Planning Commission, the floods caused damage to the agricultural industry and its subsectors of Rs800 billion ($3.725 billion). Sindh was responsible for as much as 72% of this destruction. Some, including the federal government, alleged that the flour shortage was caused by Punjab and Sindh failing to provide wheat to mills on schedule.
Others argue that mill owners stockpiled goods, forcing prices to rise and that the government did little because many powerful lawmakers hail from rural-agrarian backgrounds. Locals also complain that mill owners are selling flour at exorbitant prices to those willing to pay, leaving insufficient flour for retail stores and subsidized sale locations.
Long-standing issues
The Pakistani government has said that it will import 2.6 million metric tonnes of wheat this year. Since the first 1.3 million metric tonnes of this have arrived, there is the expectation that the price will decline. However, this import cost puts a strain on a nation with dangerously low foreign reserves. According to a Reuters story from earlier this month, Pakistan's central bank's foreign reserves have plummeted to around $5 billion, barely covering three months' worth of imports.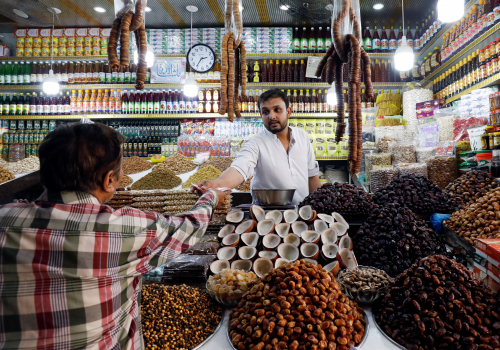 Punjab and Haryana are regarded as India's breadbasket. By geography alone, we ought should have a basket (receptacle). We shouldn't have needed to import anything at all, a farmer from Punjab's Jhang area named Qalb-e-Abbas told
Agriculture has not benefited from technical developments or the creation of high-yielding breeds. Canals are drying out as the water table is falling. Power costs are high, diesel is highly expensive, and the supply is inconsistent. The farmer receives no rewards. Apart from urea, additional fertilizers must be imported, and our currency has been severely weakened, said Abbas.
According to a 2022 World Bank study on Pakistan's agriculture, "agricultural growth slowed down from an average of over 4% per year during 1970-2000 to around 3% thereafter" despite significant state expenditure and help from development partners. Unlike wheat, rice is one of Pakistan's main exports. Due to the lack of flour this year, there has been an increase in domestic rice demand.
The director of Siddiqia Rice Mills in Lahore and a member of the Pakistani Rice Export Association, Muhammad Zubair Latif Chaudhry, told The Indian Express that Pakistani rice is sold all over the world and that Waris Shah's novel Heer Ranjha also mentions the super Basmati rice. Floods impacted the whole rice harvest this year, particularly in southern Punjab, eastern Balochistan, and regions of Sindh near the Indus River. Then there was the wheat scarcity, which caused a massive surge in demand for broken Basmati rice and a price increase.
According to a story in Dawn, pulse prices are also rising. According to the report dated January 13, the price of gram pulses had "risen to PKR 205 per kg from PKR 180 on January 1, 2023, and Rs170 on December 1, 2022," while the price of masoor had increased from PKR 200 to PKR 225 in December. According to the report, this is taking place as a result of "the non-clearance of imported consignments at the port due to a delay in the approval of essential paperwork by banks."
Is Pakistan following in the footsteps of Sri Lanka?
The action is being taken as Pakistan attempts to allay default worries in both local and global markets. A $1.1 billion IMF rescue tranche is now blocked owing to disagreements over the ninth program review, which was supposed to be finished in November. The manufacturing of inefficient fans and light bulbs was also prohibited as part of Pakistan's strategy to conserve energy beginning in February and July, respectively.
Pakistan's record summer energy consumption, which was 29,000 megawatts (MW) as opposed to 12,000 MW in the winter, was attributed mostly to the use of fans during the warmer months, according to the country's defense minister. As a "symbolic" gesture, half of the country's street lights will remain off.
People in the country's Khyber Pakhtunkhwa province are stockpiling petrol cylinders in the middle of the energy crisis, according to a live broadcast from Al Arabiya Post. The nation's food problem has also gotten worse. In several instances, individuals can even be seen filling their LPG tanks with plastic balloons. In Pakistan in December, food inflation increased 35.5% year over year while transportation costs increased 41.2%.
The biggest financial crisis Sri Lanka has experienced in more than seven decades is primarily to blame for the country's ongoing struggle with skyrocketing costs. After the COVID-19 epidemic destroyed tourism and remittances from locals working abroad decreased, the island nation slid into a financial crisis. The Ukraine conflict significantly increased the cost of imports, notably petrol. In July, the president resigned and left the nation. By that time, Sri Lanka had formally contacted the IMF, and the two parties had since reached an initial loan agreement worth $2.9 billion. However, it was Indian support that gave Sri Lanka some breathing room.
Energy crisis in Pakistan
According to a source, Islamabad has asked its residents to normalize their power use in light of Pakistan's severe electricity shortage and poor foreign reserve position. According to the Al Arabiya Post, Pakistan's foreign reserves have decreased to USD 6.7 billion as of December last year, and the country's power demand and supply gap are currently between 6000 and 7000 MW. The government has been forced to advise its citizens to limit consumption as a result of the current situation.
The study also claims that remittances are declining and that foreign investment in Pakistan has decreased to a trickle. The ongoing confrontations between Russia and Ukraine as well as the "catastrophic" floods that struck the nation last year have only made matters worse, it continues. Khurram Dastgir Khan, Pakistan's energy minister, was also reported by The Al Arabiya Post as stating that the nation must normalize its energy use since it is experiencing a "severe economic crisis."
The minister was further reported in the newspaper as adding, "The culture of waste is no longer something we can afford. Additionally, I think that politicians should be the first to implement these reforms and serve as examples for the general public." The government reportedly declared that stores and restaurants nationwide will close at 8 p.m., while wedding venues would only remain open until 10 p.m. shortly following the minister's statement, the story states. According to the source, the proposal is an attempt made in desperation to preserve electricity.
Due to a fast-increasing demand and poor baseline efficiency, the Asian Development Bank recently published a report titled "Central Asia Regional Economic Cooperation (CAREC) Energy Outlook 2030" that emphasized Pakistan's urgent need for investments in power generation and energy efficiency. The survey stated that the government requires investments ranging from USD 11 billion to USD 26 billion in the hydropower industry. Investments in solar energy and nuclear power are anticipated to total close to USD 12 billion and USD 12 billion to USD 31 billion, respectively.
The Transmission and Distribution (T&D) of power was deteriorating as a result of Pakistan's excessive focus on power generation, the CAREC recently noted. Despite having a National Energy Policy in place, it was highlighted that there are still numerous details lacking that specify the responsibilities of important players.
The story states that the energy minister revealed several energy-saving initiatives, one of which is a plan to have 20% of the government staff work remotely on a rotating basis. The minister is quoted in the newspaper as stating that this might help the government save PKR 56 billion and that additional such actions to reduce electricity usage could help the nation save up to PKR 62 billion. The minister reportedly said that energy-saving fans and lights will soon be available to help save PKR 38 billion and that electric bikes would eventually take the place of conventional motorbikes to minimize the need for gasoline.
edited and proofread by nikita sharma