Trends
Products that didn't have enough range or were not very reliable: how M&M lost the game on Reva.  
Products that didn't have enough range or were not very reliable: how M&M lost the game on Reva.  
M&M's Gateway office was filled with excitement. The vibe was unmistakably positive. The air was filled with excitement in Mumbai. All the top people were ready to welcome a prized possession their boss bought in style.
If that's not enough, the automaker just bought most of Reva, an electric-vehicle company based in the Indian city of Bengaluru. This shows that the company is betting a lot on green transportation.
Even the CEO of M&M, Anand Mahindra, was excited about the event. "Reva will only help us grow our green footprint even more both in India and around the world," he said, according to a company statement. Many people thought the deal would help M&M get a good deal on electric cars over the next decade.
Was everything as planned?
This means that as it stands, M&M is a long way behind Tata Motors when it comes to electric vehicles, and they only have a presence in the electric three-wheeler space. On the other hand, Tata has a wide range of cars to drive, including electric versions of Tigor and Nexon.
M&M made a mistake somewhere.
As you know, there was no plan or strategy for electric cars when M&M bought Reva more than a decade ago. "It was more about keeping the technology alive and keeping the Reva brand alive," says an industry source. Most of the cars converted to electric were models that didn't even sell in their ICE form, like the Verito, which was never even sold in its ICE form.
But before we get into why the Reva deal didn't open up a treasure trove for M&M in the EV world, let's look at how India's top SUV maker is changing its course.
It's February 10, 2022. Earnings call for the third quarter of FY22 by M&M This is how M&M's managing director and CEO, Anish Shah, talked about how the company wants to get into electric cars. "A more detailed electric-vehicle plan will be out soon," he said. This would be a follow-up to the business plan made public in the previous quarter.
M&M has set aside INR3,000 crore for the EV business over the next three years. If the product cycle and R&D need to change, this may need to be changed a little bit to make it work better.
The company plans to have 16 electric cars on the road by 2027. At least eight of these cars will be SUVs, four of which will be ICE cars, and four will be made on the new Born electric platform. The first ICE-based electric SUV will be the XUV300, out in FY23, and the electric KUV100 will follow.
The company will also start selling a massive range of light commercial vehicles, including three-wheelers, for a lot of money.
Why Reva didn't work out as well as planned.
M&M couldn't build on its lead-in electric cars. A 3.0 version of the Mahindra Reva e20 didn't help it when it already had everything going for it in a market where there was no real competition, so it didn't help.
There was not another car from the Mahindra Reva line after the e20Plus because these cars had plastic bodies and many problems, even though they had solid electric technology. Consumers didn't want to pay a lot of money for vehicles made of plastic that cost around INR8 lakh.
As a co-founder of Expereal India, Avik Chattopadhyay says, "Reva was bought because it was the first Indian brand to get into the electric car market." The e2o, the rebranded Reva NXR, didn't live up to expectations on range and reliability, which was typical for an early player.
To him, it was "a complete letdown in terms of engineering and vehicle integration because it used an old chassis to force fit an electric powertrain," he said. This meant that the eVerito was soon used by Blu and other companies like that as a fleet car. This is how it worked: In 2018, Mahindra showed off the Atom at the Auto Expo. It was made for a short time in 2020.
When M&M tried to use Reva technology as much as possible, they tried to do so as often as possible It used the core Reva technology as a starting point and hired 200 designers and engineers to work on new EV technologies at the Bengaluru tech centre in the city of Bengaluru (formerly of Mahindra Electric Mobility).
Kirloskar Motors made the first Reva motor, and now, the same thing has been produced in-house. Many people who know about the Mahindra Reva car say that charging stations and motor controllers are essential parts of the vehicle. People now make their batteries with cells from China, and they do it all at home.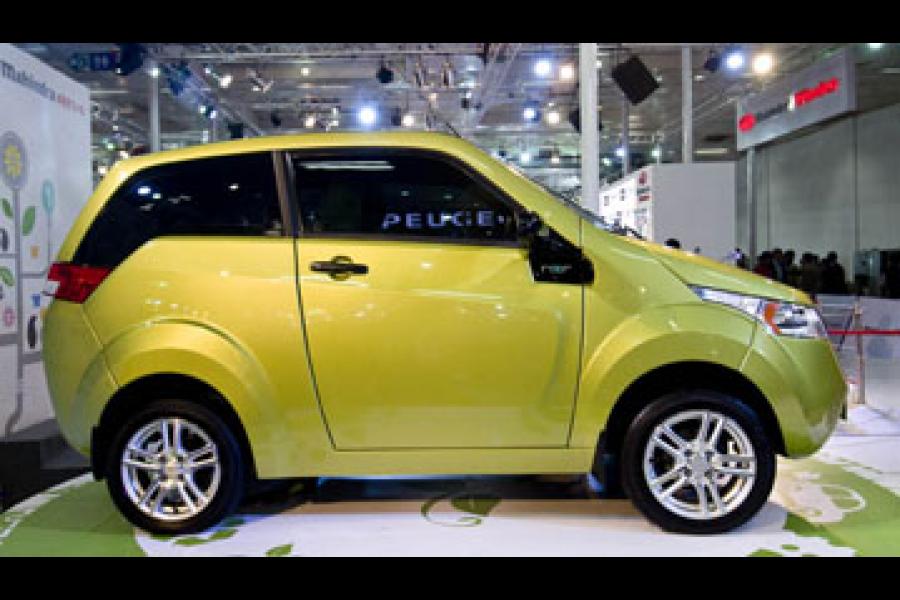 "M&M has come up with all-new EV technologies for most of the electric powertrain," says the source who said that. "Being able only to launch the right vehicle has been a problem." He doesn't think the market is as big as he thinks it is, and he tends to relax when all the technology inputs are available.
Srihari Mulgund, a partner at EY-Parthenon, says that the Reva technology would be pointless now because of how technology has changed and how much it costs.
That's not true, says Suman Mishra, the Mahindra Last Mile Mobility vertical, which makes electric three-wheelers. He says the technology has changed a lot since Reva came out. A lot of information and knowledge came to us from the Reva acquisition, and we now know how to get into the EV space better than before.
Mishra says that not only is the product very different for electric cars, but so is how they get service and how they store spare parts. Many people here know a lot about how to run the electric ecosystem. Since we bought Reva, we've spent a lot of money to improve our embedded systems, design, vehicle architecture, and aggregates.
Mishra says that the INR3,000 crore EV CAPEX is the first set of investments made. Research and product development will be the first thing the company spends money on in the first phase, then manufacturing and capacity growth. Multiple places are now taking care of people's last-mile transportation needs, not just the plant in Bangalore that makes electric three-wheelers.
The company is also going through a restructuring process to keep going with electric cars.
The second time they tried to get electricity.
Last March, the board agreed in principle to merge Mahindra Electric Mobility, a step-down subsidiary of M&M, into its own business. This merger would split the electric vehicle business into last-mile mobility (LMM) and electric vehicle technology centres.
Mulgund from EY-Parthenon isn't sure why the company is reorganising itself. Some think that the last mile-mobility vertical will take advantage of its current opportunities in electric vehicles (such as three-wheelers and cargo four-wheelers), while the EV tech centre will lead electric-component development. This is what they say: Keeping them all under one roof might help them work better together.
He says this about Tata Motors: It split up its commercial vehicle and passenger vehicle businesses. After all, it was looking for a strategic partner for its passenger-vehicle business because it was facing many problems with that business. It had nothing to do to electrify the country.
Even so, Mitul Shah, the head of research at Reliance Securities, thinks that M&M's decision to split the EV business is a good thing because it's in line with its peers. A dedicated approach to electric cars is possible because of this.
Shah: "It also helps companies get a better value and get more money from global companies that are willing to spend more money on research and development to make high-tech products with better technology."
According to him, the move will eventually lead to more value for shareholders, like Tata Motors. He says that the value of a separate entity/subsidiary is usually higher than the value it would get as a separate entity.
People at M&M have tried to split their electric vehicle business into two groups. "We need to speed up" one for passenger cars, says Mishra. "So we're bringing all the technology, sales, and other functions of M&M together," he says. This is the second cluster: last-mile mobility. This is a very fast-moving market. In this way, it can respond to customer needs more quickly.
But how does the market see this?
The market doesn't believe this because the Mahindra management isn't very open about splitting this business into a 100% subsidiary and getting a financial investor on board. Equity analyst: "The market doesn't seem to take this on face value until M&M gets someone to invest in this business."
To be sure, the idea behind merging Mahindra's technical centre with M&M and LMM as a separate company is to see if the company can get an investor to pay a lot of money for the EV business, on the same lines as Tata Motors.
Last December, Tata Motors started a new company called Tata Passenger Electric Mobility to make electric cars. The company also hired private equity groups TPG and ADQ of Abu Dhabi to invest INR7,500 crore in the EV business to show its commitment.
Eleven thousand seven hundred twenty-two electric-vehicle sales by Tata Motors last year helped the company grow its EV business over time.
M&M wants to do the same thing with its new ideas.
The market was happy with M&M's plans for electric cars until 2016 or 2017, and an equity analyst said it was the only company investing in this area. However, the EV market was still in its infancy at the time, and people were still a little wary of buying them. As time went on, the hype around them faded.
Despite the odds, M&M has always worked on new technology. Long-term thinking will help its electric car business as well.
The muscles in the tech field are vital.
For almost a decade now, different M&M tech centres have worked together on a joint project to make new things. "We're spending a lot of money to build up the Bengaluru tech centre and make it a centre of excellence for software," says Mishra. "The hardware and most of the development will be in Chennai, North America, and any other outsource centres that we may choose to use."
In Detroit, Mahindra built a technical centre called the Mahindra North America Technical Center (MNATC). It was primarily used to make platforms for SUVs and trucks because North America is the place to make them.
A lot of work has been done by MNATC, says Mulgund. The Marazzo and the XUV 700 were both made by them. Vehicle integration is done at the Mahindra Research Valley in Chennai. It can do full vehicle development in one place for both the auto and the farm sectors to do this simultaneously.
Here's a quick look at how the different tech centres work together to make new products:
Uli Stuhec, a global expert in electric mobility, is in charge of the Detroit centre. He is working on the Born EV platform, which will start being used in 2025.
It's called Mahindra Advanced Design Europe, and Pratap Bose is in charge.
It is a place where design is excellent. Born EVs, LCV (light commercial vehicle) products under 3.5 tonnes, large commercial vehicles, Peugeot Scooters (France), and tractors and farm machines are some vehicles that can use this.

Products and technology are being developed at M&M's research and development centre in Chennai. The MRV centre provides expertise and technology for both electric cars that were born EVs and electric SUVs made with electricity from an ICE.'

Learnings from Mahindra Racing, which competes in Formula E, have helped people understand how electric cars work.

Automobili Pininfarina, a company in the Mahindra Group, has used its "Battista" hyper electric car to show how electric vehicles will work in the future.
It has a 120-kilowatt lithium-ion battery, and it is working with Mahindra Racing to improve this technology.

Mahindra Racing started racing in Formula E to learn about electric cars and how they work. They used the Spark-Dallara-McLaren tech racing car to do this. Chattopadhyay from Expereal India says that the company bought Pininfarina almost simultaneously. "Not only did this help the design language grow, but it also taught us how to make electric cars," he says.
The company had been working on electric cars with Bollore in France since early 2010. A person who used to run Skoda Auto Volkswagen India is now in charge of Pininfarina and Peugeot Scooters at Mahindra Europe. This could help the electric car programme even more.
As a result, M&M didn't take advantage of its first-mover advantage on electric cars. Still, it has spent a lot of money on electric technology like induction motors and battery packs (through an alliance with LG) in 2016-2017.
Back then, Tata Motors was behind when it came to electric cars. With the help of Jaguar Land Rover, the company moved to higher-voltage induction motors and EVs that could go more than 300 miles on a single charge a few years later, which is what it did.
M&M also worked on a high-voltage technology, but it took a long time for the company to make decisions and get the necessary approvals. Sources say they even worked together to make two models like the XUV300. One was made for SsangYong Motor's global markets, and one was made for Mahindra, sources say. Even though the two models did not get to see the light of day at all, on the other hand, Tata Motors sped ahead of M&M in the electric passenger-vehicle category.
That's not true. M&M is still going strong with three-wheelers. The market for electric three-wheelers was more prominent than for electric cars last year, says Puneet Gupta, a forecaster at IHS Markit. He says in the next five years, even Mahindra will be doing well with electric vehicles. He says this because Mahindra already has a lot of technology for electric cars.
For electric cars to make a dent in the market, the products must be appealing to people who live in cities. MG Motors and Tata Motors have done well with their electric cars, and I think it is essential to put the right thing out there. Besides, maybe even Ola will try to make an electric car. People from EY-Parthenon believe that the competition will only get more intense from here on out.
It doesn't matter how hard M&M pushes the EV cart because its current product line isn't suitable for electric cars at all. EVs are usually heavier than ICE cars, so making an SUV electric would make it even more severe. This is because SUVs are generally massive, which would put a critical point at risk: range.
When Mahindra wants to have a long-term and competitive electric vehicle portfolio, they have to start from the ground up and work from there, which is what it is doing with Pininfarina, which is why. One has to be patient with a certain amount of time. Chattopadhyay says that Tata's "lighter" cars, like the Nexon, have made it easier for the company to become more electric.
edited and proofread by nikita sharma