Trends
Sri Lanka declares a state of emergency after President Gotabaya Rajapaksa flees.
President Gotabaya Rajapaksa has departed Sri Lanka aboard a military plane, amid widespread public outrage over the country's economic problems. The 73-year-old travelled to the Maldives with his wife and two security officers, according to the country's air force. They landed in Male at 03:00 p.m. local time.
Crisis-hit According to the Prime Minister's office, Sri Lanka imposed a statewide state of emergency on Wednesday, hours after President Gotabaya Rajapaksa departed the country.
"An emergency has been proclaimed to cope with the situation in the country because the president is out of the country," Prime Minister's spokesperson Dinouk Colom stated. The island nation is in the grip of a severe political and economic crisis, with the president fleeing the country just days after a large crowd stormed his mansion.
In its most devastating downturn on record, the country of 22 million people has endured months of prolonged blackouts, acute food and gasoline shortages, and skyrocketing inflation. Sri Lankans have continued to call for President Rajapaksa's resignation, blaming his administration for the country's chronic financial mismanagement.
Mr. Rajapaksa's resignation brings an end to a family dynasty that has dominated Sri Lanka for decades. The president had gone into hiding after protestors stormed his home on Saturday, and had promised to resign on Wednesday, July 13th. According to the source, Mr. Rajapaksa will leave the Maldives and travel to a third nation. His brother, former Finance Minister Basil Rajapaksa, has also departed Sri Lanka and is expected to travel to the United States.
Thousands of Sri Lankans flocked to the streets of Colombo as they awoke to the news. Many people gathered at Galle Face Green, the primary protest location in the city. Some listened to rousing remarks on a makeshift platform made up for regular people to speak on.
Speakers screamed against a government and leaders they believe have failed them, punctuated by screams of "Victory to the struggle," the protest movement's rallying cry. Some protesters were outraged by Mr. Rajapaksa's departure, citing a lack of responsibility.
It bothers us. We'd like to keep him. We'd like our money back! And we want to put all of the Rajapaksas in open prisons where they may work on farms. " GP Nimal, a protester, stated However, Reshani Samarakoon, a 23-year-old university student, told the BBC that the former president's exile provided "hope that in the future we might finally become a developed country, economically and socially."
Sri Lankans hold President Rajapaksa's government responsible for the country's worst economic catastrophe in decades. They have been dealing with regular power outages and shortages of essentials like fuel, food, and medications for months. The leader, who is immune from prosecution while in office, is thought to have sought to travel abroad before stepping down to avoid arrest by the incoming administration.
What a fall from grace for President Gotabaya Rajapaksa, who had been such a big figure in Sri Lanka for so long. Few predicted that things would eventually turn out this way.
As a former Defense Secretary, he commanded military operations in the contentious battle against Tamil Tiger militants, which concluded in 2009. He has been accused of human rights violations throughout the conflict, as well as of targeting people who disagreed, although he has consistently refuted these allegations.
The Rajapaksa family has controlled Sri Lankan politics for two decades, and Gotabaya was elected president in 2019 with significant support from the Sinhala Buddhist majority.
His departure is a significant success for the demonstrators who took to the streets to vent their outrage at the mismanagement of the economy and the rising cost of living.
The president's resignation raises the prospect of a political vacuum in Sri Lanka, which needs a functioning administration to begin digging itself out of financial devastation. Politicians from various parties have been discussing the formation of a new unity government, but no agreement has been reached. It's also unclear if the public will accept anything they come up with.
According to the constitution, the Prime Minister, Ranil Wickremesinghe, should take over as president if the latter resigns. In parliament, the prime minister is regarded as the president's deputy. Mr. Wickremesinghe, on the other hand, is profoundly unpopular. On Saturday, protesters set fire to his property, which he and his family were not in, and he declared he would quit, making room for a unity government but specifying no timeframe.
According to constitutional scholars, the next most likely caretaker president is the parliament's speaker. However, Mahinda Yapa Abeywardena is a Rajapaksa loyalist, and it is doubtful if the public would recognise his authority. Whoever becomes acting president has 30 days to arrange a presidential election among members of parliament. The winner of that poll would then serve out Mr. Rajapaksa's term until late 2024.
The protest movement that has taken Sri Lanka to the verge of change also lacks a clear candidate for the country's leadership.
Sri Lanka is an island country off the coast of southern India that gained independence from British sovereignty in 1948. The Sinhalese, Tamil, and Muslim ethnic groups account for 99 percent of the country's 22 million people.
Sri Lanka's History
For years, one family of brothers has dominated: Mahinda Rajapaksa became a hero among the majority Sinhalese after his government beat Tamil separatist insurgents in 2009, ending years of severe and violent civil conflict. His brother Gotabaya, who was defense secretary at the time, is the current president, but he has stated that he will step down.
Presidential powers: The president of Sri Lanka is the head of state, government, and military, but he shares many executive responsibilities with the prime minister, who is the leader of the ruling party in parliament. An economic crisis has erupted on the streets, with some goods, medications, and gasoline in limited supply, rolling blackouts, and ordinary people taking to the streets in a rage, with many blaming the Rajapaksa family and their administration for the situation.
Here's how the situation in Sri Lanka played out.
Following a wave of protests, Rajapaksa proclaimed a state of emergency, granting security personnel broad powers to arrest and jail people.
On April 3rd, almost the whole government of Sri Lanka resigned, leaving Rajapaksa and his brother Mahinda, the prime minister, alone.
President Rajapaksa lost his majority on April 5th. President Rajapaksa's parliamentary majority has been eroded as erstwhile friends demand he resign. He declares the state of emergency to be lifted.
The Sri Lankan government declared a "last resort" default on its $51 billion international debt on April 12th after running out of foreign cash to acquire badly needed supplies.
A horde of government supporters bused in from the countryside assaults peaceful demonstrators camping out in front of the president's oceanfront office in Colombo. In the ensuing retaliation assaults, nine people are murdered and hundreds more are injured, with mobs targeting individuals responsible for the violence and torching politicians' homes.
After hundreds of demonstrators stormed his Colombo mansion, Prime Minister Mahinda Rajapaksa resigned and had to be rescued by the army. Ranil Wickremesinghe, a political veteran who had previously served as premier, took over for Mahinda.
Shoot-to-kill orders were issued on May 10th. The defence ministry authorized troops to kill anybody involved in looting or "causing injury to life" on sight.
Sri Lanka suspends petrol sales on June 27th. According to the Sri Lankan government, the country ran out of fuel and consequently suspended all gasoline sales save for critical services.
On July 1st, a new inflation record was set. The government released data showing that inflation had reached a new high for the ninth straight month, only a day after the IMF asked Sri Lanka to lower prices.
President Rajapaksa's house was assaulted on July 9th. President Rajapaksa was escorted from his official house in Colombo by soldiers minutes before protestors stormed the complex. He was transported to an unknown destination. Inside the house, the footage shows ecstatic protesters leaping in the pool and exploring the majestic bedrooms. On the same day, PM Wickremesinghe's home was also set on fire.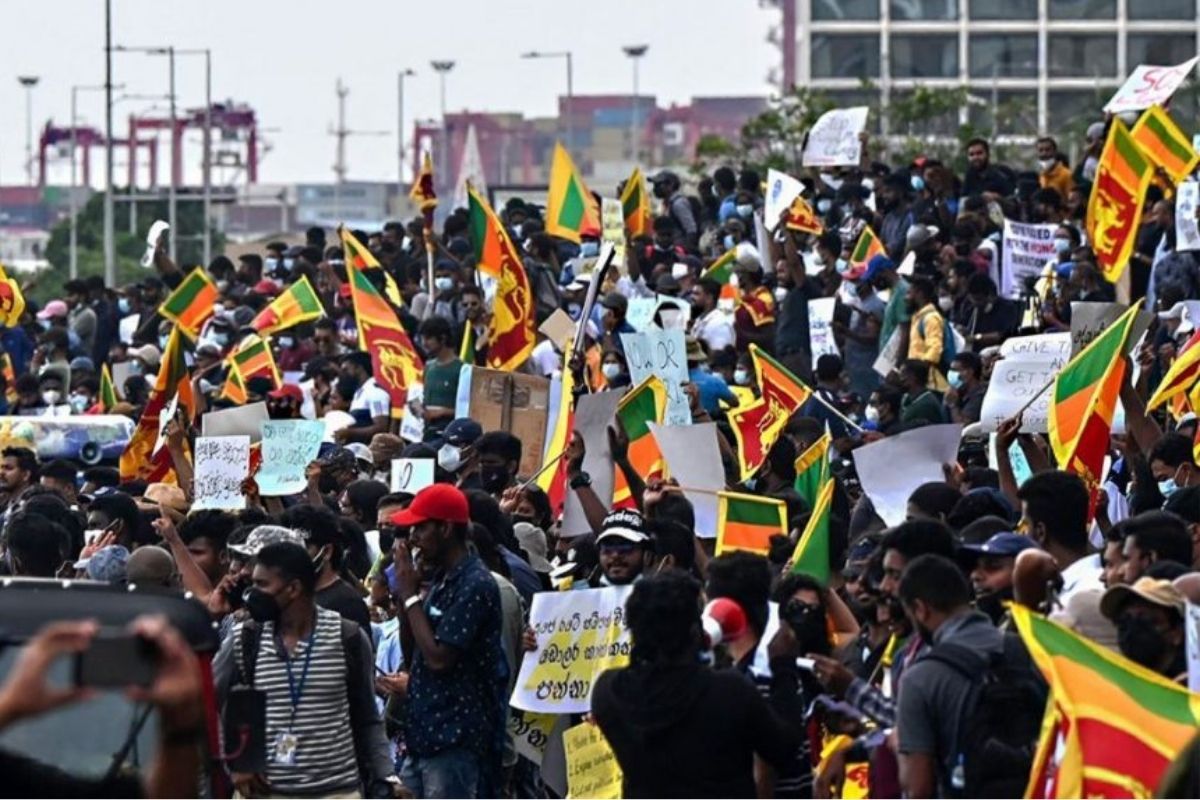 Rajapaksa escapes on July 13th. President Rajapaksa took a military plane to the Maldives, accompanied by his wife and two bodyguards. His departure came after a humiliating airport confrontation in Colombo, when immigration officials refused to provide VIP services and insisted that all passengers go through public counters.
edited and proofread by nikita sharma