Trends
Rishi Sunak loses to Liz Truss for the position of Prime Minister Of Britain.
Indian-born Rishi Sunak loses to Liz Truss for the position of Prime Minister of Britain. Results of the UK general election for prime minister: Tory members' voting, which began in early August and ended on Friday night, allowed them to choose between Rishi Sunak and Liz Truss.
Recession, industrial unrest, and a crisis in the cost of living are currently affecting the country. Liz Truss was chosen to lead the governing Conservative Party and become the nation's next prime minister on Monday.
The announcement on Monday marked the start of Boris Johnson's leadership transition after weeks of a contentious and frequently tense party leadership contest that pitted Truss. Rishi Sunak, a former finance minister and person of Indian ancestry, is the target of Truss.
Liz Truss received 81,326 votes, beating Rishi Sunak, who received 60,399 votes, to be crowned the new leader of the Conservative Party.
Over the next two years, we are needed to prove our ability to deliver. Following the announcement of the outcome, Lizz Truss declared, "I'll present an audacious plan to cut taxes and expand our economy.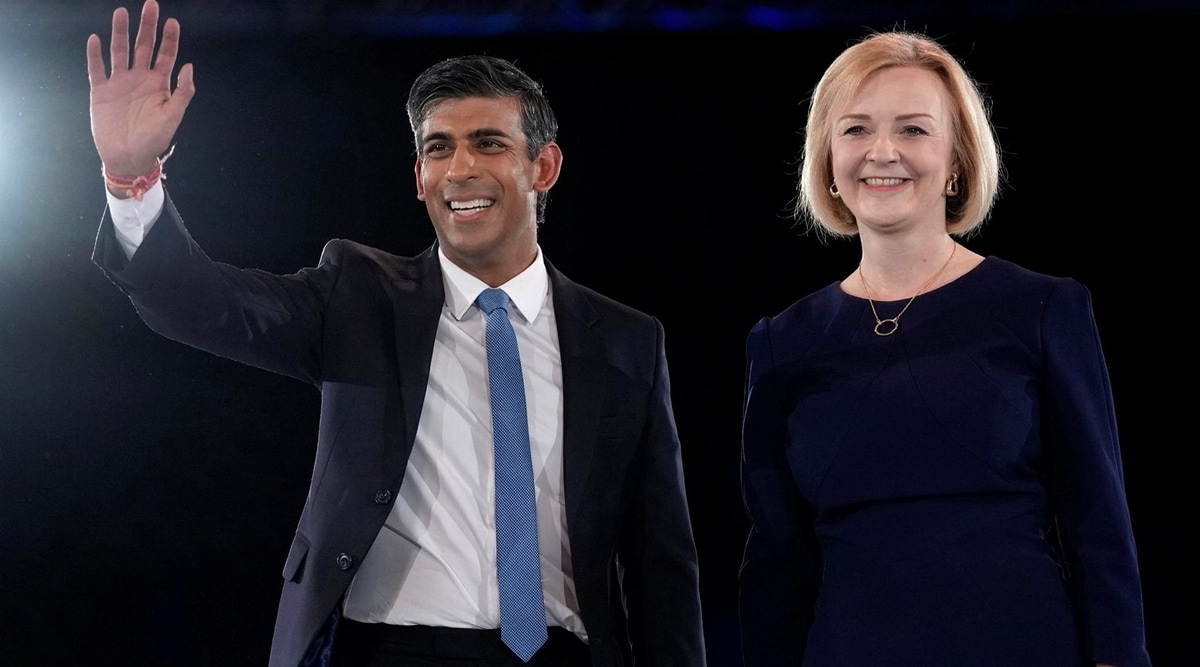 Early in August, Tory members began voting for their preferred candidate between Sunak and Liz Truss. Voting ended on Friday night.
Nearly 52% of respondents said that Truss would make a "poor" or "terrible" prime minister, and 43% said they had "no faith" in her handling the problems caused by the high cost of living. 37% more Brits believe she will primarily follow in the footsteps of her predecessor.
The two contestants fought it out in a postal vote among the roughly 160,000 Conservative voters to succeed outgoing British Prime Minister Boris Johnson. Johnson was forced to announce his departure in July after spending several months embroiled in controversy. Johnson will fly to Scotland on Tuesday to deliver Queen Elizabeth his letter of resignation. It will be up to whoever succeeds him to establish a government.
Lizz Truss, who had been the front-runner in the race to succeed Johnson, was elected as the fourth prime minister for the Conservatives since the 2015 election. Since then, the country has seen numerous crises, and it is currently experiencing what is anticipated to be a protracted recession caused on by surging inflation that reached a peak in July at 10.1%.
Lizz Truss, who served as Johnson's foreign minister, has pledged to move swiftly to address Britain's rising cost of living crisis, saying that within a week, she will develop a strategy to address rising energy costs and guarantee future fuel supplies.
Rishi Sunak's "One Family" tweet after losing the UK PM election to Lizz Truss
According to former finance minister Rishi Sunak, the party must unite behind victor Liz Truss, who is anticipated to succeed David Cameron as the next prime minister of the United Kingdom, who lost the race on Monday.
"We should stand together behind Liz Truss, the new prime minister, as she leads the nation through challenging times," Rishi Sunak tweeted.
2015 saw Richmond picked to represent Yorkshire, a Tory stronghold, as Rishi Sunak, a former investment banker and graduate of Stanford and Oxford Universities, was elected. From junior ministerial positions to Chancellor of the Exchequer, he quickly advanced the party ranks.
The former finance minister is anticipated to continue representing his own constituents and the over 1.5 million-strong Indian diaspora from behind the benches.
"I'll continue to represent you in the House. Rishi Sunak answered when asked what would transpire if he lost to Truss, the foreign minister, "Being able to represent my constituents in Richmond, North Yorkshire, as their member of parliament has been a wonderful honor, and I would dearly love to continue doing so.
When asked if he would do it the next time again in the future, Rishi Sunak responded, "I need to recover from this one."
As the UK deals with a cost of living crisis, industrial unrest, a recession, and a war in Europe—where Britain has been a leading supporter of Ukraine—Lizz Truss will assume leadership. By claiming that she would secure a significant victory for her party in 2024, she appeared to rule out holding another national election for the following two years.
She succeeds Boris Johnson, whose forced resignation was announced in July as a result of months of scandal that caused support for his administration to dwindle.
The monarch will ask Liz Truss to form a government, and he will follow him.
"Didn't get the job?"-Sounds echoed.
Politics is a brutal game. On Monday, UK Foreign Secretary Liz Truss defeated former chancellor of Indian origin Rishi Sunak in the race to become the next British Prime Minister. Soon after, CV Library, a UK recruitment firm, began advertising at Mr. Sunak's expense. On their new billboards, the job-search website poked fun at the candidate. The face of the former Chancellor of the Exchequer was seen on mobile billboards in the streets of the United Kingdom.
In bold letters, his face appeared next to the slogan, "Didn't Get the Job?" It was written just below the tagline, "We have positions available for everyone. Find one that works for you."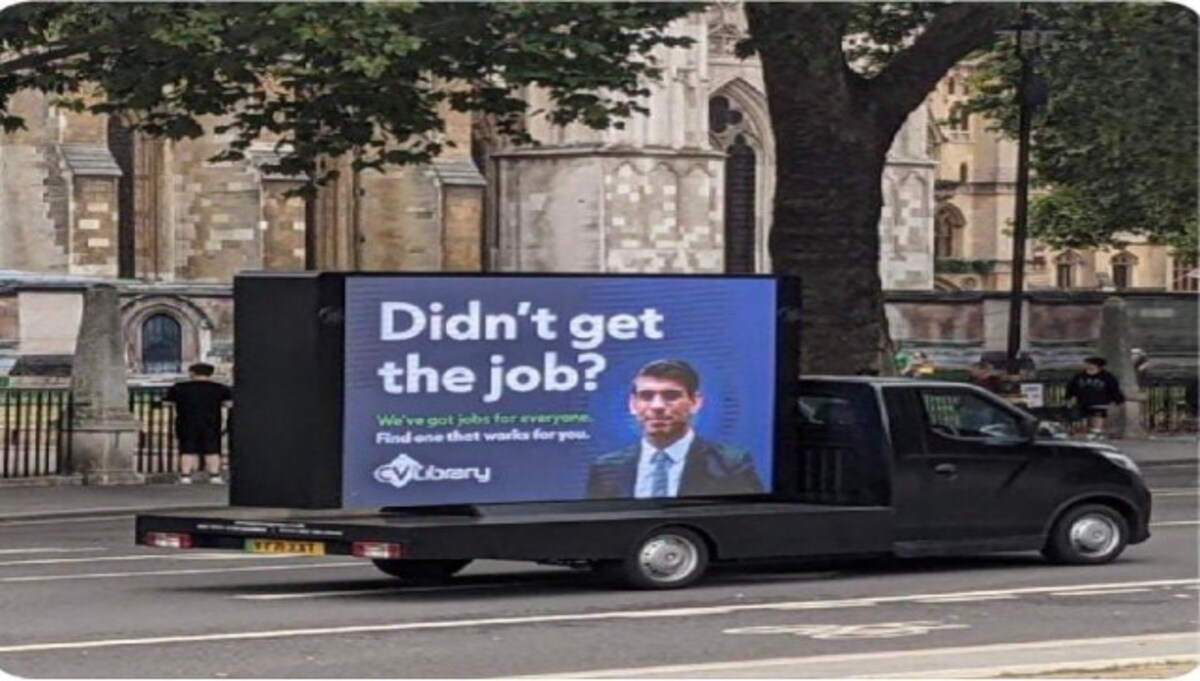 Mr. Sunak, 42, thanked everyone who voted for him on Twitter shortly after his defeat. "We must now rally behind the new Prime Minister, Liz Truss, as she leads the country through difficult times, "Former British Indian Chancellor tweeted.
Netizens were dissatisfied with CV Library's marketing campaign. According to one Linkedin user, "Aside from the news, am I the only one who thinks this "new" way of digital advertising is horrible and extremely unsustainable?
Having a minivan tour the streets with a screen appears to be an irresponsible waste of gasoline, contributing to traffic jams and pollution." Another user added, "Disgraceful! Do we laugh if your child didn't get the job they wanted, regardless of who is in the photo, whether it's Rishi, Liz, Boris, Tony, Margaret, or anyone else? I suppose it's acceptable if they were in the public eye? Would you show his or her face in the ad with the same comment if he or she had a visible disability and identified as someone other than he or she? 
This is not the first time CV Library has poked fun at a political figure. Boris Johnson, the former Prime Minister, was also a victim of the company's marketing campaign. When Mr. Johnson resigned as Prime Minister, the job site ran an ad with the slogan: 'Resigned today? Find a new job that suits you.'
edited and proofread by nikita sharma