Trends
Indian garment exporters are impacted by a drop in demand in the US and Europe; the goal is likely to be missed.
Due to a continuing decline in demand in the European and US markets, Indian garment exports may fall short of the goal this fiscal year. Exports recovered by 30% to reach $16 billion last year after falling 20% in 2020–21 as a result of COVID–19. The government had set a target of $17.6 billion in 2022–2023, which the exporters say would be challenging to meet given the global crisis, encouraged by the rebound. Exports of ready-to-wear clothing decreased by 6.7% from April through October of this year, totaling $9.2 billion. Exports began to decline in August after the early promise.

"Since most of the traditional markets of Indian Readymade Garments (RMG), including the UK, EU, and the USA, are experiencing recession and global headwinds, leading to shrinking of demand on the one hand and buyers asking for 15% discount on the other, we have asked govt for expediting free trade agreements (FTAs) in these markets and ensuring all tariff lines of RMG sector, which will enable a duty reduction of existing 9.6% and act as a strong breather," said Naren Goenka (AEPC).
Goenka anticipates exports to be at least as high as the $16 billion they were in 2017. "We have been able to reach $9.2 billion against a target of $17.6 billion despite significant challenges experienced by the clothing business this year, including rising raw material prices, the Russia-Ukraine war, and slow demand in key garment importing nations."
Goenka claims that the COVID-19 Pandemic and the Russia-Ukraine War had an impact on the market in the European Union and that households' priorities had shifted away from clothing purchases toward additional payments for gas and electricity as well as equalized monthly instalments that also include food items. Market circumstances in the US and UK are comparable. The US is also increasingly concerned about the recession. Due to the drop in demand, knitwear exporters in Tiruppur were forced to reduce their output and labor hours. Tiruppur, the country's centre for knitwear manufacture, accounts for 55% of the nation's exports of knitwear.
"Over the past few months, demand has decreased by 30 to 40%. According to Raja Shanmugham, the previous president of the Tiruppur Exporters' Association, "this is meant to be our peak season" (TEA). Exports from Tiruppur were $4.5 billion, up 36% from 2021–22. In comparison to the same time in the last fiscal year at $ 2.6 billion, growth in the current fiscal year has dropped off to 8 percent in April through October. In the months of September and October, the increase decreased by 30 to 40%. Last year, the nation exported $8.2 billion worth of knitwear products.
It's interesting to note that the decline in apparel exports has allayed worries about cotton scarcity and high cost. "Clothes costs are no longer a concern. According to Shanmugham, it was the opposite way around last year. Due to scarcity, cotton prices last year surged to almost Rs 1 lakh per package of 356 kg; they are still at a high level, hovering around Rs 65,000. Despite a predicted over 12% rise in output at 344 lakh bales in 2022–2023, the market entry has decreased due to sluggish demand.
A number of incentives have been sought by AEPC, which includes approximately 7,000 garment makers and exporters as direct members. This includes decreasing the value addition criterion and early release of a Production-Linked Incentive (PLI) scheme that covers 10 high-potential cotton clothing goods and Man-Made Fibre (MMF) garment products.
TEA President K N Subramanian complained to Finance Minister Nirmala Sitaraman that the knitwear exporting factories in Tiruppur are experiencing fewer booking orders, payment delays, non-acceptance of booked orders, and delayed shipments. 75% of the clothing produced by the cluster is sent to the US, EU, and UK markets. He asked the minister to increase the interest subsidy on pre- and post-shipment rupee export credit for both Micro, Small and Medium Enterprises (MSMEs) and non-MSMEs to 5% across the board from 3% and 2% respectively, taking into account that a negative export trend is continuing in November as well.
As US and EU purchases decline, spinners and apparel hubs are in trouble.
If India's exports of products decreased 16.6% year over year in October, the first monthly decline in 19 months, the decline in the two most labour-intensive industries, textiles and apparel and gems and jewellery, had started much earlier and was considerably more pronounced.
Think about this In October, ready-to-wear exports to the nation hit a record low of $988.7 million, cotton yarn exports plummeted by 46% to $719 million, and knitwear exports from Tirupur, the nation's largest centre, decreased by 17.4% on-year in August, 33.1% in September, and 39.8% in October. The total value of textile and apparel exports decreased by 8.5% to $18.3 billion in the first half of FY23 compared to the same period last year, significantly underperforming a rise of 17.8% for all product exports.
Shipments will continue to be under pressure in the upcoming months as the US and the EU, the nation's top two markets for textiles and apparel exports, see a dramatic downturn in demand. The short-term picture for textile exports is bleak, given the several shocks weighing on the world economy and the prediction that growth in world trade volumes will collapse to a pitiful 1% next year. At this point, exporters may find some respite from rising input prices, declining ocean freight, and reduce congestion on major shipping lanes, but these factors might not be sufficient to prevent a disaster.
In reality, India's export competitiveness in the textile and clothing sectors has declined recently, and the goal to increase exports to $100 billion in five years appears challenging, if not unattainable. "The whole textile value chain is experiencing its worst fiscal year ever right now. The problems were made worse by record-high domestic cotton prices between April and August, according to Rahul Shah, a member of the Textile Export Promotion Council. He points out that in June and July, India was forced to purchase cotton yarn for the first time in history.
Gokaldas Exports' executive vice chairman and managing director, Sivaramakrishnan Ganapathi, is yet optimistic. "Shipping restrictions have eased since the previous fiscal year. Additionally, ocean freights have decreased significantly, according to him, and the medium- to long-term outlook for Indian garment exports is expected to stay positive. He claims that the business is "closely following" the US market's demand situation.
It will probably be a "long winter in Europe," according to a top executive with a prestigious Ahmedabad-based firm, because of the energy situation. On condition of anonymity, he adds that rising inflation and the ensuing tight monetary policy in the US and EU, a potential western recession, and the ongoing devaluation of the euro would make things much more difficult for India's textile and clothing firms.
Industry experts also point out that the cost of living in Europe has increased dramatically as a result of the sharp rise in gas and crude oil prices brought on by the crisis in the Ukraine. They observe that each of these factors, from yarn and textiles to made-ups and apparel, has significantly decreased overall demand for goods along the whole textile value chain.
Even greater difficulties are being faced by cotton yarn producers. According to Gautam Dhamsania, secretary of the Gujarati Spinners Association, a steep fall in exports has had an impact on Gujarat's roughly 600 spinning mills, where 60% of total production is exported, primarily to the US and EU. Although local cotton prices have decreased from their all-time highs a few months ago, they are still much higher than global pricing, ranging between Rs 68,000 and Rs 70,000 per candy (356 kg per candy). Dhamsania claims that the state's spinning mills are operating at less than 60% capacity and are losing between Rs. 15 and 20 per kilogramme of yarn.
The downturn in the US and EU, which historically accounted for more than 70% of the shipments, has severely hurt the exports of knitwear from the Tirupur cluster, one of Asia's main export centres. Shipment declines on an annual basis began in August and have subsequently become more pronounced. Knitwear exports from the hub decreased from $0.329 billion in August to $0.264 billion in October.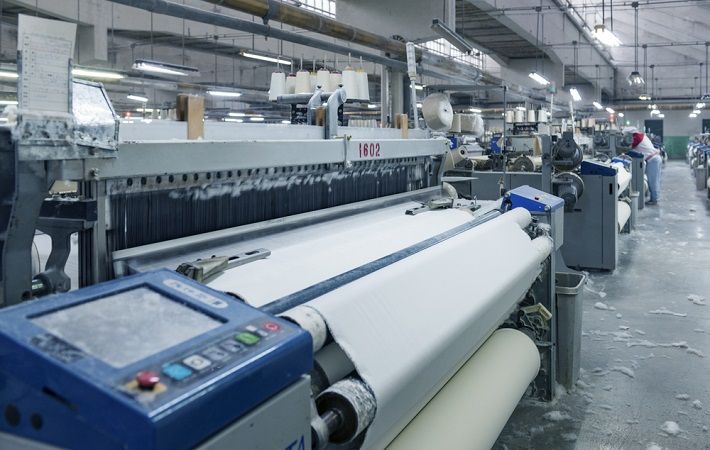 One of the main exporters from Tirupur, Kumar Duraiswamy of Eastern Global Clothing, states: "We have been hit since August." Even though 30 to 40 percent of exporters are operating at capacity only, they are not making any layoffs. The exporters from Tirupur are also banking on demand from West Asia, which makes approximately 15% of shipments, in addition to the summer season orders from western markets.
According to Ashima's founder and chairman, Chintan Parikh, uncertainty is pervasive because of the US market's slump. He continues, "It is challenging to anticipate export possibilities in the current environment, but we are hopeful that things will improve in the next months.
Despite all of these challenges, Chintan Thaker, group president at Welspun Group, cites a few encouraging developments, including a reduction in the gap between local and international cotton pricing and the advent of new fibre. While domestic sales are down, Himanshu Bodawala, head of the Surat-based South Gujarat Chamber of Commerce & Industry, claims that the country's current wedding season has also helped the Indian textile and garment industry.
The Tirupur exporters have begun investigating opportunities in "man-made fibre" (MMF) based exports in light of the challenging scenario, departing from the conventional cotton-centric approach. According to Tirupur industry circles, large US and EU retailers and brands may increase their purchases from India if the MMF is utilised for the production of knitwear.
"We are hoping to build an ecosystem to generate MMF-based items," says Duraiswamy. Tirupur exporters are also thinking about opening up a business in Australia as a result of the free trade agreement between India and Australia. Prospects for exporters from the UK market to the garment hub are also promising.
However, it is evident that governmental assistance is necessary for the textile and apparel sector, the second-largest employer after agriculture, to reach the goals established. This sector has been harmed by historical policy bias in favour of the cotton-based value chain at a time when the global consumption pattern is shifting toward products made of man-made fibre and technical textiles, the dominance of small and medium-sized businesses with constrained scale, decades of inflexible labour laws, and high logistics costs.
In 2016, the government released a Rs 6,600 crore package for clothing exporters. Additionally, it made it possible to handle the issue of order flow seasonality through fixed-term employment. The alleviation, meanwhile, hasn't exactly paid off because other structural obstacles still exist.
The government's Rs 10,683 crore production-linked incentive programme, which is just for products manufactured of technical textiles and man-made fibres, this year selected qualifying businesses for it. Due to the projected decrease in incentive offtake, it plans to launch a second PLI programme for the sector.
Edited by Prakriti Arora