Trends
Modi Can Teach God How The Universe Works? Rahul Gandhi Takes A Jibe At Modi
Rahul Gandhi recently took a jibe at Modi saying if he sits with God, he would teach him how the universe works.
Modi can teach God how the universe works- Rahul Gandhi mocks
Speaking to Indian Americans of Santa Clara, California, Rahul Gandhi, the Congress leader noted that everyone in India had grown up with individuals of all linguistic and religious backgrounds. However, now this diversity has become the target of the attack. Gandhi Ji along with Guru Nanak Ji, among others, established the idea in India that one ought not to presume that they know everything. He went ahead and took a shot at BJP by saying that there some Indian political groups who have a sickness where they believe they are all-knowing. They actually believe they are more knowledgeable than God. He specifically mentioned the prime minister as an example.
Gandhi indicated this group of individuals are utterly convinced that they are infallible and believe that they have the ability of explaining science to scientists, history to historians, and warfare to the army. He made these statements while addressing the "Mohabbat Ki Dukaan" event hosted by the Indian Overseas Congress, the US, in Santa Clara in USA's state of California.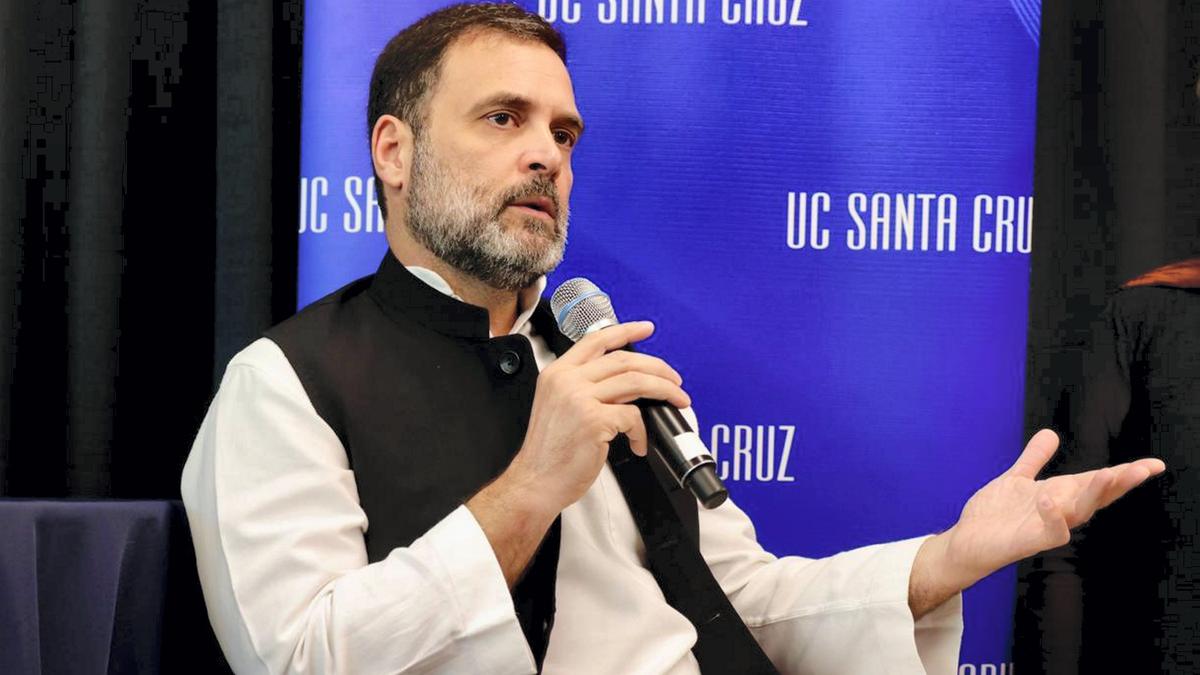 Due to the size and complex nature of the world and universe, nobody could possibly know everything. However, if someone forces Modiji to have a conversation with God, he would explain to God how the universe functions, and God will become perplexed about what he has made, he suggested, attracting howls of laughter from several of his Indian-American followers.
He argued that mediocrity is at its root, putting it in a serious context. They are not prepared to listen to anyone. He said that this is the reason they are unable to grasp anything, as listening is a necessary component of understanding.
Gandhi said that the government tried everything to thwart his Bharat Jodo Yatra in a speech given to the Indian diaspora in the state of California, after he landed for tour to the US. Gandhi claimed that the BJP as well as the RSS controlled every political tool in India. Before he started his yatra, he claimed to have learned that the traditional tactics employed in government in earlier times were not anymore successful.
He reaffirmed his backing for conducting a caste census having the goal of performing a national x-ray in order to comprehend its population composition and better efficiently share power and riches. The Congress politician also asserted that all minorities as well as the poor in India today were being attacked, although acknowledging that Indian Muslims remained the group most directly targeted by bigotry and hostility.
Gandhi warned against any casual changes to the representative structure and urged for a fair negotiating process, even as he stated that he wanted to better understand the specifics of a potential delimitation operation before reacting.
Gandhi's tour to the US is being organized by Congress data analytics unit leader Praveen Chakravarty as well as Indian Overseas Congress head Sam Pitroda, who met Gandhi when he landed at San Francisco on Tuesday morning. Rahul Gandhi is scheduled to travel to three major American cities during his 10-day stay, including the nation's capital Washington, DC, as well as San Francisco. He also intends to talk about the prospects of artificial intelligence with Silicon Valley's highest-ranking executives.
Gandhi claimed that the newly constructed Parliamentary building provides a distraction while discussing the Sengol dispute. It stated that wholly fabricated distractions by Modi and his drum beaters would not change the fact that the real problems impacting people are unemployment, skyrocketing price increases, and the growth of intolerance. The BJP is forced to use this distraction method since they can't fully debate these topics.
Gandhi informed the Indian Americans the fact that concept of India was being attacked and questioned. He praised the Indian Americans for hoisting the Indian flag high in America and exemplifying the essence of what it signifies to be an Indian by honoring the culture, learning from it, and sharing the experience with the Americans.
BJP leaders react to Gandhi's jibe at Modi
Members of the BJP unleashed a full-blown assault on the previous Congress president for taking a jab at Modi and his administration. Anurag Thakur, Union Minister of Information and Broadcasting, claimed that Gandhi travels overseas for funded shows to feed anti-India campaign in order to trash the nation on foreign territory. Rahul Gandhi, according to Thakur, degrades India when he travels outside of the country. During his recent foreign travel, PM Modi met about 24 other prime ministers and Presidents throughout the globe and attended over 50 meetings, the Australian PM called Modi- The Boss and, perhaps Rahul Gandhi found it difficult to process this.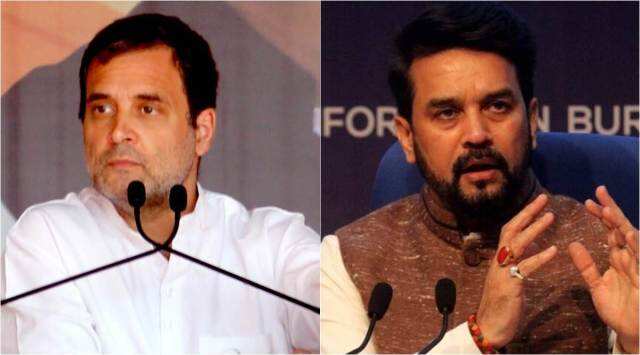 Returning to the Congress era, Thakur said that the country as well as Uttar Pradesh both had Congress governments throughout the 1980s, a time when injustice was committed against the Dalits. Congress attempted to eradicate the nation's traditions while in power, and they constantly looked to the West for inspiration. Congress operated under the enslaved mindset. He said BJP has taken pride in Indian culture, as have all of its members. Rahul Gandhi, he claimed, only degrades "India, Indians, and Indianness" whenever he travels outside of the country.
Pralhad Joshi, the Union Minister for Parliamentary Affairs, asserted that the Gandhi's familiarity with history was limited to his immediate family. Joshi made fun of Gandhi's prior speeches by saying that the individual who claimed to make gold using potatoes is currently lecturing on science and that an individual who never stepped outside of familial matters is now aspiring to be in charge of India's military. Joshi continued by referring to him as "Fake Gandhi" and asserting that India's culture is its essence. He claimed that unlike Gandhi, who denigrated India on foreign land, Indians are fiercely proud of their heritage and are able to defend their geographic location.
Anil Baluni, the main spokesperson for the BJP and a member of the Rajya Sabha, claimed that the Congress has a history of conspiring against the nation and smearing its name. The globe applauds India's progress under Prime Minister Modi's administration, but certain national politicians are attempting to defame the country abroad, he claimed.
Gandhi is making these comments out of irritation, according to senior BJP leader as well as Rajya Sabha member Sushil Modi, since the nation is supporting PM Modi. According to him, Congress members who adhere to dynastic tradition believe that they have a natural right to govern, but because of Narendra Modi's efforts, they have been stripped of that self-assumed right today.
Rahul Gandhi's self-claimed transformation after Bharat Jodo Yatra?
It appears that Rahul Gandhi's fervor will not be diminished by BJP statements this time.  According to Gandhi, the Bharat Jodo Yatra has evolved into a personal and national transformational movement rather than merely an event. He claimed it offered people a forum to voice their concerns and it continues to have resonance with hundreds of thousands of Indians both locally and globally. He claimed that the main lesson he took away from the Bharat Jodo Yatra was that everyone has something to teach us.
He asserted that one cannot fight hatred with hatred while criticising the governing party. He said that only love and kindness could defeat hatred. He continued by saying that Indians are not of the opinion that people should hate one another. The system is controlled by a tiny handful of individuals, in line with what he said, and they are fanning the flames of animosity. He said, however, given that the majority of people hold onto love and affection rather than hatred, they must all confront and combat it with love.
Gandhi addressed the "Indian" sentiment in his audience in an effort to connect with them. He claimed that if one examines our nation, one can see that it is capable of absorbing any notion that is presented. India has never disapproved of a concept. Every individual coming to India have gotten a warm welcome and their thoughts have been adopted. That is the version of India that we choose. a respectful India towards the rest of the globe- India which is respectful, attentive, and caring.  Appealing to the crowd, he stated that those present were representing India. He continued by saying that if they didn't share these principles, none of them would have been there. 
With his Bharat Jodo Yatra, US Tour, and several other endeavors, Rahul Gandhi seems to be attempting to level the playing field between the Congress and the BJP. BJP has been perceived as the sole player in the political game for some years now, but Rahul Gandhi is attempting to pose a challenge by condemning Modi and the BJP's deceptive strategies and phoney tactics. 
Published By Naveenika Chauhan