Trends
Start your path to financial freedom as we celebrate our independence for 75 years.
Every year on August 15, the country celebrates Independence Day with great passion and pride, and people gather to honour the sacrifices made by our leaders and freedom warriors who dedicated their lives to ensuring our country's freedom.
The government of India has started a program called "Azadi Ka Amrit Mahotsav" to honour and remember 75 years of independence as well as the illustrious history of its people, culture, and accomplishments. This year commemorates the 76th Independence Day on August 15, 2022.
The Azadi Ka Amrit Mahotsav honours Atmanirbhar Bharat, novel ideas and convictions, the foundation of independence, and the driving forces behind freedom fighters. India has come a long way in the 75 years since its independence, in large part because of the tenacity, imagination, and initiative of ordinary Indians.
India has made substantial economic advancements in a variety of sectors, including banking, technology, healthcare, and education. Due to its wealth of knowledge and research, the country is making its mark on everything from Mars to the moon.
The official journey of the Azadi Ka Amrit Mahotsav started on March 12, 2021, the start of the 75-week countdown to our nation's 75th anniversary of independence. After a year, it will come to an end in August 2023. The government-sponsored "Har Ghar Tiranga" program incited Indians to hoist the tricolor and exhibit it at their houses this year as a representation of our commitment to nation-building. This weekend, as India marks its 76th year of independence, think about your own financial freedom.
The term "financial independence" is typically used quite loosely. But in its most basic sense, it describes a circumstance in which a person has access to enough money to cover costs and be able to achieve financial objectives without the help of others. It is necessary to "earn" financial independence because it does not come spontaneously. Each person defines financial independence differently. For some people, it may mean being debt-free and having sufficient cash flow; for women, it can mean having the financial independence to handle their affairs. Financial independence is when you have enough money to cover your necessities for the rest of your life or have enough cash flow to cover your expenses.
However, there is little difference between these two terms: Being financially independent means having the freedom to act without considering the repercussions. Financial freedom may be observed in how one perceives life, money, and/or the capacity to lead the lifestyle they wish, even if it cannot be properly defined or measured because it is subjective. Interestingly, you may strive toward financial freedom once you have achieved financial independence. Financial freedom is a prerequisite for financial independence.
You cannot talk about having financial freedom while counting on future income. The goal of becoming financially free will remain a dream without a strategy in place. Let us sincerely promise to accept financial responsibility and work for financial independence on this, the 76th anniversary of Independence Day.
1. Create an effective financial strategy.
If you want to achieve financial independence, strategic financial planning is crucial. The pandemic upended all of your precautions by revealing all of the extra holes in your financial safety net, which is a noteworthy example from recent history. However, a thorough financial plan will be used to manage both the present and the future.
Having a specific set of financial objectives in mind is crucial since financial independence is a personal concept. You will need to write out your objectives and establish some specific financial goals that you must meet. You won't be able to make a plan for how to achieve your financial objectives until you have established some specific, measurable targets. Your age and financial needs will have an impact on it. S.M.A.R.T. financial objectives should be set (Specific, Measurable, Adjustable, Realistic, and Time-bound).
Give yourself a feeling of direction by categorizing your financial goals as short-, medium-, and long-term with a period of, say, three years. The next step is to look for investment opportunities that can help you achieve your financial objectives.
2. Invest in and save for retirement.
It is crucially important to plan investments and place a strong emphasis on saving if you want to achieve financial freedom. The majority of ideas have promising beginnings but fail for a variety of reasons. You may track your spending regularly by keeping a monthly budget, which will help you save enough money each month. You must reduce your needless spending if you want to save more money for investments. Attempt to limit your indulgence in luxury, even if many of you adore shopping therapy. Additionally, it's critical to monitor your impulsive purchases.
Planned and timed investments may prove to be the game-changers on your path to financial independence. It is important to never undervalue compounding. A great investment will yield a larger return the longer you hold it. Therefore, it's critical to start saving as early as possible. Consider starting to invest with your first or subsequent paycheck and developing the wise financial habit of doing so regularly.
Many investors have shifted over time from making significant investments in fixed-income securities and gold to other asset classes that are seen as riskier, such as stocks, mutual funds, and exchange-traded funds (ETFs). Be sure to select respectable investing opportunities based on factors including your risk tolerance, investment horizon, and financial goals. If you are hesitant to invest huge sums, you may simply begin investing in mutual funds using SIPs, which allow for small monthly contributions as low as Rs 500.
Additionally, make sure that you regularly monitor the returns you are receiving for any schemes or programs you have invested in, like mutual funds, stocks, or bonds. It is crucial to periodically examine your portfolio to keep tabs on and improve performance and switch out or get rid of underperforming assets after evaluating their quantitative and qualitative aspects.
On paper, your investment plans could appear fine, but they might not provide you with the results you were hoping for. By investing in respectable mutual fund schemes, you might achieve your financial objectives earlier and get closer to financial freedom.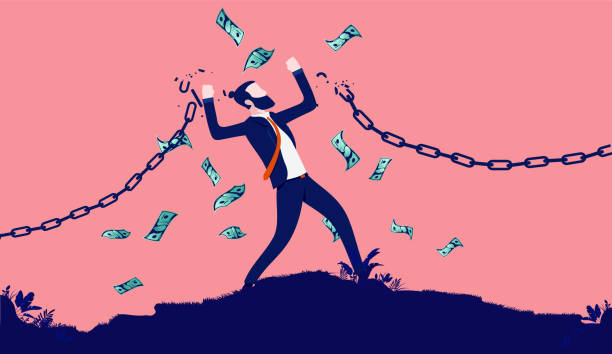 3. Maintain a debt-free life.
Many people use loans from unregulated lenders to regulated players like banks, NBFCs, peer-to-peer lending platforms, and even online rapid loan platforms that demand higher interest rates since they are so easy to obtain. This puts you in debt and keeps you from achieving financial freedom. If you intend to repay your loan on time, then having debt is not a terrible thing.
However, you must quit living paycheck to paycheck if you want to achieve financial freedom. Make sure to minimize or settle your outstanding bills as soon as you can. Avoid taking out loans or using credit cards frequently to meet your immediate needs because doing so might harm your financial stability. Your ability to manage your debt and protect your credit score will improve if you keep your debt-to-income ratio under 40%.
4. Create a reserve fund.
Building an emergency fund is an important undertaking since it will act as a safety net for you in case of a financial emergency, given the uncertainty of any unanticipated incident. To achieve financial freedom, you must protect yourself from unforeseen events without incurring any costs. The epidemic has emphasized the importance of having an emergency fund with 12 to 24 months' worth of living expenses, including loan EMIs, to survive a crisis.
The most important consideration when deciding where to store your emergency funds is that they must be liquid to be used to pay for unforeseen needs. The best course of action would be to distribute the emergency cash among savings accounts, liquid funds, and mutual funds that invest in short-term debt.
5. Make sure you have insurance.
Despite what many people think, insurance is an essential part of financial planning. To protect against risks to your life and health, you must have proper insurance coverage. A life insurance policy safeguards your family's financial requirements in the event of your death, while a health insurance policy assists you in paying for expensive medical procedures (untimely demise).
Young people often underestimate the value of obtaining insurance coverage. One accident or unfavourable incident might completely devastate your life and that of your family. Take out a term policy and comprehensive medical insurance if you want to safeguard your family's finances in the event of an unpleasant event.
To sum up, everyone who wants to be financially free may follow the route of wise financial preparation and calculated action. A lack of financial literacy is the major barrier that prevents many people from being financially independent and obtaining financial freedom. They are ignorant of the subtleties involved in financial planning.
By enhancing your financial literacy, you can achieve financial independence over time. To successfully follow the aforementioned measures towards financial freedom, increase your financial literacy. Unquestionably a necessary life skill, financial literacy opens the door to efficient financial planning for a prosperous financial future. You may assume the position of financial protector for your family by being financially literate and assisting them in making wise financial decisions.
Edited by Prakriti Arora