Trends
Can large-scale heat pumps take the role of fossil fuels in the current energy crisis?
Stockholm is paving the way as Germany and other European nations attempt to abandon oil and gas heating in the face of an impending energy crisis and to satisfy climate protection goals. The Swedish capital's heating is powered by renewable or recycled heat energy to a degree of about 98%.
massive heat pumps that consume too much electricity. The majority of the city's buildings are heated by the district heating system, which is fed by waste heat from industrial plants, wastewater treatment facilities, data centers, and soon an electrical transformer station, as well as environmental heat from the Baltic Sea.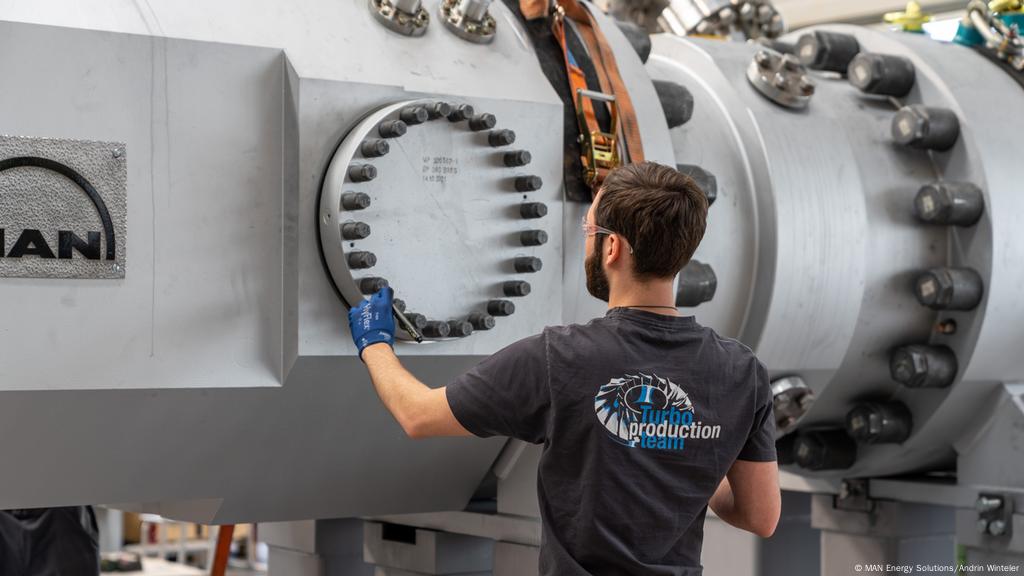 More than 6,000 district heating networks operate throughout the European Union, providing 11% of the region's heating requirements. The current difficulty is getting people to stop using fossil fuels. Any heating system with a centralized supply of heat is considered district heating. They frequently have their bases in metropolitan areas.
More effective are centralized heat pumps.
Large power facilities that burn coal, oil, or gas power the majority of heating networks. Some people also make use of deep geothermal energy and nuclear power plant waste heat. But in recent years, providers have progressively included heat pumps, huge solar thermal plants, biofuels, and waste incineration in the mix. According to experts, large-scale heat pumps, like those used in Stockholm, have the best chance of providing cities with affordable and environmentally sustainable heating.
Nikolaus Meyer, head of solutions development at energy company E.ON with headquarters in Essen, Germany, suggested that decarbonizing district heating networks must be done gradually rather than all at once. Meyer predicts that in the future, massive heat pumps will decentralize and harvest heat from multiple locations. The land, bodies of water, the air, wastewater, subway tunnels, and industries will all contribute to the heat.
Deep geothermal energy, bioenergy, solar thermal energy, excess green electricity, and synthetically created green hydrogen, according to experts, might all provide extra climate-neutral heat needs. Theoretically, integrating heat pumps into existing urban heating networks shouldn't pose too many technological difficulties. These networks use warm water to deliver heat as energy. Typically, the water's temperature ranges from 80 to 130 degrees Celsius (176 to 266 degrees Fahrenheit).
Large heat pumps are also capable of producing temperatures above 130 degrees Celsius, although they operate more effectively at lower temperatures. Systems provide roughly five kilowatts of heat with hot water at 70 degrees with one kilowatt-hour of power. According to Meyer, our grid temperature goal is 70 degrees so that we can make use of heat pumps' potential for efficiency.
Germany looks for less expensive, more effective heating sources.
Sweden has been advancing the phase-out of coal, oil, and gas in the heat supply industry for years, along with Denmark. District heating networks have been expanded, and they've switched to massive heat pumps and renewable energy sources. Currently, networks in both nations use more than 60% renewable heat on average.
Stockholm is making progress. By 2025, the Swedish capital wants to completely phase out fossil fuels from its heating system. And capturing CO2 from biofuel heating plants and depositing that carbon deep underground is expected to further aid climate change. Emissions are, in principle, negative since the plants used to produce the biofuel have already taken CO2 from the air during the growing process, and that CO2 is then retained once the fuel is burned.
Germany is behind its Nordic neighbors in district heating, with only 15% of renewable sources. According to data from 2018, coal makes up 30% of the nation's heating energy while gas accounts for 41%. The previous administration, which was led by former German Chancellor Angela Merkel, who left office in 2021, adopted a subsidy strategy that contributed significantly to the high proportion of fossil fuels used in district heating.
These regulations made gas extremely affordable, particularly from Russia. For many years, there were also significant subsidies for the use of gas and coal in combined power plants to produce electricity and heat. It was not politically or economically desirable to build large-scale heat pumps utilizing renewable energy against that economic backdrop.
However, the current political and economic landscape has undergone a significant shift. Natural gas costs have doubled since Russia invaded Ukraine compared to earlier years. Nowadays, gas heating is much more expensive than industrial heat pumps, geothermal, solar, and biomass energy.
The current German government currently plans to spend €3.8 billion ($3.8 billion) over the next four years promoting heat pumps, renewable heat generation, and an expansion of green district heating. After the European Commission approved the funding programs in early August, Robert Habeck, the German Minister for Economic Affairs and Climate Protection, stated that "green district heating networks are key to a climate-neutral heat supply and crucial to reducing our dependence on fossil energy imports."
According to Habeck, the best approach to stopping using oil and gas for heating, especially in urban and heavily populated regions, is to connect to more climate-neutral district heating. Many communities are only getting started with the process of changing their heat source.
Europe Is Being Crushed by Putin's Energy War
Russia's stranglehold on Europe's natural gas supply is forcing prices to skyrocket, putting the continent's unity in opposition to Russia's war in Ukraine to the test and stoking fears of an impending recession. As a result, factories, businesses, and families across the continent are fighting for survival.
Over the past ten years, crushingly high energy costs have increased to 10 times their typical level, causing surges that have paralyzed companies and left people scrambling to pay their bills. The ensuing massacre has propelled European politicians into action, and they are rushing to put in place broad emergency measures to drive prices down.
As part of its campaign to make Europe cry uncle before Moscow's scarecrow forces completely disappear in Ukraine, Russia has cut off roughly one-third of the continent's gas supplies. As a result, Brussels is talking about rationing gas, and national governments are scrambling to find alternative supplies.
People's power costs are alarmingly expensive. Small businesses are having trouble making ends meet. According to Ben Cahill, a senior scholar at the Center for Strategic and International Studies, "factories are debating whether or not to shut down or reduce production" (CSIS). And because winter hasn't yet arrived, things might get worse.
Companies all around Europe have been forced to reduce output or possibly go out of business due to exorbitant rates, from the energy-intensive aluminum sector to fertilizer producers. Governments have invested hundreds of billions of dollars in subsidies to protect people and companies from further suffering. These enormous quantities of money reflect the continent's dire economic situation and the crisis's unparalleled scope.
"We are not experiencing any typical market circumstances." It's an "energy war," according to Rapidan Energy Group consultant and worldwide gas market specialist Alex Munton, who called the circumstances "extreme market conditions."
The European Union relied on Russia for a significant portion of its inexpensive natural gas for many years, but those supplies are no longer available as a result of Russian President Vladimir Putin's campaign to oust Kyiv and the nations that backed it. Despite simmering resentment, European governments have so far maintained their stance.
Consider the European Commission's comprehensive emergency proposals, which would transfer some $140 billion in windfall taxes to cash-strapped people and enterprises. While Sweden offered more than $20 billion in liquidity guarantees for its troubled energy businesses, the United Kingdom likewise launched a $46 billion rescue.
In a historic intervention that would help save German energy businesses from the verge of bankruptcy at a time when they are already on the verge of collapse, Germany is seeking to nationalize three major gas giants, including Uniper, in a historic move that would help save German energy businesses from the verge of bankruptcy at a time when they are already on the verge of collapse.
Increasing financial losses have "put these firms on their knees," according to Munton. He said, "At some point, things do reach a breaking point, and that's sort of where we've got to," without offering any solace.
As demonstrations over soaring energy prices break out, public resentment is already reaching a boiling point in the United Kingdom, Moldova, Germany, Austria, and Italy, raising fears of further unrest. Around 70,000 people participated in the "Czech Republic First" protest against rising energy prices and increased government action in Prague at the beginning of September.
There is a growing group of individuals who are terrified of what the oncoming winter will bring, and they are terrified not just because of the rising cost of electricity but also because of the rise in inflation that the Czech Republic has experienced in recent months. Jan Kovar, a think tank's deputy research director at the Institute of International Relations Prague,
European cooperation dwindles as anger over energy prices that are out of control rises. That is detrimental to Brussels and the sustained backing of Europe for Ukraine's resistance to the Russian invasion. Even while leaders officially promise to back Kyiv, requests for more neutrality in nations like the Czech Republic by demonstrators might pave the way for future rifts in unity.
Hungary, a member of the European Union, has always had Moscow in its back pocket. Germany has always had a neutral attitude toward the entire endeavor. Italian businesspeople recently protested against excessive electricity costs, blaming Brussels rather than Putin for their predicament.
He warned that "political stress will increase this winter if prices continue extraordinarily high and the market appears tight." "It's possible that individuals will grow extremely dissatisfied and will begin to hold governments accountable." In this case, perhaps governments will start to act independently and in their interests. Solidarity inside the EU will be difficult to maintain.
Nations have so far reached the goals set for their storage facilities as winter approaches, but it's not clear if it will be enough to keep the continent alive through the winter given the almost total suspension of Russian gas exports. Now, a significant portion of Europe's winter energy forecast will depend on energy consumption, countries' capacity to acquire liquefied natural gas supplies from nations like the United States, particularly when other customers turn to the same quantities in the colder months, and the weather.
It will be simpler to survive without Russian gas if the winter is mild. Helima Croft, managing director at RBC Capital Markets, predicted that this would be a "cold winter and a winter of dissatisfaction." "It won't be easy in any case, but a chilly winter could be a situation where you should turn the lights out."
However, there are also moral risks to the radiator. Europe's attempts to protect consumers from severe suffering and to address skyrocketing costs risk undermining a critical pricing signal that would significantly reduce demand.
"One of the obvious implications of potentially implementing policies that may address the very high prices for users is that it diminishes the incentive for consumers to use less," said Munton. It makes no difference to the fundamental supply and demand imbalance. If anything, it helps to support demand while the supply side of the equation continues to confront significant difficulties.
Due to rising oil and gas prices, as well as the country's oil export profits, the Russian economy looks to have so far escaped the harshest effects of the energy conflict. In the long term, the balance of power will change when Europe eventually finds substitute sources and Russia loses its main export market. Even if there was a market, Russia simply does not have the physical infrastructure to divert all of its sales to China. In the meantime, Russia is using its natural gas rather than exporting it.
According to Antoine Halff, a former top oil analyst at the International Energy Agency and an energy expert at Columbia University's Center on Global Energy Policy, Russia is "writing itself out of the European markets." Cutting off Russia's largest export market is a drastic—and, at this point, possibly irreversible—step for a nation where energy sales account for more than 40% of its government revenue. That will eventually lessen Russia's capacity to wreak havoc.