Trends
Top 10 Most Valuable Unicorns in Hong Kong 2022
Top 10 Most Valuable Unicorns in Hong Kong 2022
Despite the persistent economic problems posed by the global pandemic, Hong Kong's startup environment has produced some notable unicorns in the last year. The city's attractiveness to startup founders is evidenced by the increase in the overall number of startups and unicorns, employees, and co-working, incubator, and accelerator locations across the city. A rise in the number of startups from outside of China and from Mainland China, as well as a broad mix of nationalities, are choosing Hong Kong as their base.
This exhibits Hong Kong's unique position as a bridge for innovative companies to access the Mainland and Asian markets. In Hong Kong, more and more startups and unicorns are thriving, and many international entrepreneurs have migrated to the city. Since 2017, the number of startups in Hong Kong has increased by more than 50%. With its strategic location near China's manufacturing hubs and linkages to Europe and the United States, the city has a thriving startup and unicorn environment that no one can afford to ignore.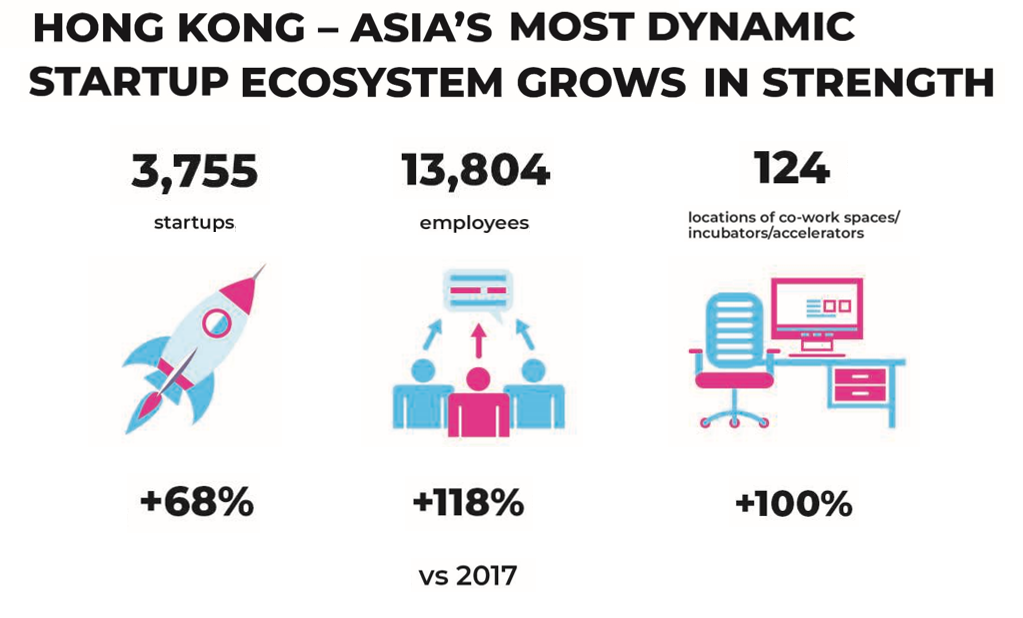 Hong Kong, with a startup valuation of more than $15 billion and the world's fifth fastest-growing startup environment, is creating a name for itself in the startup world. There are also many noteworthy unicorns in Hong Kong, which refer to a startup with a valuation of more than 1 billion dollars. Logistics player Lalamove, which has forged its way to deca-corn status, and unicorns like GoGoX (previously known as GoGoVan), travel site Klook, media company 9Gag, and finance businesses WeLab and Amber Group are among Hong Kong's notable startup unicorns. 
Another startup joined the unicorn group in May of this year, according to reports. The total number of unicorns in Hong Kong is steadily increasing, according to an analysis. These unicorns are mostly distributed in five areas; logistics (GoGoX, Lalamove), finance (WeLab, TNG, Airwallex, BitMEX), deep technology (SenseTime, SmartMore), cryptocurrency (FTX, Animoca Brands, Amber Group), and tourism (FTX, Animoca Brands, Amber Group and Klook). A unicorn is a startup company with a valuation of at least $1 billion and a history of fewer than 10 years. 
According to an InvestHK poll, the number of startups climbed last year, reaching 3,360, an increase of more than 5% over 2019. Although the gain is tiny in comparison to past years' increases of 20% to 40%, it is nonetheless a very positive statistic particularly considering the economic burden caused by the COVID-19 outbreak. However, according to Startup Genome's annual Global Startup Ecosystem Report 2021, considerable cities in the Mainland have either confirmed the top places or ascended to higher rankings. Hong Kong, on the other hand, has plunged three years in a row, from 25th in 2019 to 29th last year and 31st this year.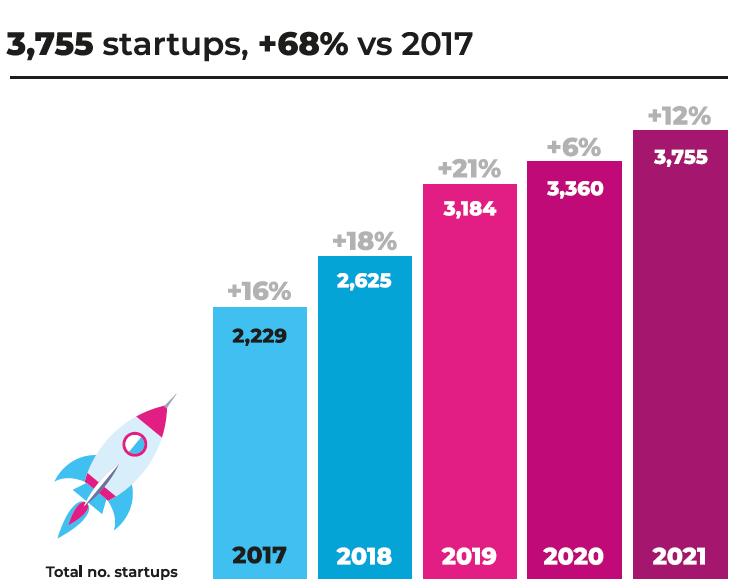 To assist local startups and entrepreneurs in finding suitable investors, Hong Kong has a variety of programmes in place. InvestHK, the government department in charge of foreign direct investment, collaborates with counterparts in Greater Bay Area (GBA) cities to enable Hong Kong-based startups and unicorns to interact with each other and gain access to the area's innovation ecosystem. The Hong Kong Science and Technology Parks Corporation (HKSTP) and Cyberport both provide support in this field, while HKTDC has built a platform called GoGBA that connects local startups with corporations in Guangdong province.
The Greater Bay Area is gaining a reputation as an increasingly growing innovation and technology cluster with exciting potential for startups from all over the world. Hong Kong is recognised as a key entryway into this thriving ecosystem, along with the 72 million-strong consumer market that it entails. Despite adverse economic conditions in 2020, the number of Hong Kong startups climbed by 6% to 3,360 last year. A quarter of its founders were from outside Hong Kong, confirming the city's popularity as a global startup and unicorn hub.
Part of Hong Kong's allure stems from the prospect it offers to startups wishing to expand into the GBA. According to recent research by the Hong Kong Trade Development Council (HKTDC), 34% of the city's startups already have operations in the GBA, while 43% are interested in growing further into the region and 38% are in the process of recruiting business associates there. Homegrown tech startups in mainland China are exploiting prototype and production capabilities, with R&D centres growing in Dongguan and Shenzhen.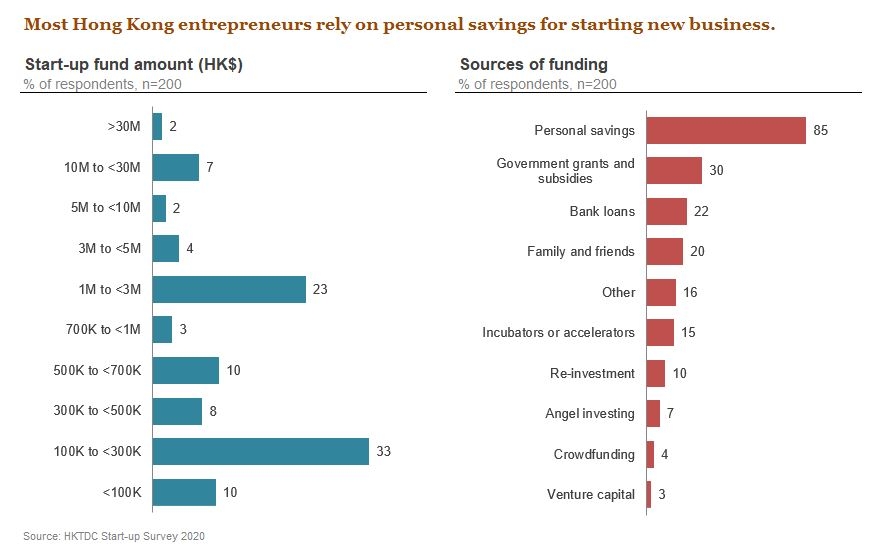 In addition to operating as a critical financial hub, Hong Kong operates as its launchpad to markets all over the world. It takes a lot of money to develop talent and startups. As reported by Hong Kong's Trade Development Council, adequate sources of funding were one of three factors that promoted the growth of startups in Hong Kong, along with a broad customer base (42%), continuous innovation (36%), and quality of service. The findings are based on a study done last year of 259 startups that have been headquartered in Hong Kong for less than 8 years. 
Even though Hong Kong is an international financial centre, raising capital for local companies is difficult. Southeast Asian companies are going to Hong Kong to raise capital on the stock exchanges. In 2019, 18 companies raised a total of US$270.2 million, up from US$238.9 million raised by 16 companies in 2018.
These are the Most Valuable Unicorns in Hong Kong in 2022.
1. Lalamove
Sector- Supply Chain Management and Logistics
Products & Services- Transportation and Delivery Services
Founders- John Tang, Shing Chow, Santit Jirawongkraisorn and Gary Hui
Date Of Starting- 2013
Geographical Range- Asia
Company Stage- Series F
Number of Investors- 20
Key Investors- AppWorks, Sequoia Capital, Shunwei Capital and Hillhouse Capital Group
Funding Rounds- 10
Total Funding Amount- $ 2.28 Million
Valuation- $ 10 Billion
Based in Hong Kong, Lalamove, formerly known as EasyVan, is Asia's leading local delivery platform and a unicorn startup, having a presence in over 120 cities. Over one million customers and hundreds of thousands of professional van, motorcycle, lorry, and truck drivers have used Lalamove to help their businesses develop in the last five years. Lalamove has proven to be a valuable partner in solving the last-mile delivery challenges for businesses of all sizes. Lalamove connects users and drivers all over the world to move the things that matter through dedicated mobile and web apps.
It is an on-demand last-mile delivery service provider. The unicorn startup provides courier delivery, on-demand commodities, and other services. It even offers delivery tracking services in real-time. Lalamove is a logistics startup that specialises in same-day and on-demand deliveries. They provide a convenient service by delivering right to your doorstep or designated pickup spot. Businesses can also use API connectivity to take their delivery to the next level and receive the most comprehensive logistical support possible.
Lalamove was founded in October 2013 to make on-demand and same-day delivery available to everyone at the touch of a button. The unicorn startup now has a presence in over 20 countries, connecting over 7 million consumers with over 700,000 driver-partners. Its driver-partners operate a diverse fleet of vehicles to meet the needs of each market, including lorries, trucks, vans, and cars for deliveries of practically any size. Two-wheel vehicle fleets are also obtainable for courier services, allowing for quick and low-cost delivery. Additionally, its multi-stop and route optimization tools save time and money for your company. 
The unicorn startup allows businesses in a comprehensive scope of industries to scale and outsource their deliveries according to their needs, from small brick and mortar stores to large restaurants, retail chains, and e-commerce organisations. Because of its unique technological benefits, like same-day bookings, and real-time tracking, businesses no longer need to finance running and managing in-house fleets. Customers can even pay using its e-wallet and receive digital receipts through email, allowing them to keep track of all the deliveries. 
Lalamove established its Deliver Care CSR campaign in 2020 to provide free delivery to NGOs during the COVID-19 outbreak. Over 200,000 critical supplies, like face masks, hand sanitiser, personal safety equipment, and hot meals, were sent to frontline medical workers and poor homes as part of the CSR effort. More than 86,000 people were reached in total. The unicorn furthermore teamed up with the Quezon City administration to launch the LalaJeep, a new delivery type on the Lalamove app, to assist jeepney drivers who were laid off due to the community quarantine.
2. FWD Insurance
Sector- Financial Technology
Products & Services- Financial Services
Founders- Richard Li
Date Of Starting- 2013
Geographical Range- Asia
Company Stage- Late Stage
Number of Investors- 11
Key Investors- Swiss Re, ORIX, CPP Investments and Apollo Global Management
Funding Rounds- 6
Total Funding Amount- $ 1.62 Billion
Valuation- $ 9 Billion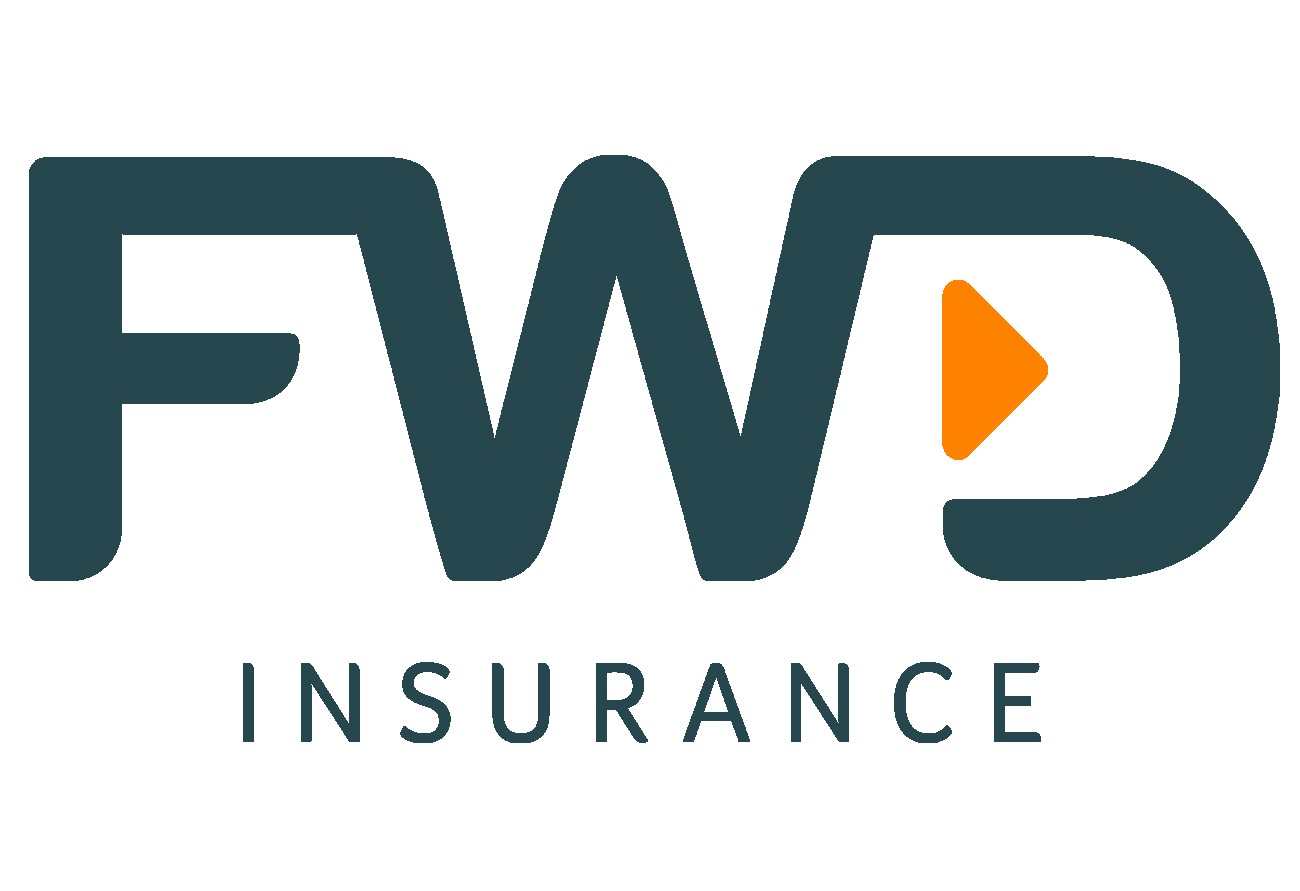 The FWD Group is a multinational insurance company based in Hong Kong. This startup unicorn is an insurance and financial services provider in a variety of industries. The startup provides life and medical insurance, employee benefits, general insurance, and family takaful products, with an emphasis on generating new customer experiences through simple, easy-to-understand solutions backed by cutting-edge digital technology that redefine people's perceptions of insurance.
The startup allocates general insurance, life and medical insurance, and employee benefits across Asia, and was founded in 2013 as the insurance branch of Pacific Century Group. In 2020, the corporation managed $50.9 billion in assets, and in 2021, it managed $63 billion in assets. FWD filed for an IPO in Hong Kong on February 28, 2022. Hong Kong, Japan, Macau, Singapore, Thailand, the Philippines, Indonesia, Vietnam, Malaysia, and Cambodia are the startups' present operations.
The unicorn startup, FWD Group is a pan-Asian life insurance company with over 10 million customers in ten countries, including some of the world's fastest-growing insurance markets. With creative proposals and simple-to-understand products powered by digital technology, FWD was founded to make the insurance journey easier, speedier, and smoother. The startup is dedicated to changing people's perceptions of insurance by taking a customer-centric approach.
People can buy life and health insurance online. Life insurance, medical insurance, general insurance, employee benefits, and other services are also provided. It provides policyholders with an online claims platform. It even provides shariah and takaful insurance for families. The unicorn startup filed for a Hong Kong IPO on February 28, 2022, and announced that it has raised over US$1.6 billion in two private placement dealings since December 2021.
FWD Group, with 6,200 people in Asia, had $50.9 billion in assets under management and 7.5 million consumers by 2020. The Value of New Business for FWD Group hit US$686 million in 2021. In 2021, FWD Group's segmental adjusted operating profit before tax was US$205 million, increasing 64% from the last year and more than quadrupled from the preceding year. FWD Group had 6,100 workers in 2021, along with $62.6 billion in assets under management and 9.8 million customers.
Several actions have been announced by FWD Insurance to help customers and the greater Hong Kong community in the wake of the city's massive fifth wave of COVID-19 infections. These initiatives comprise creating extra coverage for qualified customers and offering exclusive savings on healthcare services provided by members. The unicorn startup and its parent company, Pacific Century Group, have also donated 10,000 quick antigen test kits to Hong Chi Association, a long-time community partner.
3. Klook
Sector- Hospitality, Tourism and Travel
Products & Services- Travel Services
Founders- Eric Gnock Fah, Bernie Xiaokang Xiong and Ethan Lan
Date Of Starting- 2014
Geographical Range- Global
Company Stage- Series E
Number of Investors- 15
Key Investors- Matrix Partners, Tencent, Sequoia Capital and TCV
Funding Rounds- 8
Total Funding Amount- $ 722 Million
Valuation- $ 1.35 Billion
Based in Hong Kong, Klook is the premier travel and leisure e-commerce platform for experiences and services that can be bought at any time and from any place. The unicorn handpicks the considerable enjoyable activities so that customers may quench their insatiable appetite for adventure and new experiences both at home and abroad. Users may enjoy a world of fun with its website and app, which includes attractions, tours, local transportation, and accommodation. 
This unicorn startup is redefining the tourist travel market by working directly with local sellers to provide its consumers with value-added travel experiences and activities. Klook is a leisure activity marketplace that operates online. Users may explore and book a variety of travel experiences, accommodations, tours, outdoor activities, and airport transfers through its web and app-based platforms. It serves cities like London, New York, and Hong Kong. 
It was founded in 2014 to inspire and promote more inclusive travelling through over 490,000 activities in over 1,000 locations. This unicorn startup is one of the most popular booking platforms for journey activities and services around the world. On its website and award-winning app ('Top of 2015' and 'Best of 2017' by Google Play and Apple App Store), Klook allows travellers to locate and book popular sights, excursions, local transportation, best meals and must-eats, and unique experiences across the world.
Klook Travel Technology, the newest member of Hong Kong's unicorn club, earned $200 million from investors in August and plans to expand globally. The startup says that its platform will generate $1 billion in bookings this year. The unicorn startup Klook had received $200 million in funding from Sequoia Capital China and Goldman Sachs, bolstering the company's expansion in the United States and Europe, along with its ability to compete with Airbnb Inc.
Klook is leading the travel and leisure e-commerce platform in Asia for experiences and services at any time and from anywhere. The startup aims to deliver the most compelling activities so that customers' insatiable appetites for adventure and new experiences can be fulfilled both at home and abroad. The startups' app provides access to a world of entertainment, including attractions, tours, local transportation, and hotels. It has over 490,000 activities in over 1,000 places and is continuously working to expand its operations.
The unicorn has already raised over $300 million in total finance. TCV, Matrix Partners, and Boyu Capital are the other investors in the round. Klook, which was founded in 2014, is currently worth more than $1 billion. In more than 200 destinations, the startup allows guests to find and schedule excursions, local transportation, and meals. The unicorn startup expects this year's bookings to be close to $1 billion.
4. WeLab
Sector- Financial Technology
Products & Services- Financial Services
Founders- Kelly Wong and Simon Loong, Frances Kang and Aananth Solaiyappan
Date Of Starting- 2013
Geographical Range- Asia
Company Stage- Series C
Number of Investors- 19
Key Investors- International Finance Corporation, Sequoia Capital, Credit Suisse and Khazanah Nasional Berhad
Funding Rounds- 11
Total Funding Amount- $ 631 Million
Valuation- $ 1 Billion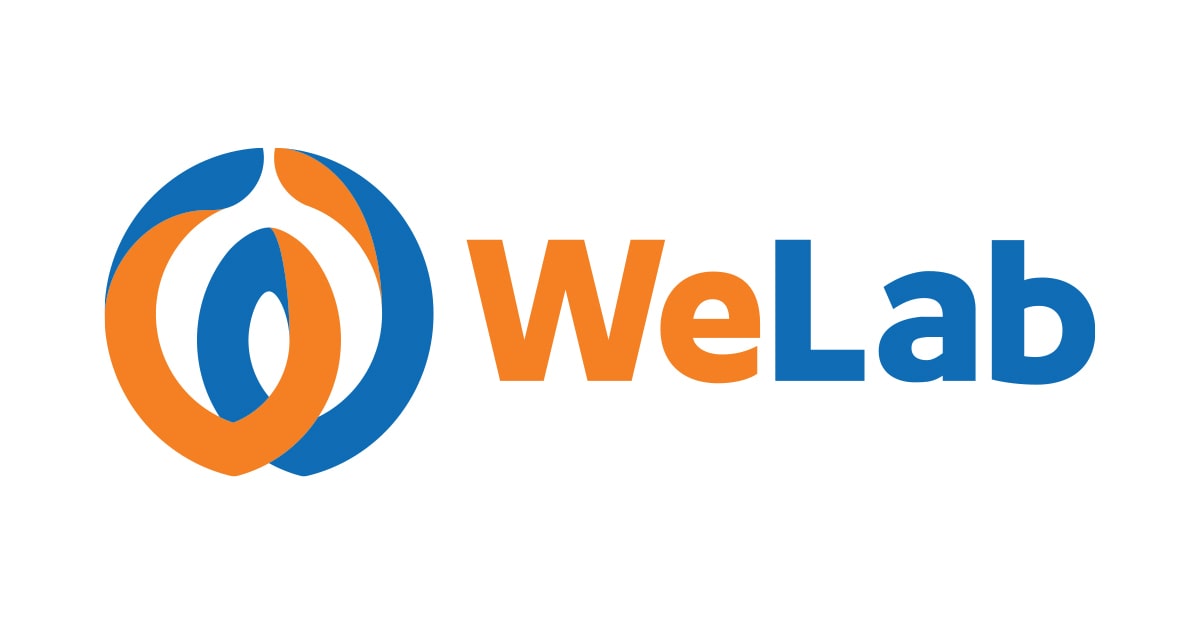 Hong Kong-based WeLab is a financial product platform that is available online. It provides a risk management solution and a consumer experience by combining machine learning, big data technology, and unstructured data. It provides personal loans, house loans, microloans, and other types of loans. WeLend for digital lending, WeLab Bank for digital banking, and other services are also provided. WeLab, a billionaire Li Ka-Shing-backed mobile lending platform, analyses unstructured mobile big data in seconds to make loan judgments for personal borrowers easier. 
This unicorn startup is a notable fintech business in Asia, having built one of the first virtual banks in Hong Kong. WeLab delivers financial services to over 50 million people in Hong Kong, Mainland China, and Indonesia by building seamless digital experiences. It provides a comprehensive set of end-to-end technology solutions to assist financial institutions in risk management and return enhancement.
The startup is an online bank and consumer financing platform founded in Hong Kong. It even delivers B2B enterprise solutions by working with traditional financial institutions to provide fintech-enabled services to its customers using WeLab's technology. The unicorn startup analyses unstructured mobile big data in seconds using its risk management technology and exceptional AI skills to create novel financial services and consumer funding resolutions for individual consumers.
In Hong Kong, the unicorn operates WeLend and the WeLab Bank; in Mainland China, it operates WeLab Digital, Taoxinji, and Tianmian Lab; and in Indonesia, it offers AWDA, a fintech joint venture with PT Astra International. The World Chinese Business Investment Foundation honoured WeLab Founder & CEO Simon Loong with the World Outstanding Chinese Youth Entrepreneur Award in August. WeLab had filed to the Hong Kong Monetary Authority (HKMA) for a virtual banking licence and has become Hong Kong's first virtual bank
Wolaidai, one of China's largest mobile lending platforms, and WeLend, Hong Kong's leading online lending platform, are both operated by WeLab. Allianz, China Construction Bank International, International Finance Corporation (a World Bank Group member), Malaysian sovereign wealth fund Khazanah Nasional Berhad, CK Hutchison's TOM Group, and Sequoia Capital are among this unicorn's investors.
5. Airwallex
Sector- Financial Technology
Products & Services- Financial Services
Founders- Jack Zhang, Lucy Liu, Xijing Dai and Max Li 
Date Of Starting- 2015
Geographical Range- Global
Company Stage- Series E
Number of Investors- 29
Key Investors- Sequoia Capital, Salesforce, Tencent and Horizons Venture
Funding Rounds- 10
Total Funding Amount- $ 802 Million
Valuation- $ 5.5 Billion
Another Hong Kong-based unicorn Airwallex is a provider of cross-border payment services. Airwallex was founded by a group of university students to assist banks and businesses in completing cross-border transfers at a lower cost and faster rate than traditional methods. The funds are used for market expansion and product development, with a focus on giving more value to marketplaces, online sellers, and small and medium-sized businesses, according to the unicorn startup.
The startups' mission in today's fast-changing digital environment is to allow businesses of all sizes to grow globally and contribute to the global economy. It has designed a global financial infrastructure with technology at its core to help businesses interact, collect, and pay in more than 130 countries and 50 currencies without the limits of the traditional global financial system. The business is looking to expand its global teams with clever, dedicated, and dynamic people that are excited to join its rocketship and take on the challenge of a lifetime to support its ambitious expansion ambitions.
For enterprises, a cross-border payment solution is provided by this startup. It has capabilities for collecting international payments, transferring funds, and making payments. It provides up-to-date foreign currency rates along with APIs for automating foreign exchange, collections, and payments. Business payment cards are likewise available for domestic and international transactions. Airwallex is a payments platform that was founded in Hong Kong in 2015 and is revolutionising the way businesses move and handle finances throughout the world.
Airwallex has risen to become Hong Kong's fastest-growing fintech unicorn and a well-funded international technology leader supported by world-leading investors in just five years after its inception. Top autonomous authorities have recognised and honoured its administration, creation and innovation, and scale, including Forbes' Cloud 100 2020. The unicorn has even been identified for two years in a row in the Top 50 of KPMG's Global Fintech100. Airwallex, based in Hong Kong, raised $100 million in new fundraising in 2019, valuing the company at over $1 billion and propelling it into the tech unicorn club. 
In comparison to regular methods, Airwallex assists banks and businesses in completing cross-border transfers at a cheap cost and high speed. The funds are used for market expansion and product development, with a focus on giving more value to marketplaces, online sellers, and small and medium-sized businesses, according to the business. The startups' Series C funding was led by DST Global, with participation from Gobi Partners, Hillhouse Capital, Horizons Ventures, Sequoia China, Tencent and Square Peg Capital.
6. Amber Group
Sector- Cryptocurrency, Financial Technology and Information Technology
Products & Services- Financial Services, Cryptocurrency Trading
Founders-  Michael Wu, Luke Li, Thomas Zhi, Tony He, Wayne Huo and Tiantian Kullander
Date Of Starting- 2017
Geographical Range- Global
Company Stage- Series B
Number of Investors- 27
Key Investors- DCM Ventures, Sky9 Capital, Temasek and Pantera Capital
Funding Rounds- 3
Total Funding Amount- $ 328 Million
Valuation- $ 3 Billion
Amber Group is a Hong Kong-based unicorn that is a provider of cryptocurrency-based financial services. Users can buy, sell, and trade a variety of digital currencies, including Bitcoin, Ripple, and Ethereum using its platform. The startup also provides collateralized loans in a variety of stable coins and currencies. Additionally, it offers margin trading and over-the-counter (OTC) liquidity alternatives. It is dedicated to providing a streamlined crypto finance experience to consumers all over the world by combining best-in-class technology with sophisticated quantitative research. 
The startups' mission is to give long-term value to its consumers by optimising investment flexibility, advancing investment returns, and providing long-term value to its customers. Amber Group is a market leader in the trading, products, and infrastructure of digital assets. The unicorn startup collaborates with a broad spectrum of businesses, including crypto-native businesses, banks, and fintech businesses, along with sports teams, game developers, brands, and developers. It functions as liquidity providers, miners, and validators on all principal exchanges, applications, and networks, and operates at the heart of markets. 
Since its beginning, it has generated over $1 trillion in volume across all goods and categories. The unicorn has a group of over 900 active, entrepreneurial technologists, traders, and engineers to make marketplaces seamless. With headquarters in Athens, Chicago, Geneva, Dubai, Hong Kong, Istanbul, London, Mexico City, New York, Salt Lake City, Seoul, Taipei, Tokyo, Vancouver, and Zurich, it operates around the clock and across the world. Individual investors can access award-winning investing services like app and web trading, fixed income, and structured products through its WhaleFin platform.
Amber Group is a one-stop-shop for crypto finance services that provides liquidity, trading, and asset management 24 hours a day, seven days a week. Amber was founded by a group of former investment bankers in their twenties to use machine learning algorithms for quantitative trading. The team switched to cryptocurrency in 2017 after noticing an increase in virtual currency trading volumes. The startup currently offers algorithmic trading, electronic market-making, high-frequency trading, OTC trading, borrowing and lending, and derivatives to both institutional and unique investors.
The company has a world-class technology infrastructure and research skills, but it is still unrestricted and nimble enough to be intellectually entrepreneurial. The business is continuously looking for people that are willing to take measured risks, have a high level of innovative thinking, and are intellectually curious. Building close relationships with its customers are at the heart of what they do, the startup helps them purchase and sell digital assets, gain interest, manage risk, and access liquidity.
In the third quarter of 2020, the unicorn introduced its mobile application, extending its reach beyond institutional customers to include retail customers. Over 700 institutional customers, primarily major hedge funds, household offices, and businesses contribute to more than 70% of its earnings, yet its consumer-facing app has developed enormously in recent months, with over 100,000 registered users. According to Wu, Amber has been profitable from its inception, with annualised revenues of $500 million for the period January to April 2022.
7. Cider
Sector- E-commerce, Retail and Direct Marketing
Products & Services- Women Apparel, Fashion and Lifestyle
Founders- Yu Wu, Michael Chen Wang and Fenco Lin
Date Of Starting- 2020
Geographical Range- Global
Company Stage- Series B
Number of Investors- 8
Key Investors- IDG Capital, DST Global, Andereessten Horowitz and Frees Fund
Funding Rounds- 4
Total Funding Amount- $ 140 Million
Valuation- $ 1 Billion
Another unicorn Cider is a DTC e-commerce platform, based in Hong Kong that focuses on international markets. It has become a new favourite for a generation of digitally native consumers thanks to its innovative approach to establishing community, eliminating inventory waste, and shipping everywhere. Cider's retail strategy consciously decreases the waste that often accompanies affordable fashion without sacrificing affordability by incorporating a pre-order option and enlightening customers on the prospect of a zero-inventory future.
This unicorn startup is a gen-z fashion company with a global mindset and a focus on social media. The brand, which was founded in 2020, was born in a digital world with no boundaries. Cider builds an expressive brand for a new generation by curating an inspired closet for the global statement creator in all of us. Its objective is to bring people from all over the world together through affordable clothes, personal expression, and fun. The e-commerce business has reached its technology, content, and brand-driven periods, according to Wang Chen, founder and CEO of Cider. 
The startup believes that the new era of global e-commerce is just getting started, and the next five to ten years will be a golden age for global online retail. It mainly presents women's clothing from an internet-first brand. Dresses, tops, bottoms, denim, swimwear, accessories, tops, knitwear, sweatshirts, skirts, shirts, trousers, and more may be found in the product catalogue. Cider is an international e-commerce platform that sells directly to consumers. Cider is one of the world's fastest-growing unicorn startups', with a current valuation of over $1 billion.
Cider, which launched in May 2020, is a global direct-to-consumer e-commerce platform with an emphasis on international markets. It mostly sells low-cost, popular women's clothing designs. The unicorn has over 2 million followers from around the world and has acquired one billion impressions on social media. Cider has consumers from over 100 countries and has accumulated one billion impressions on social media. The company's headquarters are currently based in Guangzhou, Beijing, and Los Angeles, with subsidiaries in New York, London, Seoul, and Brisbane.
Cider, a global direct-to-consumer (DTC) e-commerce platform, lately informed that it has closed a $130 million B-round funding led by DST Global, with Greenoaks Capital and A16Z following closely behind. This round of funding will be used for brand building, system R&D, and international business expansion, according to Cider. In terms of strategic planning, Cider stated that it will continue to fund its brand and technology by incorporating artificial intelligence, big data, and algorithms into its traditional manufacturing methods. The startup wants to develop smart factories and improve cross-border clothes e-commerce services.
8. Qupital
Sector- Financial Technology, Trading Platform
Products & Services- Financial Services
Founders- Andy Chan and Winston Wong
Date Of Starting- 2016
Geographical Range- Asia
Company Stage- Series B
Number of Investors- 15
Key Investors- Gobi Partners, Mizuho Bank, Citi and Credit Ease
Funding Rounds- 6
Total Funding Amount- $ 167 Million
Valuation- $ 1 Billion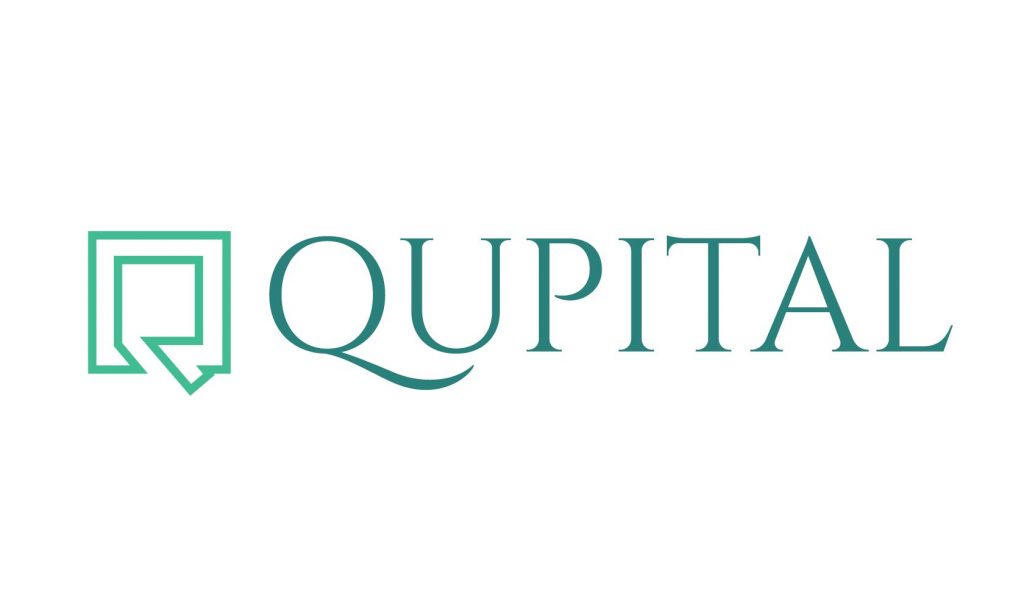 Qupital is a fintech unicorn startup that uses big data and a self-developed risk control algorithm to provide financial services to cross-border e-commerce sellers. Its purpose is to make the funding process more efficient by digitising it. The startup runs an online invoice discounting and trade forum that aims to support the market by adding liquidity. The startup was created in 2016 and is based in Hong Kong's Kowloon district.  The US dollar loans from Qupital can be used to fund offshore warehouses along with additional logistical and marketing needs.
The platform helps corporations in raising funds against their receivables by connecting them with inequitable win-win possibilities offered by professional investors, allowing businesses to lower their expenses and professional investors to gain access to an entirely new asset class of accounts receivables. eCommerce sellers can use its online lending platform. Invoices can be uploaded to the platform by businesses. The funders compete for the invoices and provide a rate to offer funds to the company. The funds are transferred after the business's customer remits.
This unicorn is a financial technology startup having locations in Shanghai and Shenzhen, along with a headquarters in Hong Kong. It concluded its angel round funding backed by Alibaba in May 2017 and its series A funding led by CreditEase in March 2019. Qupital is dedicated to creating a one-stop funding medium for international e-commerce merchants. The startup has developed a new generation of financing solutions based on its self-built big data risk control model, focusing on delivering one-stop quick funding assistance for e-commerce sellers.
Qupital delivers financing to SMEs that are undergoing cash-flow concerns as a result of a never-ending cycle of waiting for invoices to be paid. Its loans cover the bulk of the invoice's worth before matching it with investors and funders who pay the money in trade for a return. The unicorn makes money by charging SMEs a fixed percentage of total invoice value as a service fee, followed by a discount fee, and finally takes a percentage of net gains made by investors. Qupital has now processed 8,000 exchanges with a total value of HKD 2 billion.
It is a fintech startup that is one of Hong Kong's largest trade funding platforms for SMEs and has raised $15 million in a Series A round led by CreditEase FinTech Investment Fund (CEFIF), with participation from returning investors Alibaba Hong Kong Entrepreneurs Fund and MindWorks Ventures, both of whom were even involved in the seed round. Qupital has raised $17 million to date, including a seed round two years ago. The unicorn plans to utilise the new funds to grow its supply chain finance products, launch in mainland Chinese cities, and employ more people for its tech development and risk management teams.
The unicorn, which has been funded by an Alibaba Group Holding affiliate for a long time, specialises in organising loans for Chinese businesses selling goods on e-commerce platforms in other countries. Qupital, which already has headquarters in Shanghai, Shenzhen, Hangzhou, Fuzhou, and Guangzhou, plans to utilise the fresh funding to expand to Beijing and other Chinese cities, to triple its workforce to 150 by the end of 2022.
9. SenseTime
Sector- Deep Technology
Products & Services- Software Solutions
Founders- Tang Xiao'ou and Li Xu
Date Of Starting- 2014
Geographical Range- Asia and Europe
Company Stage- Public
Number of Investors- 30
Key Investors- Temasek, Silver Lake, Alibaba Group and Qualcomm Ventures
Funding Rounds- 9
Total Funding Amount- $ 2.82 Billion
Valuation- $ 12 Billion
Hong Kong-based SenseTime is a premier AI software startup dedicated to innovating for a better AI-powered future. The unicorn is dedicated to promoting AI research, developing scalable and affordable AI software platforms that benefit businesses, people, and civilisation, as well as drawing and nurturing top talent to shape the future together. Image identification solutions based on deep learning are provided by this startup. APIs are available in the fields of facial recognition, object recognition, image searching, and surveillance. 
SenseTime has been a key contributor to the organisation of national and global industry standards in the areas of data security, privacy protection, and ethical and sustainable AI. It has been involved in the development of over 80 national or international industry benchmarks as of June 30, 2021, and has collaborated extensively with several domestic and multinational entities on ethical and sustainable AI development. SenseTime has applied for over 500 patents in around 10 countries and regions around the world, with 90% of them being original inventions.
In addition to Hong Kong, Mainland China, Macau, Taiwan, Japan, Malaysia, Singapore, South Korea, Saudi Arabia, and the United Arab Emirates, it has headquarters in Thailand, Indonesia, and the Philippines as well. This startup is the world's most valuable AI firm and has built China's largest and only self-developed deep learning supercomputing centre, cementing its rank as the country's leading AI algorithm provider. Customers and associates across a variety of industries, including Smart Business, Smart City, Smart Life, and Smart Auto, rely on its innovations.
With its academic roots, it invests in original and cutting-edge research that allows it to provide and continuously improve industry-leading full-stack AI capabilities, including perception intelligence, decision intelligence, AI-enabled content generation and improvement, along with key capabilities in AI chips, sensors, and computing infrastructure. SenseCore is its patented AI infrastructure, which allows it to create strong and efficient AI software platforms that are scalable and adjustable for a variety of applications. 
With a vision of increasing the interconnection of physical and digital worlds with AI, driving sustainable productivity growth and seamless interactive experiences, this unicorn startup is committed to promoting AI research, developing scalable and affordable AI software platforms that benefit businesses, people, society, and attracting and nurturing top talent to shape the future together. It believes that its identification technology may be used in a variety of areas, including education, healthcare, smart cities, automobiles, communications, and entertainment.
10. Animoca Brands
Sector- Computer Games, Blockchain and Artificial Intelligence
Products & Services- Games
Founders- Yat Siu
Date Of Starting- 2006
Geographical Range- Global
Company Stage- Public
Number of Investors- 55
Key Investors- Sequoia Capital, Intel Capital, Mirae Asset and Winklevoss Capital
Funding Rounds- 14
Total Funding Amount- $ 359 Million
Valuation- $ 5 Billion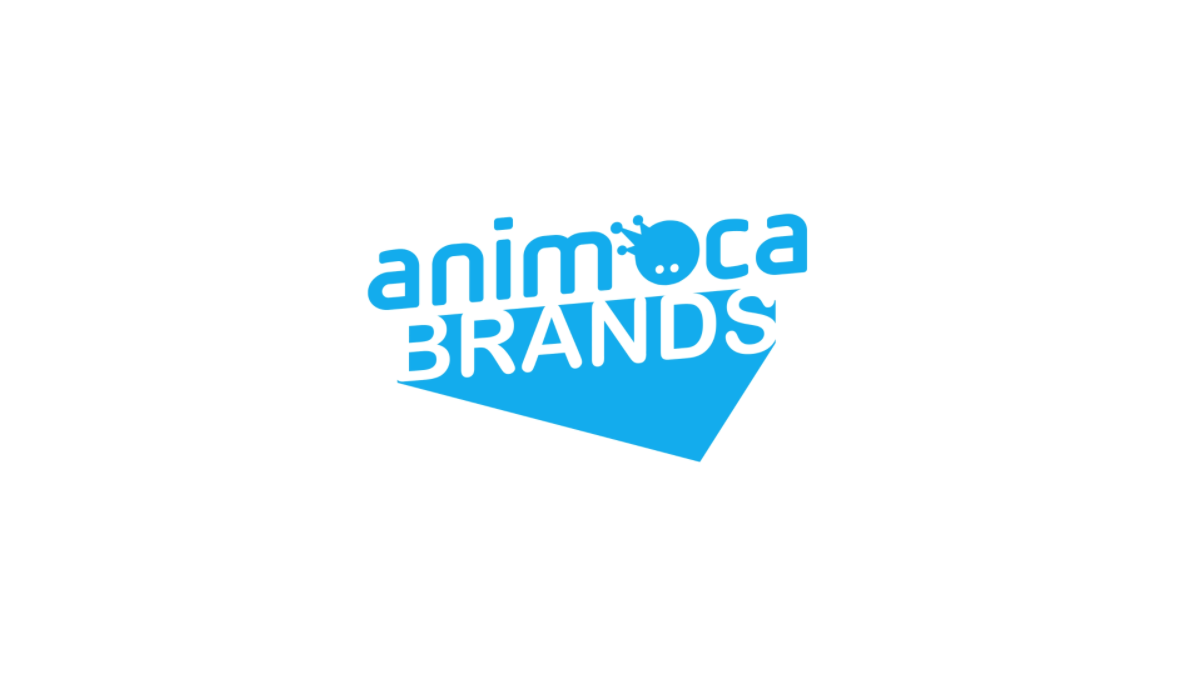 This unicorn startup Animoca Brands is a mobile game developer specialising in franchise-based core games, along with a startup fund of funds. Games based on prominent franchises like Garfield, Ben10, Doraemon, Ultraman, and Astro Boy have been produced by this startup. It has even constructed and circulated unique IP mobile games in a variety of casual genres. These games are compatible with both Android and iOS devices. In-app purchases and adverts are used to monetise the app.
Based in Hong Kong Animoca Brands is a leader in digital entertainment, blockchain, and gamification. It is a Deloitte Tech Fast winner and has been ranked in the Financial Times list of High Growth Companies Asia-Pacific 2021. It creates and distributes a myriad scope of products, including the REVV and SAND tokens, along with authentic games like The Sandbox, Crazy Kings, and Crazy Defense Heroes, and products based on popular intellectual properties like Disney, WWE, Snoop Dogg, The Walking Dead, Power Rangers, MotoGPTM, and Formula E. 
The unicorn has a broad portfolio of game products, both centralised and decentralised, branded and original, with coverage across most direct platforms, including mobile devices, game consoles, PC, web, and blockchain, with products ranging from hyper-casual to hardcore, along with collectables, utility tokens, e-sports titles, and more, according to the company. The Sandbox, Blowfish Studios, Quidd, GAMEE, nWay, Pixowl, Lympo, and Grease Monkey Games are some of the startups' subsidiaries.
Axie Infinity, OpenSea, Dapper Labs (NBA Top Shot), Yield Guild Games, Harmony, Alien Worlds, Star Atlas, and others are among the startups' increasing portfolio of over 170 investments in NFT-related businesses and decentralised initiatives that are helping the open metaverse's development. Some of the commodities are linked to the startups' subsidiaries, which began by making games for smartphones and tablets before diving headfirst into blockchain gaming a few years ago. Several subsidiaries of Animoca Brands include The Sandbox, Blowfish Studios, Quidd, GAMEE, nWay, Pixowl, Lympo, and Bondly.
It is working to create the open metaverse by bringing digital property rights to online users through blockchain and NFTs. These technologies allow the right digital ownership of users' virtual assets and data, as well as various DeFi and GameFi opportunities (including play-to-earn), asset interoperability, and an open framework that can lead to more notable equality for all participants. Animoca Brands is collaborating with Brinc to run Launchpad Luna, an accelerator for blockchain and NFT entrepreneurs.
As it aims to develop the open metaverse, the unicorn startup has placed itself as one of the world's leading technological organisations in blockchain and gaming by spearheading and innovating decentralised in-game rewards and monetization in video games. The unicorn is an active investor in more than 150 of the world's most important NFT and metaverse-related companies, including OpenSea, Dapper Labs, Yield Guild Games, Star Atlas, Axie Infinity, Thetan Arena, and many others, in addition to its product creation and publishing businesses.
Conclusion
Hong Kong is a city that has a lot of potentials when it comes to budding startups and unicorns in Asia. Hong Kong has several distinct benefits. It has a thriving talent pool, with some of the region's best facilities, along with a strong legal and economic framework that works as a crucial backbone for new startups. 
It is correspondingly a member of the GBA (Greater Bay Area), giving it easy access to one of the fastest-growing markets and talent pools in the world. Hong Kong presents a phenomenal prospect for startups to show off their technology, make influential connections for their growth, and be a part of the environment that will shape their future. 
edited and proofread by nikita sharma